'The Tiger King & I' Review: "A Look Into Hypocrisy"
---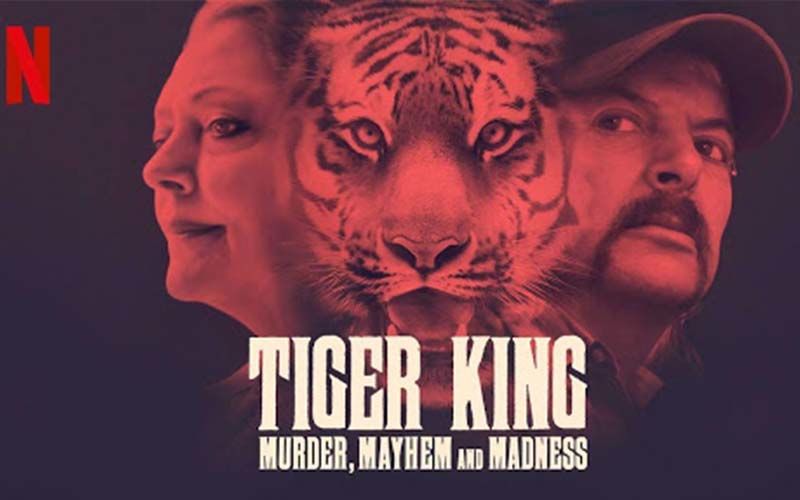 The past 4 years have been some of the most divisive in modern times. Although we find ourselves disagreeing on almost everything, I think there are two things we can agree on. We love Netflix's 2020 smash hit, Tiger King, and Carol Baskin definitely killed her husband. 
Look, we're just going to address the elephant in the room. Full Circle Cinema didn't do a review on Tiger King. Let's be honest here for a second. We don't need to review the series and you don't want to read another review calling the show "sensational" and claiming that "you have to see it to believe it." We get it already, it's weird as hell. But just when we thought we had gotten our fill of Joe Exotic, Netflix surprised us with a reunion episode, titled "The Tiger King & I".

While most Netflix reunion specials feature a bland and thankless host, Netflix decided to give us former Community star Joel McHale. McHale pulls no punches as he asks the tough questions. "Did you ever want to take one of your legs and throw it at Joe?" Joel asks former GW Zoo employee and amputee John Reinke.
"How many Affliction T-shirts do you own, do you have more biker jackets than shirts, and how's the nanny working out?" McHale asks Jeff Lowe, whose polyamorous lifestyle was detailed in the series. McHale also dropped some trivia for the fans: "When you search 'Jeff Lowe,' the first thing that pops up is 'Jeff Lowe Nanny.'" I looked it up and it's true. I didn't even have to type his full name!

While the cast largely came off as bumbling red necks in previous episodes, they appear to be in on the joke for this one. They took every fun-spirited jab with a grain of salt and laughter. The cast had no problem laughing at themselves and each other. When asked about why zoo handyman Allen Glover was interviewed in a bathtub, Lowe's wife Lauren comments "Oh, my god. I have no idea. I was wondering the same thing!" Even Exotic's ex-husband, John Finlay, makes fun of himself for appearing shirtless throughout the documentary. McHale's interaction with the cast gives off the feeling of old friends catching up to swap fun stories.
Although the cast seems to have a good time, this episode did not please everyone. One particular Twitter user even thinks he was "more interested in his own quips" and condescending. Some even felt he came off as rude and unprofessional. Let's be honest here: all of us made fun of these people. I did it. My family did it. My writers on this very site did it. Even you – yes, you – the reader did it.
It's a good thing Twitter users were there to tell us how to be polite. The irony in all of this was seeing most of these users insult anybody they disliked in a very public forum. Where would we be without these self-righteous internet do-gooders?
McHale's hosting abilities weren't the only thing that concerned the internet community. Many Twitter users found the documentary's misgendering of Zoo employee Saff to be potentially offensive. It's a more than reasonable concern that stems from a genuine place. Yet, when McHale asked Saff if he felt hurt for the series not using his preferred pronouns, he said, with a smile on his face, that it didn't bother him as much as it bothered everyone else.


As a Hispanic-American, I can see where Saff is coming from. Almost every Cinco De Mayo, my non-Hispanic friends feel the need to tell me they won't be celebrating the holiday, as they feel doing so would be offensive. As much as I tell them that it doesn't bother me in the slightest, they continue on, as if they will be awarded the ever so coveted Medal of Tolerance.  Honestly, I only celebrate Cinco De Mayo as an excuse to drink beer and eat tacos all day. Most of us couldn't care less about the holiday and seeing people walk on eggshells to not offend is sometimes way more offensive.
Obviously, Saff's situation is not identical to my example, but they both show people not in a community speaking on behalf of said community. One Twitter user (who has given Full Circle permission to use his personal message) thinks the reaction toward the special may be stemming from people's fear of their own inner prejudices.

The reunion wasn't all laughs and McHale doing his best Jeff Winger. There were some incredibly somber moments where McHale broke character and showed real sympathy toward the cast and animals involved. While discussing Exotic's execution of animals, producer Rick Kirkham and McHale shared grief over something Kirkham had seen involving a horse.
Overall, episode 8 feels like an attempt at getting one more laugh out of its already fatigued audience. It's not the most entertaining, but it's not as bad as everyone makes it out to be. The reaction from the internet was probably more entertaining than the episode itself, but it's still worth a watch.  The cast appears much more likable and self-aware than they were in the first 7 episodes, with one of the older Zoo employees saying "Yeah, I've read the comments about some of my missing teeth, but I'm an old man. That's what happens when you get old." McHale treats each cast member like one would treat their closest friend. I can't think of anybody else to best host the last episode of Tiger King. –Derek Flores
Rating: 6/10
Tiger King is streaming on Netflix now.
Tiger King stars Joe Exotic, Jeff Lowe, Lauren Lowe, Rick Kirkham, Saff, Erik Cowie, John Reinke, and Carol Baskin.
---
Trending Now