Full Circle Flashback: 'Tammy and the T-Rex' Review
---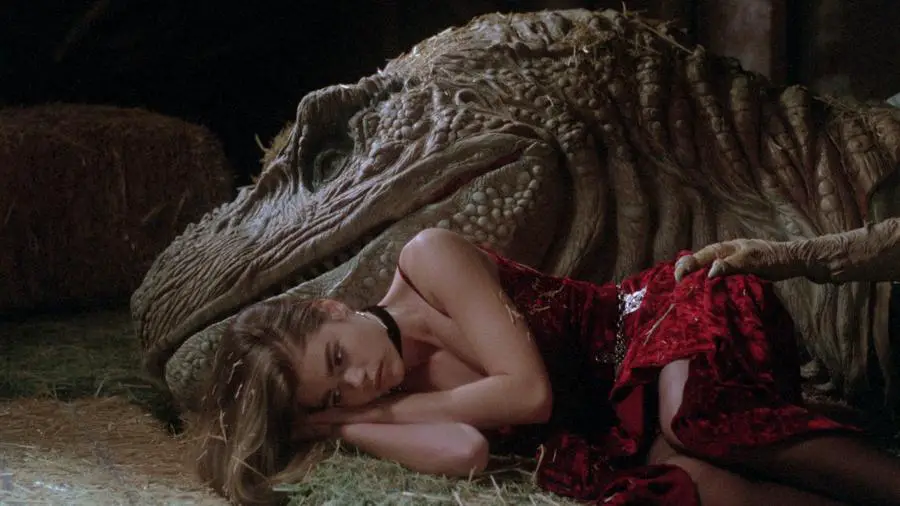 Picture this: the Bond girl from The World Is Not Enough falls in love with Paul Walker. Walker dies and has his brain implanted by a mad scientist into a mechanical T-Rex. Rampage ensues throughout the city. After a few decapitations, the T-Rex kidnaps the Bond girl and convinces her that he is still in love, that he is not just an eight-ton Tyrannosaurus with stubby arms and rows of teeth, but that he has Walker's feelings. They share a romantic moment in a barn, doing what teenagers and smitten dinosaurs do best. To make matters more interesting, Rico from Napoleon Dynamite is here to top things off. If this all sounds like the ramblings of a loony toon, then you may be right. I still find it difficult to comprehend Tammy and the T-Rex. This movie… actually happened.
However, before we get into the carnage and potatoes, let's make one thing clear. Tammy and the T-Rex is a rom-com. It is a romantic comedy for the same reasons that a movie like 50 First Dates is. Although it may not appear that way from first glance, it has all the elements in place. We have two lovebirds meant for each other, but the boy has a complication on his hands, or rather claws. This is the romance part for the love fools out there. And then we have the laughs, the absurdity of the situation our characters find themselves in. This is the comedy. Therefore, if my calculations are correct, romance plus comedy must equal rom-com. Tammy and the T-Rex fits the bill, and by these low standards, it is one of the best because it resembles nothing that we have ever seen before.

I am not being ironic. All rom-coms have the same, tired formula. The whole sub-genre is practically toothless but lucky for us, T-Rexes have about 60 chompers in total. And so what we have instead with Tammy and the T-Rex is something so audacious you cannot take your eyes off of it for one moment. It is bizarre, maybe even taboo to imagine such a relationship between an animatronic monster and a girl. I do not know. Director and co-writer Stewart Raffill has crossed so many societal boundaries that I cannot safely say what is inappropriate or not. And we are so far removed from civilization that the city lights are only a faint glimmer in the uncharted originality on display here. I admire that.
If true love can overcome all obstacles, then a rom-com about a girl and a T-Rex was merely the next logical step. But it is not simply the premise that makes this movie a blast, it is the earnestness of the acting. Walker and Richards both have a bubbly chemistry. They are self-aware enough to understand what their roles need, and they do not ever lose sight of the silliness. Think of it this way, they are competing with the spectacle of a dinosaur. Richards needs to match this same insanity, and she succeeds every time. Although we lose Walker about halfway through the movie, Richards makes up for his absence, even within the shadow of a 12-foot tall reptile. There are so many films with million-dollar storylines, but Tammy is not one of them.

Of course, we all know that love is a battlefield. Hearts get broken, tears get shed, and heads get juiced clean of blood like watermelons in nutribullets. Love is a brutal game, and it is inevitable that somebody will get hurt. And many people do get hurt in Tammy and the T-Rex. This is a brutal movie, one that leaves you with the sense that our emotions are delicate things in the battlefield of love, but so are our bodies… (I am afraid that our skulls are not as strong as a T-Rex's teeth.) The practical effects team deserves credit for pulling off some of the craziest kills, with a level of shock value and comedic fun. Although this movie does have its fair share of gore, it does not make it any less appropriate as a rom-com. It just adds a few dimensions to the com in rom-com.
Did I imagine this movie all along? Did I lose myself in a trance by photo-shopping Bond girls on T-Rexes? And did I really see Rico? Was the mad scientist really the dead guy from Weekend At Bernie's? Surely I must have lost my marbles at some point during quarantine. I do not know. What I do know is that if I did imagine this movie, I imagined something truly wonderful. Almost prophetic. Dare I say it, this is one of the greatest love stories of all time. – Daniel Hrncir
Rating: 10/10
The film stars Denise Richards, Theo Forsett, Paul Walker, Ellen Dubin, Terry Kiser, and Buck Flower.
Tammy and the T-Rex is available on Blu-Ray and Digital HD.
---
Trending Now