Marvel Studios' 'Loki' Will Reportedly Feature The Minutemen
---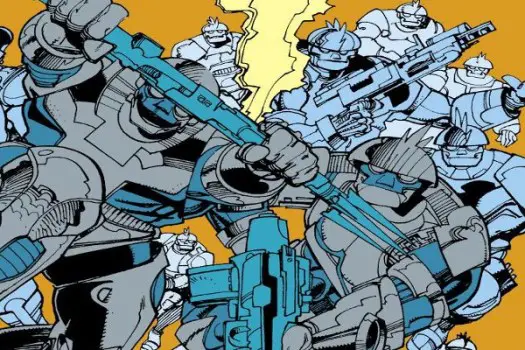 While the production on Marvel Studios' Loki has halted production, there is still some exciting news about the series. According to insider Charles Murphy, the show will feature the police force of the Time Variance Authority, the Minutemen.
Created by Walt Simonson, the Minutemen first appeared in 1991's Fantastic Four #352. They are an army of robots, clones, and cyborgs that work for the TVA to police time. The Minutemen help to secure the TVA's headquarters and apprehend individuals who have interfered with time.
While the news was first reported on IMDb, Murphy has since confirmed that the group will appear in the show, and two of their members will be played by Chris Brewster and Isabelle Fretheim.
READ: Richard E. Grant Reportedly Joins The Cast Of Marvel Studios' 'Loki'
Given Loki will feature the God of Mischief messing with history, it makes sense the Minutemen will play a role in the series. The Minutemen are typically led by a character known as Justice Peace, which many have theorized is the character being played by Owen Wilson as he will have a substantial role in the series.
Marvel Studios' Loki will feature Tom Hiddleston's titular character traversing the timestream as he alters history in his wake. The series is rumored to be introducing a number of characters to the MCU, including Kid Loki, Lady Loki, Enchantress, the Squadron Supreme, Sera, and Kang the Conquerer.
Would you like to see the Minutemen appear in Marvel Studios' Disney+ series Loki? What do you want to see happen in Tom Hiddleston's new series? Let us know in the comments below!
Loki hits the Disney+ streaming service in the spring of 2021.
—–
Did you enjoy this article? If so, consider visiting our YouTube channel, where we discuss the latest and greatest in pop culture news.
---
Trending Now