'Falcon & Winter Soldier': U.S. Agent Propaganda Confirms Fan Theory
Posted On February 28, 2020
---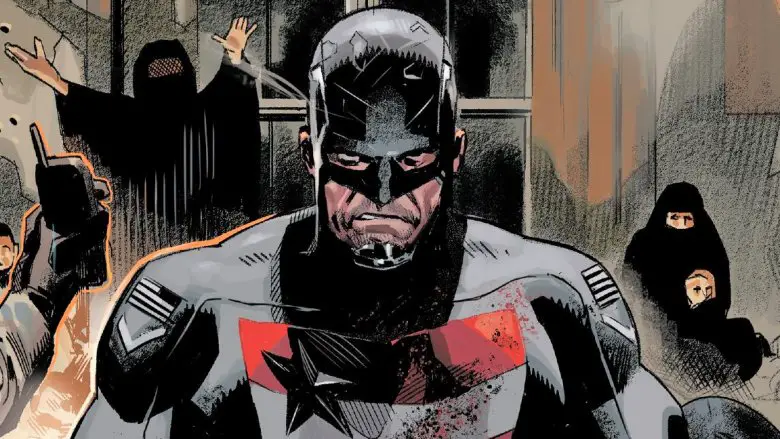 Marvel Studios' The Falcon and the Winter Soldier is still in production, which means fans were able to capture new images from the set. Today a poster from the show featured some U.S. Agent propaganda, which seems to confirm a major fan theory about his origin.
When it was first revealed that Marvel would introduce John Walker's U.S. Agent in the series, many fans theorized that he would be a government-sponsored replacement for Steve Rogers' Captain America. And based on these new images, which can be seen below,  that seems to be the case.
As you can see in the poster above, John Walker's identity is not only public, but they are also referring to him as Cap. Rather than label him as a new hero, the government is introducing him as Rogers' replacement. Additionally, the logo for the U.S. Army can be seen in the bottom corner of the poster, further suggesting Walker is a sponsored agent.
READ: 'Doctor Sleep' Star Carl Lumbly Joins The Cast Of 'Falcon & The Winter Soldier'
The series will see the return of Daniel Brühl's Baron Zemo as Anthony Mackie's Sam Wilson and Sebastian Stan's Bucky Barnes try to navigate a world without Chris Evans' Captain America. Meanwhile, they will also have to deal with a new government-appointed hero, Wyatt Russell's U.S. Agent.
Are you excited to see Wyatt Russell's John Walker appear as the new Captain America? What are you hoping to see in Marvel's first Disney+ series? Let us know in the comments below!
The Falcon and the Winter Soldier hits Disney+ in 2020.
Hailing from showrunner Malcolm Spellman, the series stars Anthony Mackie as Sam Wilson, Sebastian Stan as Bucky Barnes, Wyatt Russell as John Walker, Emily Van Camp as Sharon Carter, and Daniel Brühl as Baron Zemo.
—–
Did you enjoy this article? If so, consider visiting our YouTube channel, where we discuss the latest and greatest in pop culture news.
---
Trending Now