RUMOR: Captain Pike 'Star Trek' Spinoff Series Moving Forward
Posted On February 4, 2020
---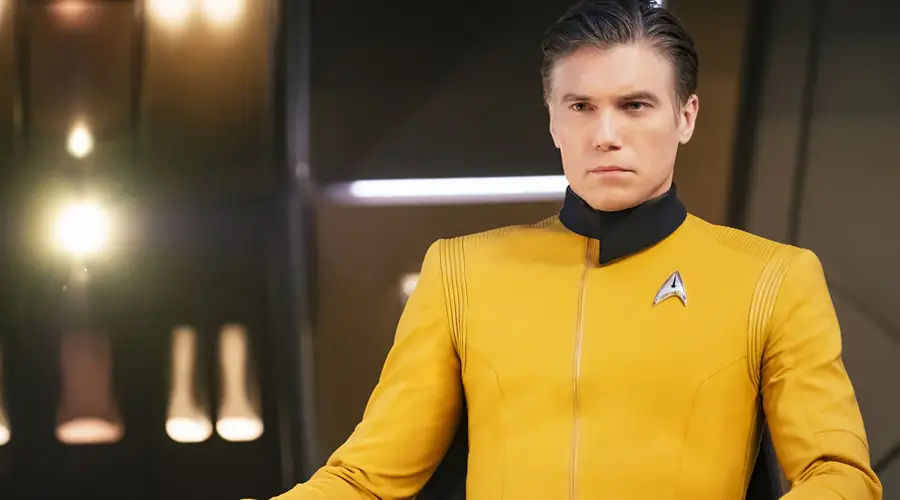 Star Trek may continue to expand its reach on modern television. According to The Weekly Planet Podcast, Anson Mount's Captain Pike will return to the small screen in his own series alongside several other popular characters.
During the show's famous "Hot Scoop or Shot of Poop" segment, hosts James Clement and Nick Mason revealed that a reliable source has told them that Captain Pike will have his own show after appearing prominently in Star Trek: Discovery's second season. On top of that, they claim that Number One and Spock will make their return in supporting roles. Akiva Goldsman, the man behind both Star Trek shows Picard and Discovery, will act as showrunner for the spinoff.
Captain Pike became a fan-favorite in Discovery after Anson Mount's performance won over audiences despite the mixed response the second season. Due to unfortunate events during his captaining career, the character suffers physical consequences that permanently ties him to a wheelchair. However, it can be assumed that the rumored solo series will see Pike before the events of said accident.
The second season of the CBS All Access television series Discovery is set roughly a decade before the events of the original Star Trek series and follows the crew of the USS Discovery as they investigate seven mysterious signals. The series was renewed early last year for a third season that will follow the main crew as they travel a thousand years into the future.
Are you interested in a Captain Pike spinoff? Which other Star Trek: Discovery characters deserve their own show? Let us know in the comments below!
Star Trek: Discovery Season 2 is currently available on CBS All Access.
The series stars Sonequa Martin-Green, Doug Jones, Anthony Rapp, Mary Wiseman, Shazad Latif, Wilson Cruz, Michelle Yeoh and Anson Mount.
---
Trending Now