'The Turning' Review: "Schlock & Awe"
Posted On January 28, 2020
---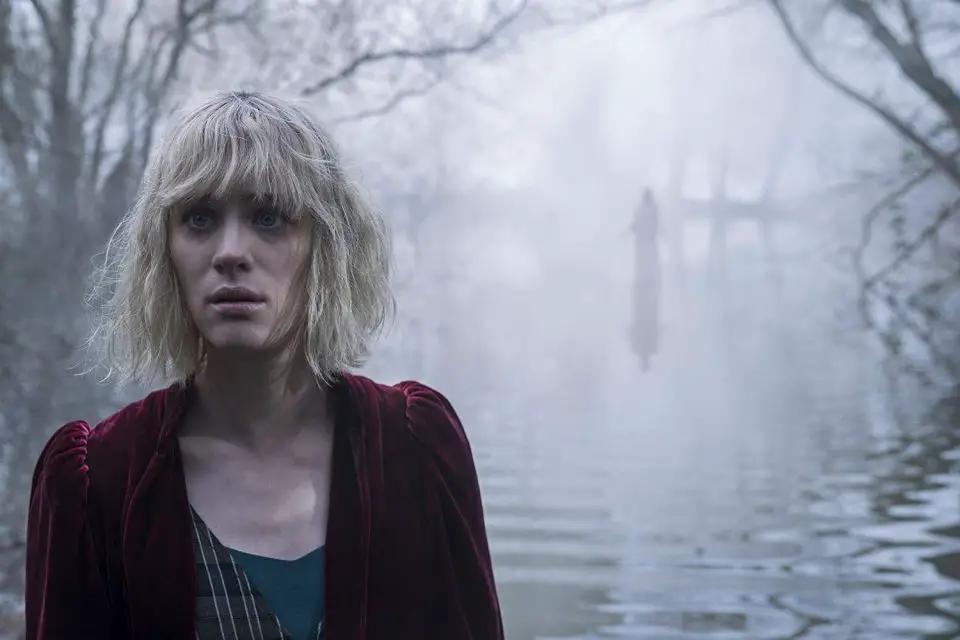 It's been a particularly awful January for movies. Amidst gems like The Gentlemen or Bad Boys For Life, there's an outright disaster like Dolittle or The Grudge just around the corner. I was fully prepared for The Turning to be yet another January disaster. And… it wasn't.
Based on Henry James' 1898 horror novella The Turn of the Screw, director Floria Sigismondi and screenwriters Carey W. Hayes and Chad Hayes stray far from the austere roots of the original to deliver something with a bit less ambition. In all fairness, this is no timeless classic. Still, it's a schlocky horror movie that works because all the fundamental horror movie pillars are there.
Mackenzie Davis slums it as Kate, a troubled young woman who finds new purpose as a governess for the orphaned Fairchild children, little Flora (Brooklynn Prince) and teenage Miles (Finn Wolfhard). Of course, things go awry in the Fairchild mansion, as Kate begins to suspect there are dangerous spirits at work. It's your typical haunted house horror movie that lives or dies on its atmosphere.

Thankfully, the atmosphere here is decent enough. The Fairchild manner has some character, and cinematographer David Ungaro lights the mansion in creepy ways, establishing its architecture. The Overlook hotel this is not, but it's still an ample playground that's spooky enough to divert your attention. Nathan Barr's surprisingly memorable score really gives the movie a personality of its own, as do the performances.
As stated before, Davis is way below her pay grade as a protagonist whose main function is, uh, "get scared by haunted house". But as always, she gives a committed, engaging performance all the way through. Additionally, Prince makes for an effective creepy kid, fitting for a movie like this. Wolfhard, however, steals the show in a performance reminiscent of Macaulay Culkin in The Good Son. He's uncomfortably menacing for his age, and, well, just uncomfortable in general. He plays wonderfully against type, as you don't expect lines like "[the spirit] says your tattoo looks sexy" to come out of the mouth of one of the Stranger Things kids' mouths. It's the type of oddball performance that elevates the movie around it.

The performances and atmosphere keep the film afloat for two acts that serve as entertaining if forgettable horror. The third act is another matter altogether. In a hilarious, confounding turn of events, The Turning goes full schlock horror in ways that I did not expect. Over the course of 20 minutes, things get silly in ways that feel like they came out of an entirely different movie. Our big bad seems to come right out of the 70s, and the film calls a major character's mental state into question. Furthermore, it throws a head-scratcher of an ending out there.
Most of the audience audibly complained at the ending. But I didn't. The Turning offers few surprises, but what it does offer is a horror movie that had my attention for 90 something minutes. Being boring is the cardinal sin of movies, and with enough schlock and awe, it absolves itself. –James Preston Poole
Rating: 6/10
The Turning is now in theaters.
---
Trending Now