Celebrating Star Wars: Ranking Every Film In The Skywalker Saga
Posted On December 8, 2019
---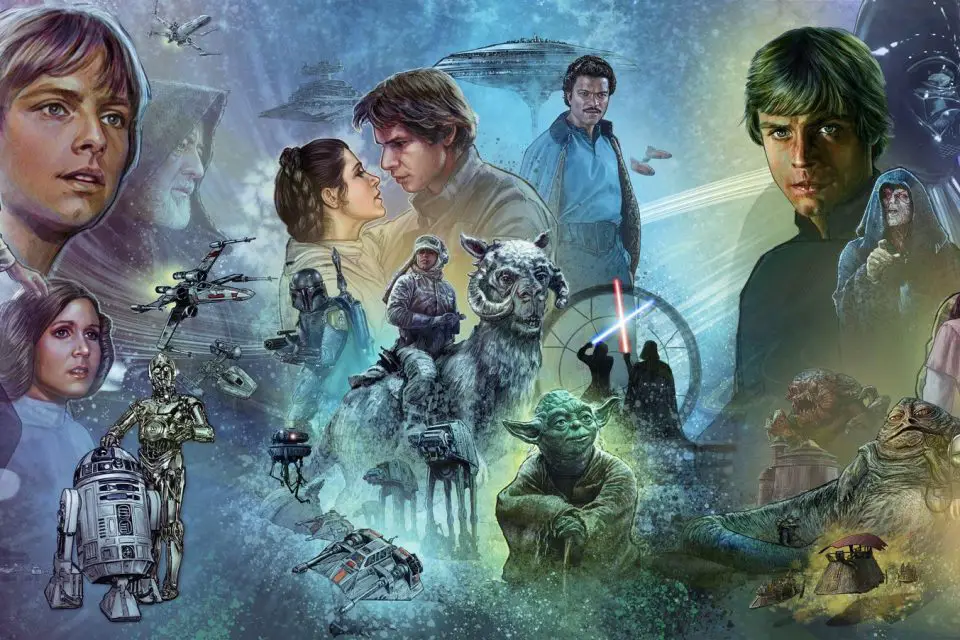 As we approach the end of the Skywalker saga with Episode IX: The Rise of Skywalker, we here at Full Circle agreed it was time to take a look back. Every day until The Rise of Skywalker's release, we'll be discussing every single theatrical project in the Star Wars franchise, in canonical order. This time, we rank every live-action film in the Skywalker Saga.
I've always said my love of film began with Star Wars. Those closest to me know how much I adore George Lucas' science-fantasy space epic, and how I could go on and on about my love for its rich mythology and characters. The franchise has evolved tremendously since it debuted back in 1977, for better or worse depending on who you ask. As for myself, I find that each Star Wars entry has something to enjoy. With ten films over the course of 40 years, there's a little something for everyone. Whether you're an original trilogy fan, a prequel lover or even a Disney era newcomer, chances are you've been moved by the story of the Skywalker family and the heroes beyond. With the release of The Rise of Skywalker nearly here, I thought I'd rank the saga from my least to most favorite. I hesitate to call this a "best to worst" list because, for the most part, I enjoy them all. So, without further ado.
10) Episode II: Attack of the Clones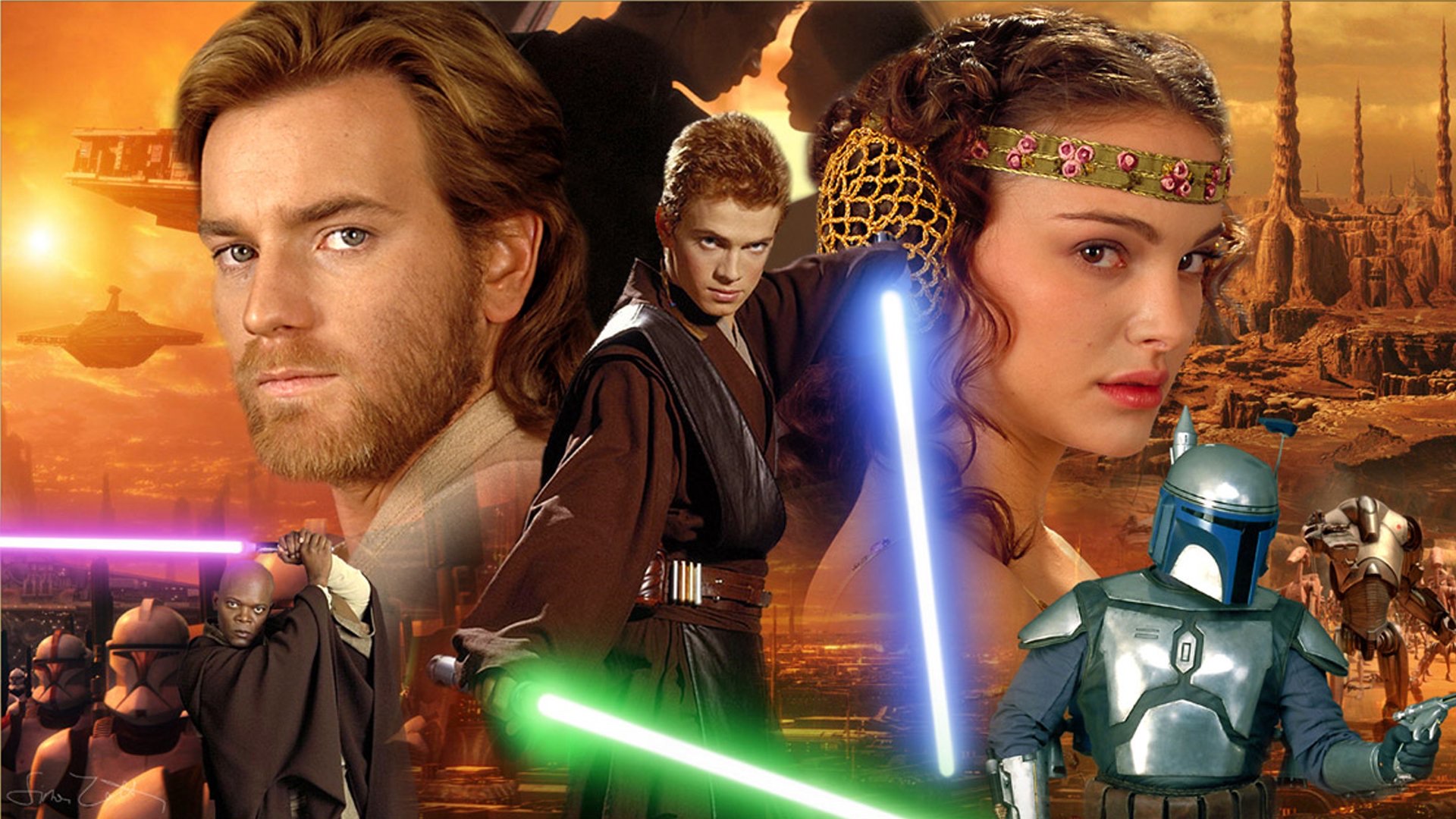 The Phantom Menace is the usual target for most prequel hate, but I've always found Attack of the Clones to be the weakest link in the Star Wars chain. I wouldn't call it a terrible film by any means, as it does have its moments here and there. The new worlds we're introduced to are marvelous to look at. The submerged city of Kamino is something we hadn't yet seen in a Star Wars film, and the sandy battlegrounds of Geonosis made for some exciting action sequences. But Star Wars is more than just lightsaber battles and beautiful locations, which is why Attack of the Clones sits at the bottom of this list.
George Lucas' prequel trilogy was meant to give us the genesis of one of cinema's most terrifying villains. Anakin's transformation from a galactic hero into an almighty Sith lord is a tale that's more than worthy of its own trilogy. But what should be an exciting story packed with good old fashioned Star Wars goodness is instead muddled by atrocious romantic dialogue and dull political chit chat. Though Hayden Christiansen and Natalie Portman try to make the best of what they're given, they can't breath much life into the script's Romeo and Juliet dynamic.
Despite a few thrilling action scenes and an armada of swing-happy Jedi, Attack of the Clones was the first Star Wars film that I only enjoyed and didn't love as a child.
9) Episode I: The Phantom Menace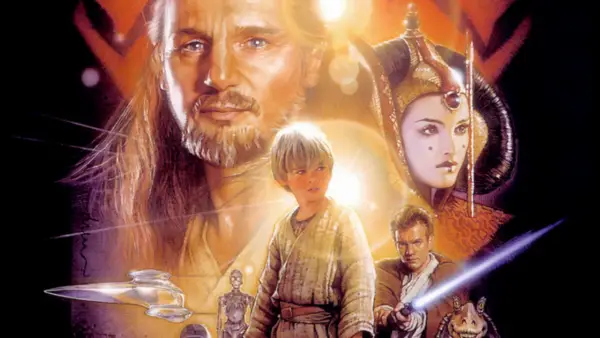 Hitting theaters a long sixteen years after Return of the Jedi, anticipation for The Phantom Menace was understandably high. The fourth Star Wars film would not only begin a new trilogy, but it would also bring back more than a few beloved characters while doing it. It wouldn't be a stretch to call Episode I the movie event of its decade, and now a long twenty years after its release, it's still being discussed for one reason or another. Before The Last Jedi, this was perhaps the first time where the Star Wars fanbase found itself completely polarized.
For fans, the promise of more Star Wars meant more of that same magic that the original trilogy had, something that The Phantom Menace undoubtedly lacks. Gone are the mythically wondrous quality of the Force, the charm of the characters, and the heart of the original three films. However, despite its flaws, it does have a few redeeming qualities. Qui-Gon and Obi-Wan's face-off with Darth Maul is beautifully choreographed, John Williams' score is as good as ever, and Ewan McGregor is a stroke of casting genius as Luke's eventual Jedi master, a decision that would eventually become one of the prequel trilogy's greatest strengths.
It fumbles here and there, but The Phantom Menace provides some satisfying Star Wars fun (and introduces fan-favorite Darth Maul). Still, having to sit through more political bibble-babble about the taxation of trade routes makes watching this entry in the galaxy far, far away feel more like a chore than it should.
8) Solo: A Star Wars Story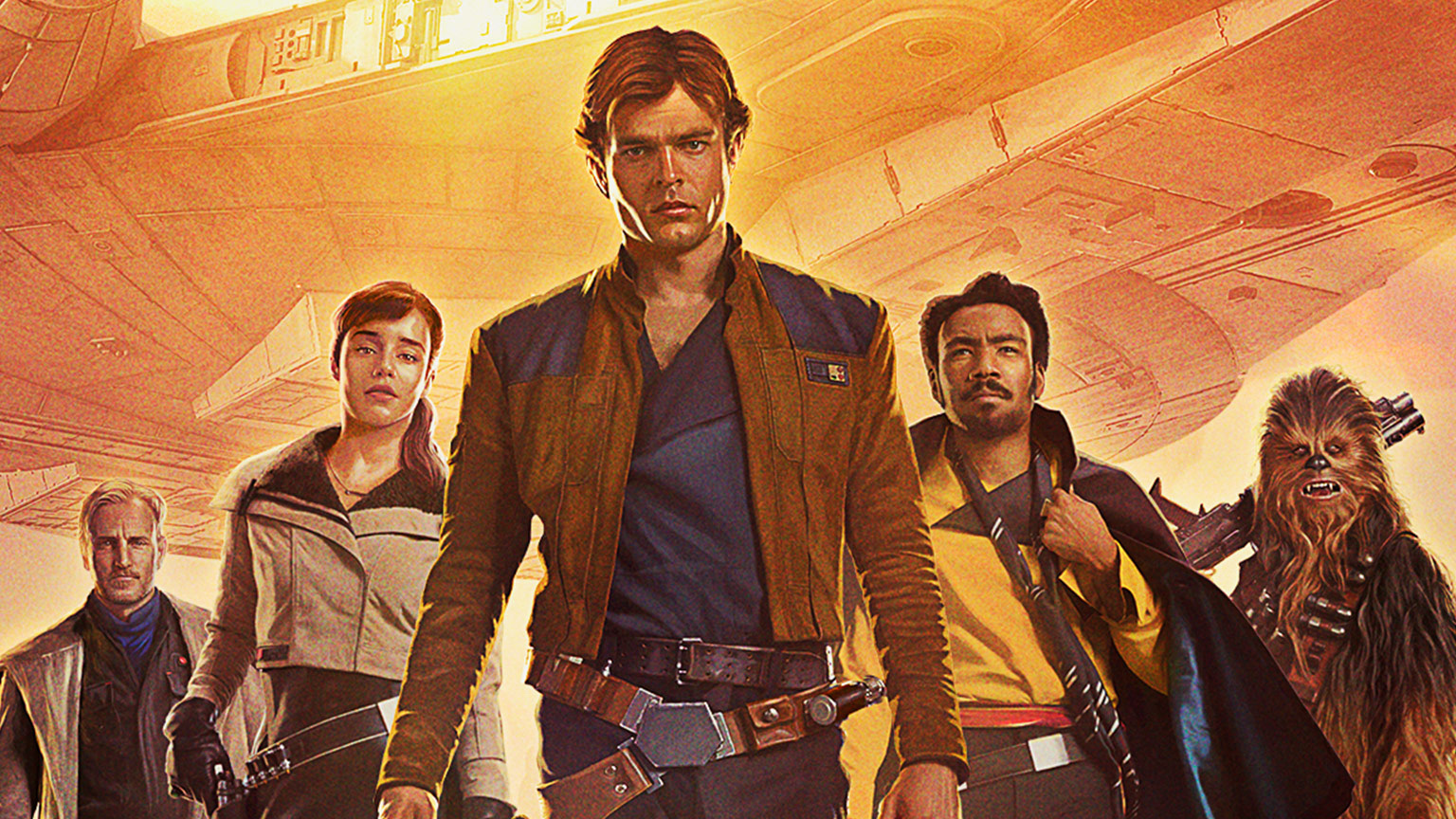 I enjoyed Solo a lot, much more than I thought I would. Like many fans, I wasn't exactly keen on the idea of a Han Solo prequel. The finished product delighted me so much that I was actually disappointed to learn that we'll likely never see a sequel to Ron Howard's Star Wars spinoff. It's a shame that the most publicized aspect of the film is it's behind the scenes drama because Solo serves as a refreshingly fun nostalgia inducer for longtime fans.
There's plenty to love about Solo, namely the film's star Alden Ehrenreich. I can't even begin to imagine the intense pressure Ehrenreich had to be feeling. Stepping into the shoes once filled by Harrison Ford is an incredibly daunting task, but Ehrenreich manages to honor Ford while still making the role his own. The film's supporting cast is wonderful as well. Emilia Clarke, Woody Harrelson, and Donald Glover all deliver solid performances, even if the script plays it a little too safe. Though Solo has that old school Star Wars feel, it at times feels a little too predictable and can't quite do enough to justify its existence.
The film isn't as brave or smooth as its title character, but it packs just enough thrills and a healthy dose of heart to make it a welcome addition to the Star Wars saga.
7) Episode III: Revenge of the Sith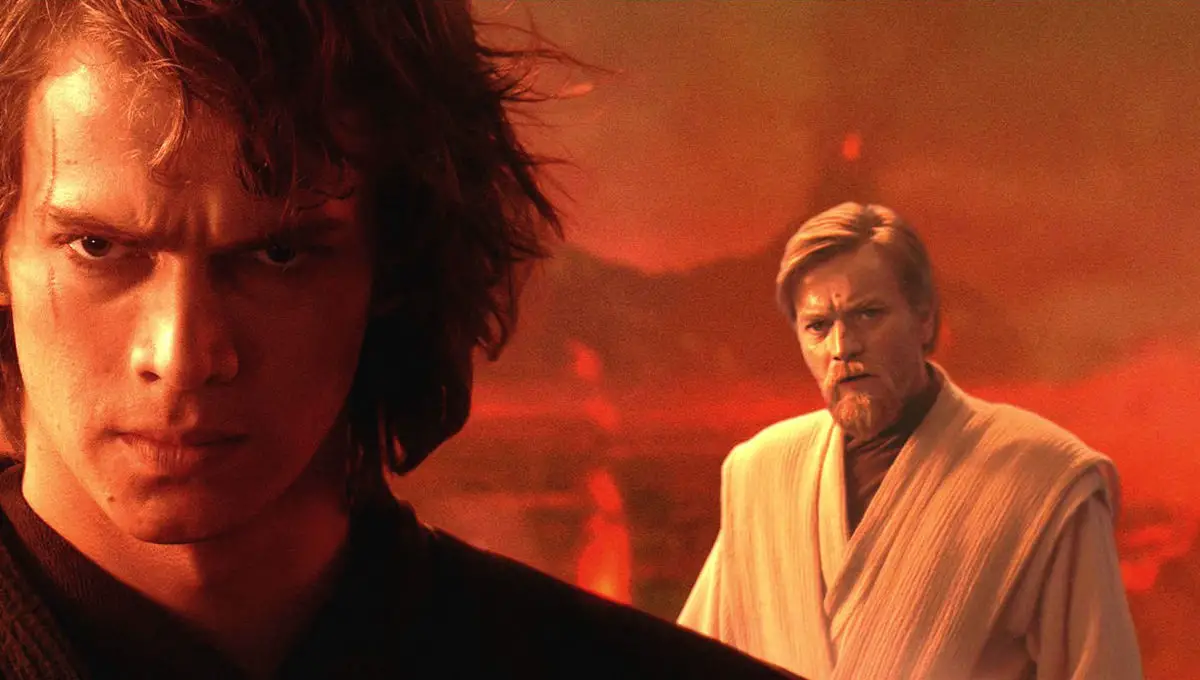 Capping off the divisive prequel trilogy, Revenge of the Sith finally gave us what we wanted to see: the fall of the Republic, the purge of the Jedi and the birth of Darth Vader. George Lucas seemed to take fans' criticisms into account this time, as spats between senators were kept to a minimum. As a result, the film doesn't suffer nearly as much from the mistakes of its two predecessors, and it manages to mostly capture that unmistakable Star Wars feel.
Perhaps the biggest hindrance to Revenge of the Sith is the inclusion of more romantic back-and-forth between Anakin and Padmé. As with the first two prequel installments, the combo of questionable acting and dialogue doesn't quite sell the deep emotional connection the two are supposed to have. The final duel between Obi-Wan and Anakin, while exciting, eventually becomes a little too over the top. However, the film gets more right than it does wrong. Ewan McGregor and Ian McDiarmid both give exceptional performances, easily the best of the prequel trilogy. Anakin's manipulation is handled intelligently by Palpatine, and his fall to the Dark Side is one of the most tragic storylines in any Star Wars film.
Despite some bumps in the road, Revenge of the Sith's strengths outshine any of its shortcomings, ending the prequel trilogy on a high note.
6) Rogue One: A Star Wars Story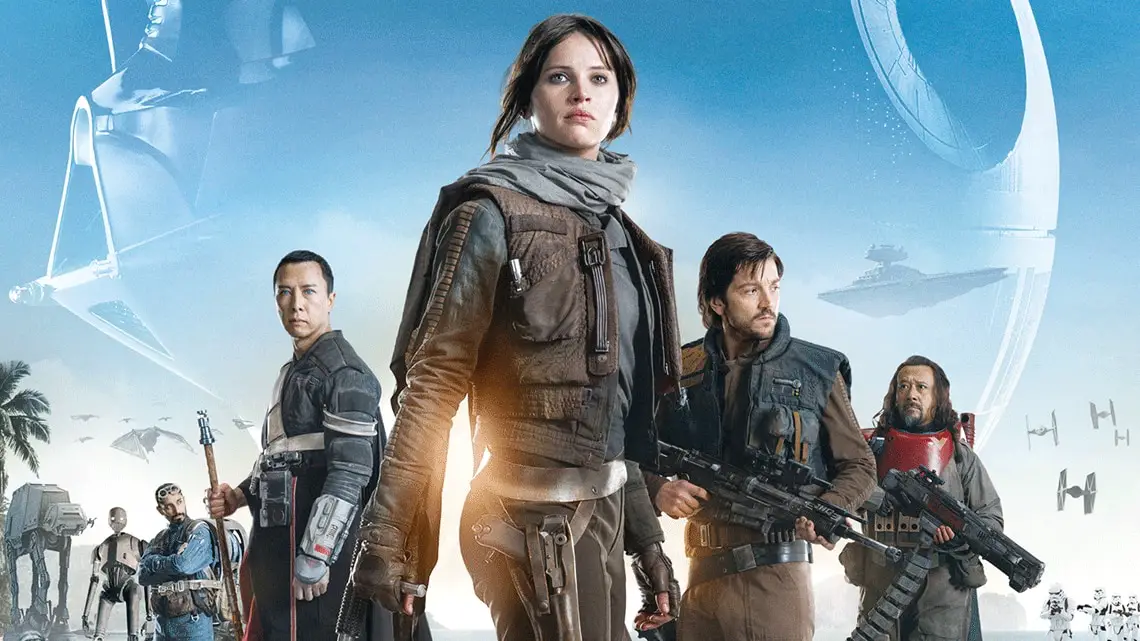 The first-ever big screen Star Wars spinoff, Rogue One was a risky move for Lucasfilm. It'd be the first time a Star Wars film had ever steered away from the Skywalker story and one that would tap the shoulder of the 1977 original. To call it bold would be an understatement. Thankfully, Rogue One does more than enough to cement its place in the sprawling Star Wars pantheon as the fan-favorite that it is.
Rogue One is a refreshing side story that shows us that a Star Wars film doesn't always need to focus on a Skywalker. Jyn Erso, Cassian Andor and their rag-tag band of rebels embark on a desperate mission to steal the plans for the Death Star. What unfolds is an action-packed and heartbreaking tale that captures the spirit of the original trilogy, and yet, it tells a story that feels like something new. Director Garreth Edwards displays an incredible eye for scale and action sequences, making each battle feel simultaneously raw and beautiful. Despite the jumbled feeling of the first half-hour, the third act showcases what might be the best Star Wars space-battle ever put to screen, and the now famous Darth Vader scene is the closest we may ever get to seeing a full-on Star Wars horror project. I only wish that the characters outside of Jyn Erso had been given just a little more depth.
Though I didn't connect with each Rogue One member as much as I would have liked, the film embodies the heart and sense of excitement Star Wars has always had.
5) Episode VI: Return of the Jedi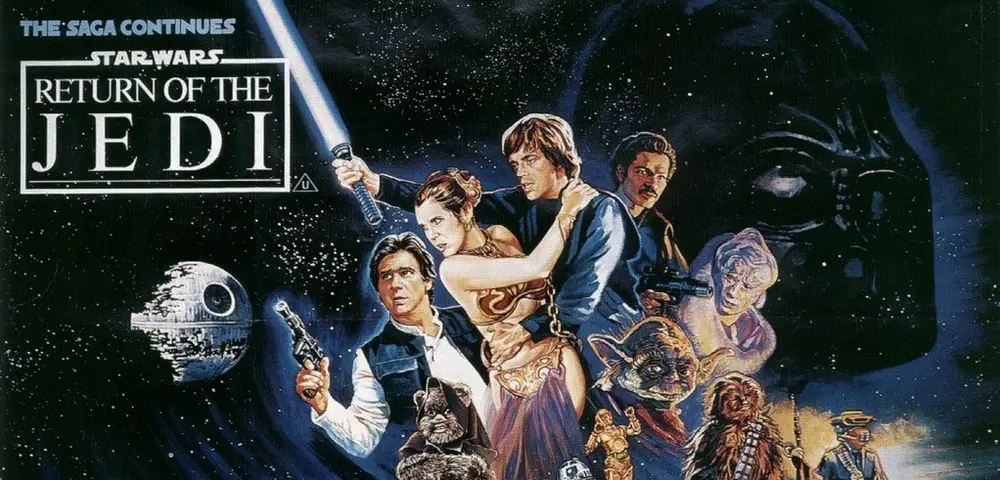 As a child, Return of the Jedi was my favorite Star Wars story. I popped in the VHS tape in more times than I can count, rewinding to my favorite scenes as I sat and watched, playing with whatever Star Wars toy I had laying in front of me. The finale of the original trilogy possesses a special sense of charm, and of all the stories in George Lucas' magnum opus, Return of the Jedi arguably has the biggest heart.
Picking up after Empire's dramatic cliffhanger, Episode VI wraps up the original trilogy with an emotionally satisfying conclusion. With lightsaber duels, hectic space battles and more, Return of the Jedi contains just about everything you could want in a Star Wars story. Though its lighter tone clashes with that of its predecessor, the film never falters when it comes to heart, and its got it where it counts. Vader's redemption and the chemistry between the three lead actors make for one of the most feel-good journeys ever experienced in the galaxy far, far away. You could criticize the Ewoks or the Empire's inability to battle them, but there's so much more to enjoy in Jedi than there is to fault it for.
Though not quite as memorable as A New Hope or Empire, Return of the Jedi remains a classic Star Wars tale that possesses an undeniable lovability.
4) Episode VII: The Force Awakens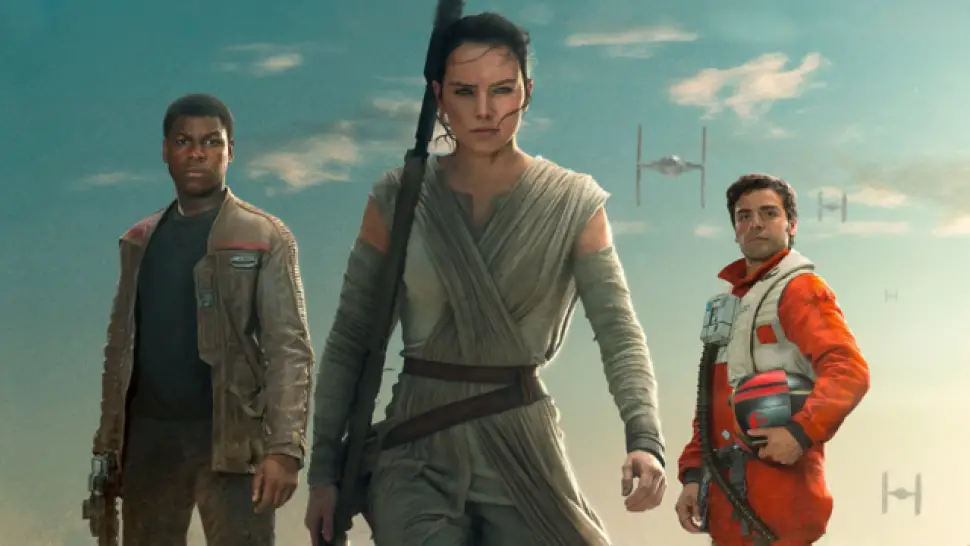 After 2005's Revenge of the Sith, the Star Wars franchise mostly sat dormant until 2012, when Disney purchased Lucasfilm and announced that Episode VII would hit theaters in 2015. What had long been a super fan's pipe dream eventually became a reality. Thanks to the creative talent of J.J. Abrams and series veteran Lawrence Kasdan, The Force Awakens revitalizes the Star Wars brand while spring-boarding a brand new adventure into the galaxy we know and love.
The Force Awakens picks up 30 years after Return of the Jedi, thrusting viewers into a new galactic civil war between the sinister First Order and the heroic Resistance. Caught in the middle are Rey, a lonely scavenger and Finn, a defected Stormtrooper. The story crafted by J.J. Abrams and his creative team is one that honors the original films tremendously, and it reminds us why we all fell in love with Star Wars in the first place. Seeing Han, Luke, Leia, and the rest of the gang is an absolute joy, but it's the new faces that keep us engaged. Rey, Finn, Poe and Kylo Ren are excellent additions to the Star Wars lore, and I can't wait to see how their stories conclude in The Rise of Skywalker.
Though very much built on the bones of A New Hope, The Force Awakens is a wonderful Star Wars adventure full of humor, heart and nostalgic joy.
3) Episode VIII: The Last Jedi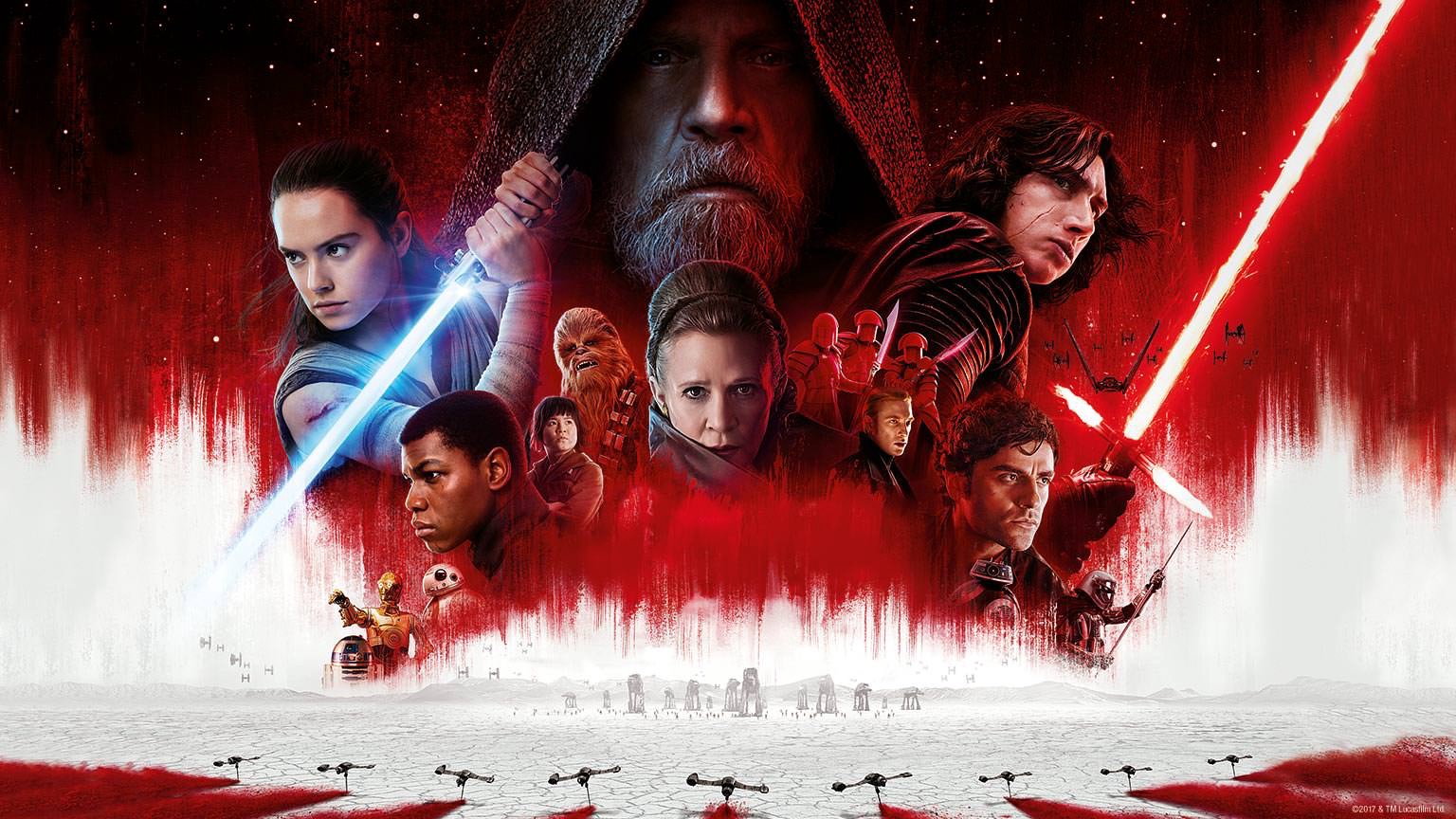 Some of you reading this might say that my placing of The Last Jedi so high on this list completely invalidates my opinion as a Star Wars fan, but that's okay. None of us will ever agree on the same things. Sometimes, debates can get ugly, but if we all agreed on everything in the film world, all film would be the same, wouldn't it? I'm thankful for Lucasfilm's choice to go against the grain. To me, that's the beauty of The Last Jedi. It dares to be different and does so unapologetically.
Set immediately after The Force Awakens, Rian Johnson's follow up introduces us to a Luke Skywalker who wants nothing to do with the Force or the Jedi. I don't have to be the one to tell you that it's a controversial decision, but it's one that works incredibly well for the story Johnson sets out to tell. Meanwhile, our heroes are scattered, each on a quest to save the Resistance with what little hope they have left. To me, the film captures everything there is to love about Star Wars. Beneath the lightsaber duels, chases and space battles are underlying themes of hope, redemption, and heroism. Each of our heroes finds themselves failing in each of their respective goals, and yet they come out stronger because of it.
The Last Jedi is as beautifully shot as it is written and pulls no punches with its twists and turns. Rian Johnson's Star Wars debut keeps the franchise's formula from feeling stale while setting up what's sure to be a jaw-dropping finale in The Rise of Skywalker.
2) Episode IV: A New Hope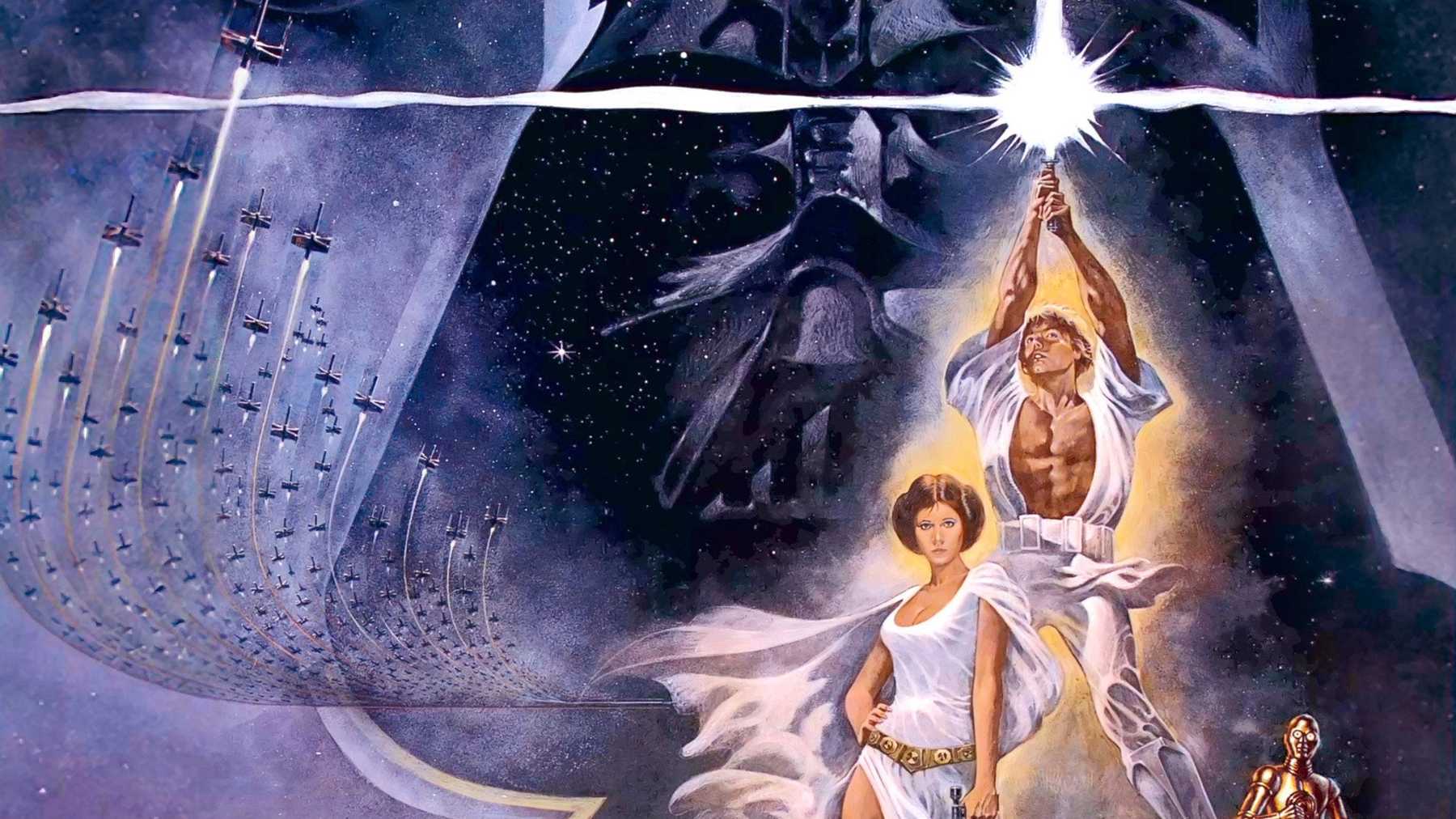 The one that started it all, A New Hope is the embodiment of proper American blockbuster filmmaking. Everyone remembers the first time they were introduced to the rebellious princess Leia and the hopeful farm boy, Luke Skywalker. I can still recall my very first time seeing the film. Watching Darth Vader storm the Rebel ship with a legion of Stormtroopers is a memory that has never left me, and I'm thankful that A New Hope still holds up even 42 years after its release.
For many of us, Star Wars wasn't just a movie, but an experience. Its legacy is one that speaks for itself, and the countless number of games, toys, and merchandise is an incredible testament to the franchise's universal appeal. George Lucas' 1977 passion project would go on to inspire future generations of filmmakers from all different walks of life. Luke, Han, and Leia's story will forever be embraced in the hearts of millions of film lovers everywhere, and that's not likely to change any time soon.
Charming, timeless, and massively influential, the original Star Wars is everything a Hollywood blockbuster should be and more.
1) Episode V: The Empire Strikes Back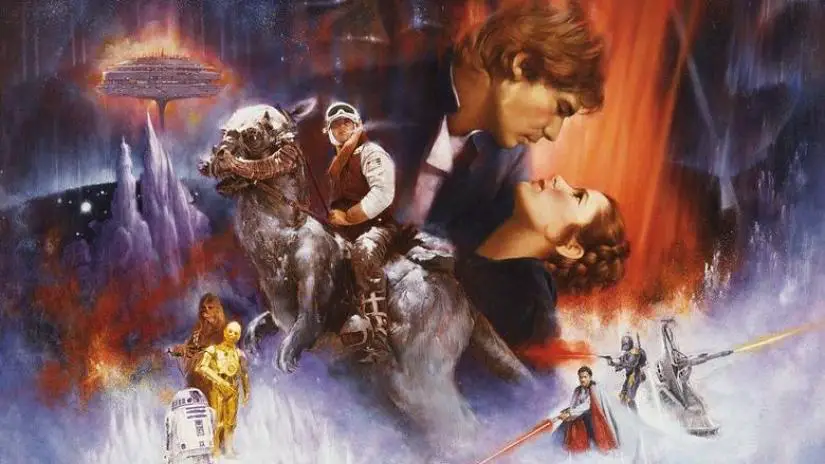 I don't know what more I can say about The Empire Strikes Back that hasn't been said already, but I never get tired of expressing just how much I love this film. In terms of sequels, Empire set the standard for what we've come to expect regarding Star Wars follow-ups. The stakes are high, and every hero finds themselves challenged in intensely personal ways. Lucas could have easily fallen into the trap of thinking bigger is always better, but instead, we're treated to a sequel that values the drama surrounding the galaxy's heroic trio of Luke, Han and Leia. Not only is Empire the best Star Wars film, but I also believe it to be one of the greatest sequels ever produced.
Set three years after A New Hope, Episode V drops us into the middle of the Rebellion's ongoing war with the Empire. Luke still has much to learn about the Force (as well as himself) and heads to Dagobah to seek out the legendary Jedi master, Yoda. Han and Leia's relationship evolves amid a series of new highs and lows, while a vengeful and more ruthless Vader pursues them. Empire's choices would forever shape our perception of the galaxy we now know, and for many, it remains the quintessential Star Wars story. Irvin Kershner's marvelous direction pairs excellently with Lawrence Kasdan's scriptwriting, giving us one iconic scene after another. You or someone you know has quoted this movie more than once. How many times have you lowered your voice to say, "I am your father."? Or how often have you done your worst Yoda impression just to share some green, impish wisdom with a friend? The Empire Strikes Back isn't just a wonderful Star Wars story, it's THE Star Wars story.
A prime example of how to do a sequel, this 1980 classic delivers on absolutely everything it should. You'll laugh, you'll cry and you'll find yourself popping in the DVD again and again to recapture the same magic feeling you had the very first time you saw it. –Danny O'Brien
Star Wars: The Rise of Skywalker hits theaters on December 20.
The Rise of Skywalker stars Daisy Ridley, John Boyega, Oscar Isaac, Kelly Marie Tran, Adam Driver, Naomi Ackie, Keri Russell, Anthony Daniels, Mark Hamill, Carrie Fisher, Ian McDiarmid, and Billy Dee Williams.
---
Trending Now