Celebrating Star Wars: 'The Phantom Menace' Is A Monument To Ambition
Posted On December 7, 2019
---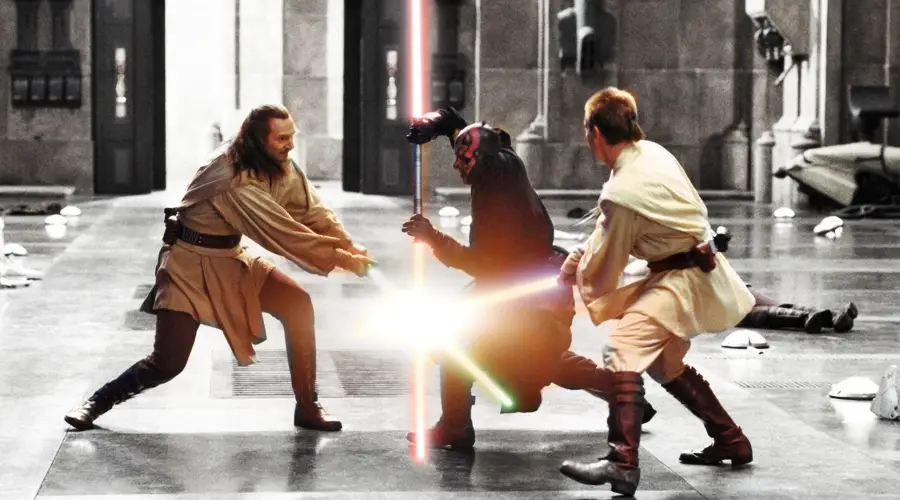 As we approach the end of the Skywalker saga with Episode IX: The Rise of Skywalker, we here at Full Circle agreed it was time to take a look back. Every day until the The Rise of Skywalker's release, we'll be discussing every single theatrical project in the Star Wars franchise, in canonical order. Let's start things off with a bang by talking about the most controversial film in the saga, Star Wars Episode I: The Phantom Menace.
"The Phantom Menace is bad". People treat this sentiment like fact at this point. After the cultural impact the original Star Wars trilogy had, hype for a new film had reached fever pitch. Even at 3 years old in 1999, I felt the excitement. And then the film came out. Audiences were confounded by a CGI-heavy goliath that was more concerned with space politics than evoking that classic 'Wars feel.
Audiences quickly labeled The Phantom Menace as a disappointment; the worst thing to ever happen to Star Wars. But here's the thing- it's not a disappointment. In fact, it gets to the heart of the adventurous craft that made the original 1977 film such a hit with audiences. Only this time with the budget to realize some of franchise creator/writer-director George Lucas' wilder ideas. Therefore, Star Wars: Episode I- The Phantom Menace is a monument to ambition. It is a true awe-inspiring experiment in blockbuster filmmaking that influences movies today. Whether or not it's "good" is another matter entirely. But it is worthy of at least a begrudging respect, and I'm here to break down why.

Before getting into the nitty gritty, it feels necessary to address what really doesn't work about The Phantom Menace. Let's talk about the Gungan in the room: Jar Jar Binks. Simply put, Jar Jar is a terrible and unfunny attempt at comic relief. Despite Ahmed Best clearly giving his all to the role, Jar Jar is a buffoon. Mainly designed for cheap laughs from the young audience. Moreover, that young audience is likely to be thrown by an extremely dense story that frequently mentions trade negotiations, senatorial debates, and blockades.
Yet that's one of the first things that impresses me about The Phantom Menace. When it comes to story, the original trilogy leaned on simple "Hero's Journey" narratives. Although that worked like a charm, it's nice to see George Lucas occupied with something a little more complicated. As an adult, the story is kind of brilliant. Using a trade conflict on the planet of Naboo as a spring-board for a variety of independently fascinating narratives.
The story of a Jedi training his padawan, a child who could be central to the fate of the galaxy, a Queen trying to do what's best for her people, a Senate in disarray, and the rise of an ancient evil all sizzle with intrigue and memorable characters. Even if it's a bit messy and some performances don't hold (here's looking at you Jake Lloyd as Anakin Skywalker). You're likely never to forget the banter between Obi-Wan Kenobi (Ewan McGregor) and Qui-Gon Jinn (Liam Neeson). You especially won't forget Yoda's "fear leads to anger" speech.

Within this story lies an extensive amount of world-building that makes every second of The Phantom Menace at least a curiosity. The Jedi, reinvented as a monk-type order, have never been more singularly intriguing as they are here. Their culture got a complete reinvention, and the planets they traverse are mesmerizing. Who doesn't marvel at the city-wide planet of Coruscant, the green pastures and underwater utopias of Naboo, or even the expansion of Tattooine? Each planet has their own unique sub-cultures that allow for a sandbox of imagination.
Bringing this all to life is a wonderful use of Computer Generated Imagery (CGI). Controversial at the time and today, it really seems that this was the only way to tell this story. As nice as it would've been to have everything be practical, we wouldn't have gotten to see the ins and outs of the Star Wars world we see here. It makes everything feel massive, and gives us images that have inspired the young generation who saw this movie without the preconceived notions of what Star Wars should be.
The final thing that makes me have such an immense respect for The Phantom Menace is the set pieces. No one can argue these things aren't absolutely incredible feats of movie-making. The podrace on Tattooine, utilizing POV shots and extremely fast digital camera movements for instance. It puts us in the middle of a high-octane chase with such momentum it threatens to burn the screen down with sheer energy. The intensity of the neck-and-neck, constantly tide-turning battle between Anakin and Sebulba to the finish line is insane. The podrace scene is something that hasn't been achieved again until Mad Max: Fury Road.

And truly, this would not be a good examination of the virtues of The Phantom Menace without touching on the lightsaber fight between Darth Maul, Qui-Gon, and Obi-Wan. We have never seen something like this onscreen, and arguably we never have since. Backed by John Williams's immaculate "Duel of the Fates", a hyper-choreographed, downright epic fight ensues. Every move is calculated – precise – quick. The audience hangs in the balance, waiting for one contestant to make a wrong move. As their biblical face-off concludes with Obi-Wan cutting the demon-esque Darth Maul in half, it achieves a sort of cinematic rapture.
We all know Star Wars: Episode I- The Phantom Menace has problems. That dead horse has been well and truly beaten. Yet, with its sprawling story, imaginative world-building, and game-changing set pieces, it also stands as a testament. A testament to the kind of cinematic bliss that can be achieved when someone like George Lucas is given the freedom to let their dreams run wild onscreen. Although the modern-day Star Wars films have opted to return to the stylings of the original trilogy, I'm forever grateful that we got to see this level of ambition carried out.
You can even see the influence of this kind of storytelling felt in other messy, though enthralling, works as Tron: Legacy, John Carter, Jupiter Ascending, and Alita: Battle Angel. The Phantom Menace is so much more than a disappointment. It's an inspiration. –James Preston Poole
Rating: 8/10
Star Wars Episode I: The Phantom Menace is now on Blu Ray, Digital HD, and streaming on Disney+.

---
Trending Now