'Titans' S3, E13: "Nightwing" – Time To Clean House
Posted On December 1, 2019
---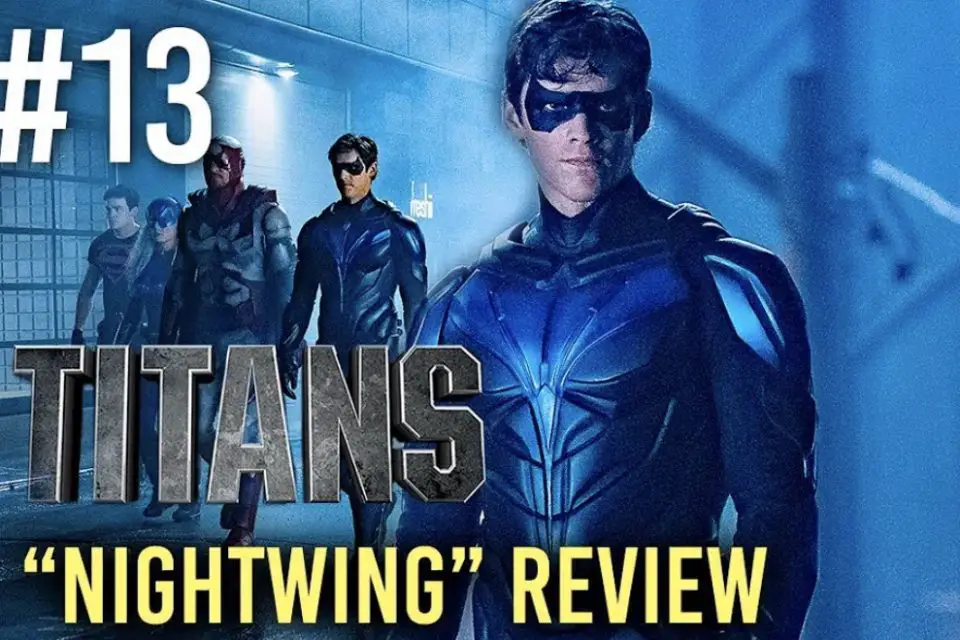 "The Titans reassemble under Dick, who has now fully taken on the mantle of Nightwing, to fight Deathstroke and attempt to save Jericho. But that's not the only struggle they face – as the team finds themselves up against mind-altered versions of Gar and Conner, who are now supercharged weapons at the "mercy" of Mercy Graves (recurring guest star NATALIE GUMEDE) and her Cadmus final Phase Two plan.  It's Titans vs. Titans in the epic season two finale that's filled with surprises." – TITANS season 2, episode 13 'Nightwing' Synopsis
This is a spoiler review for the TITANS Season 2 finale, 'Nightwing' Check out our video review on our YouTube channel HERE or catch up with our review of the twelfth episode, 'Faux-Hawk.', HERE.

First the bright sides, Nightwing. The hero dangled in front of us all of season two. Aptly named, the season two finale of TITANS 'Nightwing' introduces us to the sidekick turned hero played by Brenton Thwaites. The one bright side of the finale, Thwaites absolutely kills it. The introduction was phenomenal, and Thwaites with the stunt crew aptly modified the acrobatics and fighting style from Robin's traditional style, to Nightwing's. It was a superb transition, one the crew clearly had been working on all season. It was thoroughly close to the one consistent string the behind-the-crew staff put together all season.
The cast has all been really well put together. Anna Diop, Minka Kelly, Thwaites, and Iain Glen were all highlights of the season. Needless to say though, it needs to be cut way down. Essentially, time was needed to develop all of the cast members and their stories. As such, characters took away from one another. Villains took away from one another. TITANS tried to fit a CW season into an elite streaming service season, and failed miserably. Too many storylines lead to character development that goes nowhere. It is truly unfortunate, but I truly hope the writing staff learns from it, or DC Universe cleans house on it. The writing crew had sparks of brilliance, but none came to fruition.

From the season finale itself, the duo of villains felt as if they were cut short. Esai Morales as Deathstroke was  done too much a disservice as the legendary villain. Morales is a phenomenal actor, and the elimination of a potential arc for his character is extraordinarily wrong. To just have him suddenly cut down in a fight that had no emotional forbearance just felt like the behind the camera staff wanted to tie off a loose end. Only he wasn't a loose end, he was promoted as the main villain for the season. But that lead truly went to Cadmus with Mercy Graves. Natalie Gumede has been phenomenal, but was deserving of her own lead villainy role. Splitting time with Deathstroke prevented something truly extraordinary happening with Cadmus. It is unfortunate to say the least.
Let's speak on the death of the season. Donna Troy (Conor Leslie) was done a true injustice, dying from a simple  electric tower falling. A sacrifice at the behest of saving a friend, was honorable yes. But Donna was blessed with half Amazonian DNA. A tower should not have been what took her down to say the least. Her return is rumored for season three, but as of now, we have a dead Amazonian off with Raven on an island, presumably Themyscira. The death felt cheap, and poorly done. A return will have to be well orchestrated in order to forgive a death that had no emotional weight. Her death taking down Deathstroke though, now that. That would have changed things immensely.

Overall, the episode fit as a season finale. It closed off of the numerous storylines in the season, and opened potential new ones for a season three. As such, it definitively is much better than the season one finale. But only in the fact that it closed off storylines. Providing decent closure is another story. We still have unresolved looks into why Starfire has lost her powers. Raven and Gar feel untransformed compared to where they were in the season two premiere. It is innately frustrating to see such potential left on the table.

We do have new Titans now! Ones who will face Blackfire in season three next year. My hope is a much cleaner storyline in the future. Remove the unnecessary side trips that only lead to dead ends. Stop trying to have a CW season on a tighter timeline of episodes. Keep the intense characters, shorten the leading cast up. And for goodness sakes, figure out where you're trying to go in a season before you start.
Rating: 3.5/10
The second season of Titans is streaming on the DC Universe app now. Stay tuned for season three of TITANS news as we have it!
The show stars Brenton Thwaites as Dick Grayson/Nightwing, Anna Diop as Starfire, Teagan Croft as Raven, Alan Ritchson as Hawk, Minka Kelly as Dove, Ryan Potter as Beast Boy, Iain Glen as Bruce Wayne/Batman, Chelsea Zhang as Rose Wilson/Ravager and Esai Morales as Slade Wilson/Deathstroke.
---
Trending Now