'Honey Boy' Review: "A Cathartic Exercise In Moving On"
Posted On December 1, 2019
---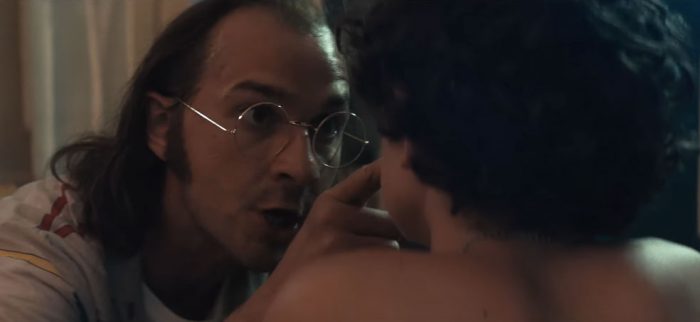 Honey Boy is unlike any film I've ever seen. Directed by Alma Har'el and written by Shia LaBeouf, it draws its origin from a moment in 2017 where LaBeouf's public struggles with alcoholism led him to rehab. While he was there, he was diagnosed with post traumatic stress disorder, or PTSD. As part of his treatment, he began writing a script about the difficult relationship between him and his father. Once he got out of rehab, he set out to fully transform his pain into art. He turned his script into a feature film where he makes the unconventional choice to portray his own dad. Out of this unconventional form of therapy comes a film that's devastating in its honesty.

LaBeouf's script aches with pain. True pain. The names being changed around can't hide that. In 2005, Otis Lort (Lucas Hedges) is a bonafide movie star whose excessive drinking lands him in mandatory rehab to avoid jail time. There, he starts to grapple with his past as a young child actor in 1995, played in these sections of the film by Noah Jupe. The younger Lort lives in a rundown motel with his father, former rodeo clown James Lort (LaBeouf), serving as his chaperone on set for his TV show.
Alma Har'el blends these two times in Otis's life together with grace. Enlisting the sharp eye of cinematographer Natasha Braier (The Neon Demon), together they showcase Honey Boy's intent to heal. Everything is bathed in a warm glow, including the trauma Otis endures, showing sometimes hurt is necessary in order to heal our souls. Lucas Hedges executes that hurt without a misstep as the elder Lort. At times pensive, at others explosive, he finds the man behind the public image of Shia LaBeouf.
The sections of the film with Hedges are understated, though impactful. Otis is shown warmth, no matter how he might try to resist it. From his roommate (Byron Bowers) to his counselor (Martin Starr), everyone around Otis wants to help him move on from his past. It's a bittersweet section of the movie that only serves to make the meat of the story- Otis's life in 1995- all the more tragic.

I don't envy Noah Jupe and Shia LaBeouf, nor I do I envy Alma Har'el. They have the task of putting to screen an extremely complicated relationship that defies the typical notions of what abuse is. So, they don't sugarcoat. They don't try to enforce a strict narrative on the story, choosing a routine of scattered moments. It certainly provides the father-son relationship the depth it deserves.
Otis and James's day-to-day life is fairly simple. Wake up early, go to set, come back home to work on lines. It's hard to get a read on James. He isn't demonized in any capacity. You can tell that LaBeouf wants to try and understand this man who left such an impact on him. He fully becomes him, a man who clearly has a love for his son, but battles his own alcohol addiction and is always on the verge of a freakout. Not outright nasty to his son, he does seem to resent him, treating him like an employer than his kid. He picks cracking profane jokes over nurture.
In the soulful eyes of Noah Jupe's performance, Honey Boy recognizes the deep scars this abnormal parent-child relationship is leaving. Otis tries to find authority figures in a "big brother" (Clifton Collins Jr.) and a shy lady at the motel (FKA Twigs). They're both cut off by James's jealousy. James doesn't even meaningfully attempt to repair their relationship, as it reaches a heartbreaking turning point in a scene set in the motel bathroom that's unfathomably uncomfortable.

It's a good discomfort. The kind of reality we never get to see in the movies for fear of turning audiences off. As Har'el guides Honey Boy to its finish line, past and present collide. As they do, they provide no clear answer other than this: it's okay to move on. Sometimes our past provides us with no closure, so we have to make our own.
The impact of Honey Boy on me, personally, is as tough to describe as James/Otis's relationship. I don't know if this will become one of my favorite films, but it's certainly been one of the most cathartic. Seeing this level of truth on screen, seeing someone choose to acknowledge their past and partnering with a visionary filmmaker to do so has an impact. It allows other people to address what's affected them so deeply in their lives. For that, I say thank you. Thank you, to everyone who worked to make Honey Boy a reality, for sharing this truth. –James Preston Poole
Rating: 10/10
Honey Boy is now in theaters.
---
Trending Now