'The Peanut Butter Falcon' Review: "A Modern Day Mark Twain Adventure"
Posted On September 3, 2019
---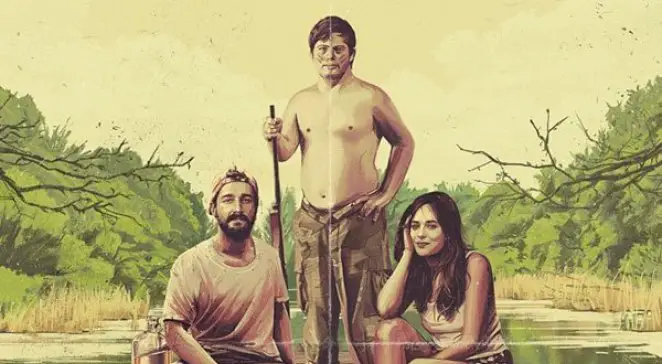 All Zak wants to do is be a wrestler. Every day, when he isn't trying to plan an escape from the home he is being kept in, Zak watches the same old wrestling tape. This particular tape has Zak's favorite wrestler, 'The Saltwater Redneck'. Zak's dreams that after breaking out, he'll join the wrestling school advertised at the end of the tape. Those dreams become a reality for Zak when his elderly roommate (Bruce Dern) helps him finally escape. With a little soap and some bent window bars, Zak is free, wearing only underwear, ready for adventure. The promise of a professional wrestling career at the end of the VHS tape is starting to seem more real. This is the premise of The Peanut Butter Falcon, the directorial debut of Tyler Nilson.
While the plot sounds ridiculous, the film still tells a beautiful heartfelt story that should resonate with anyone who watches. Nilson weaves a simplistic and beautiful tale while hiding some deep cuts beneath its lovable protagonist. At a brisk hour and 36 minutes, this tightly woven film hits all the right beats. Unlike many other films to come out this summer movie season, The Peanut Butter Falcon is a smaller affair.
The main selling point of this film is most definitely the cast, including Shia LaBeouf, Dakota Johnson, and Zack Gottsagen. LaBeouf and Gottsagen carry the film for most of the runtime, with Johnson in a supporting role. This doesn't take away from her performance as Zak's caretaker though, with Johnson's turn as Eleanor being the grounded character. She constantly provides a realist take on the absurd adventure our characters go on, making for great contrast and humorous scenes.

Shia LaBeouf plays a damaged fisherman named Tyler; whose backstory is seen through sporadic, artful flashbacks. Tyler is straight out of a Jeff Nichols film, a man of the land with a tragic backstory, hunted down by society. His rough-around-the-edges character has fun interactions with main character Zak, the aspiring professional wrestler.
Zak is the one who shines the brightest in this film, bringing the heart to the story. The dialogue he has with other characters seems humorous and simple at surface level, but looking past that, is deeper. Zak's perception of himself and how it changes throughout the film goes from heartbreaking to inspiring, and it's beautiful. Even a simple conversation between Tyler and Zak about why Zak wants to play the 'bad guy' wrestler is profound. That conversation leads to Zak developing the moniker of 'The Peanut Butter Falcon'. So, from a script perspective, not a single second of screen time is wasted.

The North Carolina river-centric backdrop of the film makes for beautiful imagery as well. Integral to the plot is Zak and Tyler's Mark Twain style adventure upriver, making locale a character of its own. Think of it as the antithesis of Hearts of Darkness. Zak's quest shapes the wrestler he is destined to become, as he helps others around him realize who they are too. Tyler is also a character who pushes Zak into a more independent lifestyle too, not treating him any different just because of his down syndrome. Tyler also helps Zak realize that his disability isn't a detriment to his character. Overall it's these smaller intimate moments between Zak and Tyler that make the film one of the most feel-good of the year.
As a result, The Peanut Butter Falcon has a lot going for it. Charming, likable characters, magical intimate moments between said characters, and the beautiful story that they are a part of. Thanks to its tight and neat structure this film is one of the most compelling and fun of the year. somewhat of a rushed ending, The Peanut Butter Falcon sticks the landing. Not too dissimilar to Zak's wrestling debut. – Ernesto Valenzuela
Grade – 9/10
The Peanut Butter Falcon is now playing in theaters. The film stars Zack Gottsagen, Shia LaBeouf, and Dakota Johnson.
---
Trending Now