Rian Johnson Retrospective: "Ozymandias" & "Fly"
Posted On November 25, 2019
---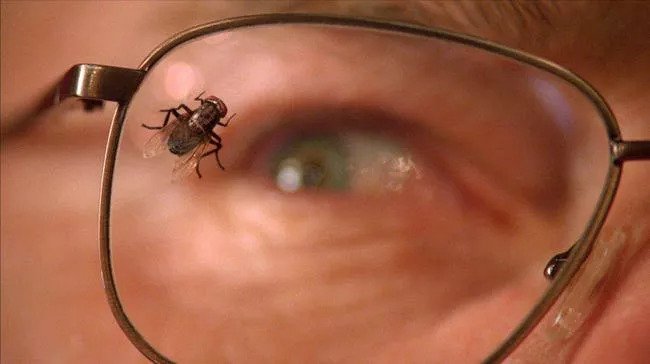 Ahead of the release of Rian Johnson's latest film, Knives Out, Full Circle Cinema will be providing retrospectives on his previous directing efforts. This time around, we're looking at two TV episodes Johnson directed from the show Breaking Bad. 
"Look on my works, ye mighty, and despair! Nothing beside remains."
Breaking Bad is widely considered as one of the greatest television series of all time. Its masterful storytelling and amazing characters put it above most other shows. Series creator Vince Gilligan was careful in his writing and production. Moreover, he was careful for the directors chosen to tell these stories. Enter Rian Johnson, who had directed what I would consider the two best episodes of the series. Johnson transitioned from the big to small screen excellently. The tenth episode of the third season, Fly, was a fantastic introspective look at the main characters.
Fly is the first and only filler/bottle episode of Breaking Bad. There is a fly in the meth super lab they are cooking in, and Walter White sees it as contamination. Moreover, he is obsessed with catching it. Jesse Pinkman, his partner, just wants to cook. That is the premise of the episode. The entirety of the episode takes place in the lab. It's just Walt and Jesse, trying to kill a fly. A lot of people dislike the episode as they find that the story doesn't move forward at all. I beg to disagree. While certain story points remain stagnant during this episode, the story of Walt and Jesse culminates in this episode. What I mean by that is their entire relationship the past few seasons has been building to this moment.

In an obsessive haze, Walt projects insecurities, worries, and guilt onto the fly that is in the lab. Jesse is oblivious to this, unaware of the hand Walt had played in the pain he has suffered this past season. Unaware that Walt willingly let the person Jesse loves most die. At this point in the season, Walt is near his breaking point with his family and the double life he leads. His feelings on the universe, fate, and destiny all come pouring out. All while trying to catch a fly. Only Johnson could pull off such an incredible feat of character work It is interesting to watch him come to work on something he hadn't created, but still leave his mark on the work.
READ: 'Rian Johnson Retrospective: 'Looper' Review'
The way his direction impacted the performances of Bryan Cranston and Aaron Paul is astonishing. This episode is a character piece, with the only feature of the episode being these two characters going at it, attempting to catch a fly. The whole episode, Walt is worried about the "contamination" the fly brings to the lab. Jesse eventually drugs him with sleeping pills, attempting to calm him. While it does that, it also brings about Walts true feelings. At one point, Walt nearly confesses to his wrongdoing of Jesse. He gives up on catching the fly. Jesse asks about the contamination it may bring, and Walt simply responds: "It's all contaminated". He feels he is at the point of no return. The episode ends on an unsettling note, with Walt staring at a fly on his ceiling at home. A representation of the burden he carries, still ever present.

Rian Johnsons episode of Breaking Bad, Fly, is nothing short of phenomenal. It's a character study and nice change of pace with plenty of humor packed in. Even with characters and writing not of his creation, he still manages to leave his mark. The same goes for Ozymandias. 
Ozymandias, titled after the poem of the same name by Percy Shelley, was also directed by Rian Johnson. It's a raw and heartbreaking episode. It deconstructs everything that happened in Breaking Bad. At the end of it, there is nothing left of Walts empire. Not dissimilar to the poem. Moreover, Rian Johnson executes tension, brevity, and emotional catharsis perfectly in this episode. So many story points come to a head. Additionally, the episode features some of the best acting from the cast. Rian Johnson expertly weaves so many seasons of storytelling together. It's obvious from these two episodes what a fan he was of the show as well.

Ozymandias also contains a flashback to the first episode of the series. Cementing itself as an episode that brings everything full circle. Although Rian Johnson didn't have a hand in writing it, he still showed expertise in executing the vision. His respect for the material and characters oozes through this episode. Long standing plot points are resolved and there is incredible cinematography throughout. Even the imagery of Walter fallen down and sunken, much like the statue of Ozymandias from the poem the episode is titles after. I could go on.
Overall, these two episodes of Breaking Bad that Rian Johnson directed can easily be considered the best of the series. The job of a director is to get the best performances out of his actors that he can. Johnson does just that with Ozymandias and Fly. He shows he can handle the transition from movies to tv expertly. The character work and emotional themes of each of these episodes is amazing and that is in no small part thanks to Johnson. – Ernesto Valenzuela
Breaking Bad is now streaming in its entirety on Netflix
---
Trending Now