'Ford v Ferrari' Movie Review: "An Exhilarating Race That Never Slows Down"
Posted On November 19, 2019
---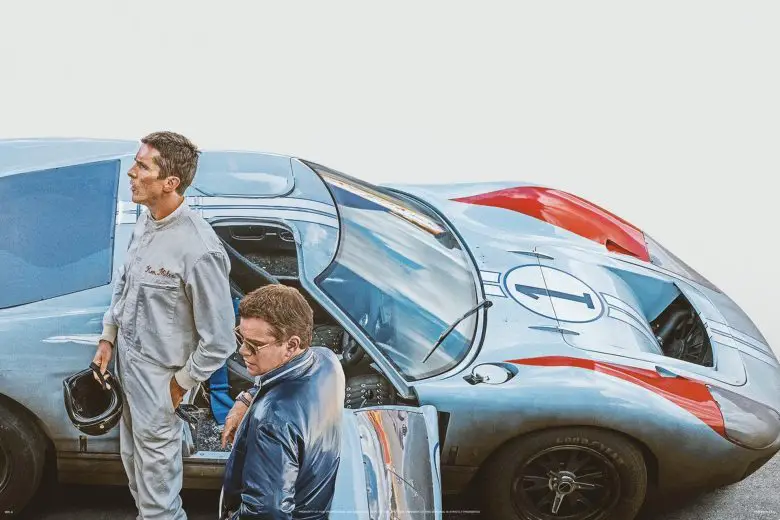 In Ford v Ferrari, James Mangold returns to theaters after his massive superhero hit Logan. Thankfully, it provides a fresh and exciting film bolstered by its two lead performances. The film focuses on Carroll Shelby (Matt Damon) and Ken Miles (Christian Bale), an automotive designer and race car driver respectively. Their goal? To design a car that is fast enough to finally dethrone Ferrari at Le Mans 66, as they had won the four previous races before that. With a premise like this, Ford v Ferrari is definitely not a film that ever slows down.
Overall, the story of Ford v Ferrari is one that is very by the numbers. An underdog story with predictable story beats. However, that doesn't make the film any less enjoyable. In particular, the two leads are what make the film so compelling. Yes, it is a typical underdog story. However, the underdog that is Ken Miles is so enjoyable to watch on screen.
Whenever Mangold and Bale team up to tell a story, they are truly a force to be reckoned with. They struck gold with the remake of 3:10 to Yuma, and they strike again here. Bale brings an energetic performance to the character of Ken Miles. Miles is a hilarious and temperamental character. I could spend an entire two-hour runtime just watching his character inside of a race car. Not to mention his interactions with his partner, Shelby.

Matt Damon has most of the focus in this story, and his character is a bit more by the numbers than Miles is. It is still interesting to watch him handle the corporate side of things in the automotive world. This is because the car that they are building to beat Ferrari, is a Ford. The Ford Motor Company plays a major role in this film. To portray this, we have three characters that are in the company. We have Lee Iacocca (Jon Bernthal) The Vice President of Ford who conceives the idea to build a car to beat Ferrari. We also have Leo Beebe (Josh Lucas), senior Vice President who is constantly at odds and holding back our leads. Lastly, we have the CEO of the company, Henry Ford II (Tracy Letts).
READ:'Charlie's Angels' Review: "A Fun Blind Date With No Future"
Watching Shelby and Miles try and work in a short timeframe as well as navigate the corporate landscape of Ford made for an intriguing story. Watching the corporate meeting and seeing Shelby and Miles take one step forward only for Ford to make them take two steps back was interesting. Not only was the battle outward against Ferrari, but inward withing the corporate structure of Ford. In-between these corporate story beats, we are also treated to thrilling race sequences. This is where the cinematography of the film really shines.

Cinematographer Phedon Papamichael achieves beautiful shot compositions and makes colors pop in some scenes. There are particularly beautiful sunsets that are used so well as backdrops from some great scenes in the film. Of course, the racing sequences are in a league of their own. The way the camera follows the cars and even puts you in the driver's seat with the racers makes it feel so authentic. The sound design and mixing of the cars on the track are excellent as well.
Thanks to the cinematography and sound design, Ford v Ferrari becomes a sleek and thrilling ride. The swagger provided by Mangold's direction doesn't hurt either. The production design for the entirety of the final race was probably my favorite part of the film. Top it all off with a score by Marco Beltrami and Buck Sanders and you have the recipe for a great James Mangold film. I found myself on the edge of my seat for every racing sequence in Ford v Ferrari.

The two and a half hour runtime is really dedicated to showing every step in the process to beat Ferrari. Because of that, while you don't miss a beat in the process, it can feel like it's dragging sometimes. I feel Ford v Ferrari more than makes up for that with its intimate character moments. After the final race, the film wraps up with somewhat of a 15-minute epilogue. Concluding the story of Shelby and Miles's partnership.
An emotional and thrilling ride, Ford v Ferrari never lets up until the finish line of Le Mans 66. James Mangold crafted an emotional and sleek ride with two amazing leads in Matt Damon and Christian Bale. Albeit, the supporting cast sort of fades into the background and the story is very by the numbers. The film still manages to stand out among other 2019 films thanks to Mangold's direction and its beautiful production design, amazing racing sequences, and cinematography. Mangold took the American Dream for a ride, and we were lucky enough to tag along. – Ernesto Valenzuela 
Grade – 8.5/10
Ford v Ferrari is Now Playing in Theaters and Stars Matt Damon, Christian Bale, Jon Bernthal, and Tracy Letts.
---
Trending Now