13 Slashers Through the Ages: 'You're Next' Review
Posted On October 30, 2019
---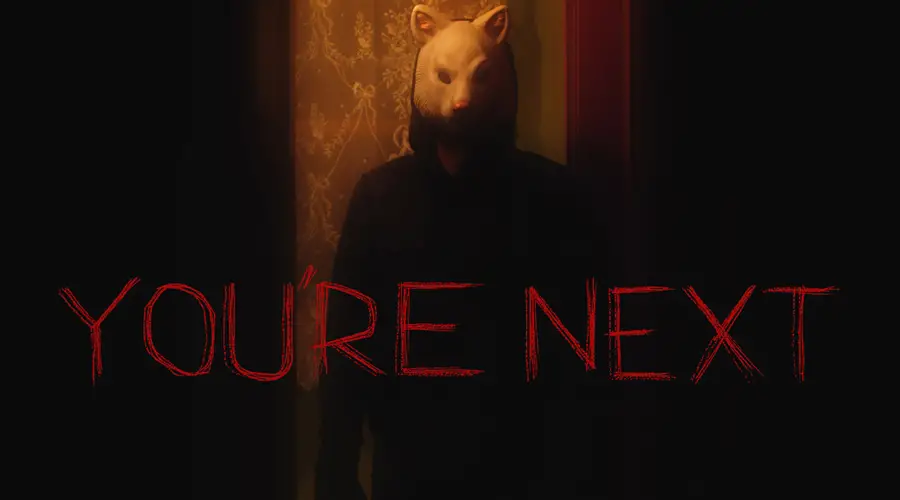 Between October 19th and Halloween, we at Full Circle Cinema will be celebrating 13 days of slashers. Tonight's program is the most recent film we'll be covering, but just as important as the rest. It mixes the slasher genre with comedy in a way that's never been done before, or since. It's completely worthy of its cult following. Without further ado, enjoy our discussion of You're Next!
Incompetence is the glue that holds the majority of slashers together. Not incompetence in direction or any other technical facet, but in the victims themselves. To string together as many thrills and kills together in a compact run time, directors often make their victims lose some measure of common sense. Director Adam Wingard has other plans. In his 2011 slasher opus You're Next, Wingard boldly asks one question. What if we dropped a hyper-competent person into a slasher?
You're Next has a standard set-up for your typical home invasion flick. The waspy Davidson family convenes at their Missouri estate for what's supposed to be a pleasant family reunion. Naturally, bringing a group of family members together that haven't seen each in a while leads to a fair share of arguing. Writer Simon Barrett mines some good laughs from the general discomfort between members of the family.
Down-on-his luck professor Crispian (A.J. Bowen) gets in petty scuffles with his successful brother Drake (founder of the mumblecore comedy subgenre Joe Swanberg). Family pariah Felix (Nicholas Tucci) clings to the shadows with his goth girlfriend (Wendy Glenn). And, mostly hilariously, bohemian Aimee (Amy Seimetz) tries desperately to get the family to be impressed by her documentary filmmaker boyfriend Tariq (cult horror director Ti West). On their own, these scenes make for an engaging indie comedy; it's a treat that You're Next decides to put this dysfunctional family into a more dire situation than dealing with each other.

Smack dab in the middle of dinner, the home is invaded by a trio of killers wearing animal masks. Rocking military gear and with initially unknown intentions, they're as imposing as any slasher great. However, they're about to meet their match. Little do they know, Crispian's girlfriend Erin (Sharni Vinson) has a remarkable set of skills that allow her to combat the killers.
Within You're Next's taut 94 minute run time, the tables slowly turn on the killers as Erin figures out new ways to outsmart, and even dispatch, them. It's like an adult version of Home Alone, with some added scares. Make no mistake, though, it's just as funny. Every time Erin injures an animal mask killer, they let out an exaggerated wail that's far from the kind of stoicism you'd see in the Michael Meyers slasher archetype.
That alone is subversive, yet You're Next has one more trick up its sleeve. A reveal midway through the film pulls back the curtains on the motivations of the attacks and it's… really funny. It's so petty, short-sighted, and simplistic that it completely changes the film from a horror with comedy elements to a full-on slasher farce. The hunters well and truly become the hunted as we realize just how screwed they are to be in the same house with Erin.

Sharni Vinson relishes the role of Erin. She's no scream queen or final girl. She's a proper action hero, through and through. Vinson is a strong grounding for a film that gets more ridiculous as each moment goes by. That's by no means a bad thing. Adam Wingard knows that to properly sell this flipping of the slasher playbook he needs to have all the production value and care of a proper slasher, rather than simply a spoof.
You're Next drips with stylistic flourishes top-to-bottom. It has a crisp look that's as gritty as it is sharp, courtesy of director of photography Andrew Droz Palermo. Moreover, all of the kills are insanely memorably, not to mention inventive. A piano wire through the neck, an arrow to the face- heck, the kills even go into slapstick territory with a blender to top of the head! A personal favorite flourish is the repeated use of obscure '80s song "Looking for the Magic" by the Dwight Twilley Band, which plays over several of the films' murder sequences.
Adam Wingard realizes that the line between horror and comedy is very thin, so he chooses to playfully step over that line as much as possible. That results in a film that's always a blast to watch, up until a final moment that's as brutal and cruel as it hilarious. The closest thing I can think of that matches You're Next in terms of its blending of genres is Scream, but I feel that comparison does a disservice to both films.

I have no qualms calling You're Next my favorite slasher film of all time. Truthfully, it might even be my favorite horror film and one of my favorite comedies. It's an invigorating film that mixes so many disparate elements together in a way that shouldn't work, but still does. It put Adam Wingard on my radar, but more importantly, it showed me why the slasher genre should've never left my radar.
Rating: 10/10
You're Next is available on Blu-Ray and Digital HD.
The film stars Sharni Vinson, Nicholas Tucci, Wendy Glenn, A.J. Bowen, Joe Swanberg, Barbara Crampton, and Rob Moran.
---
Trending Now