13 Slashers Through the Ages: 'Funny Games' (2007) Review
Posted On October 28, 2019
---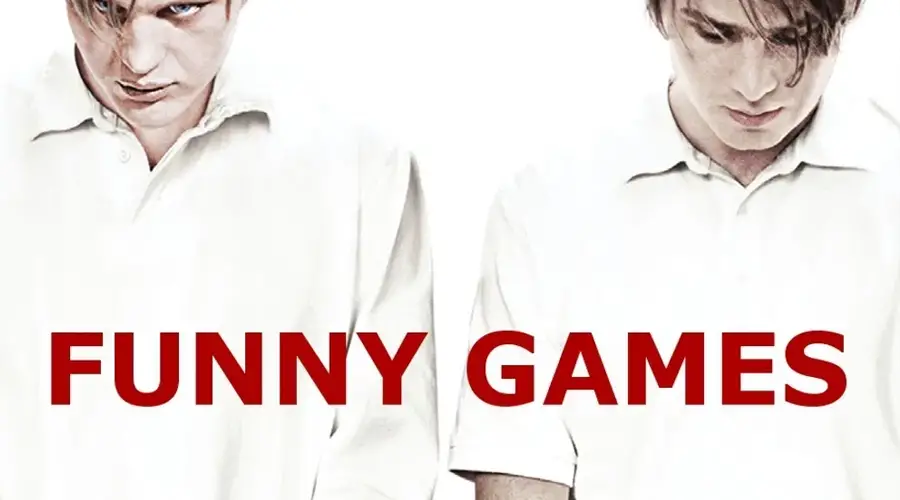 Between October 19th and Halloween, we at Full Circle will be celebrating 13 days of slashers. Amidst the carnage, fun, and gory gratification of the previous films comes something a little different. It's a postmodern deconstruction of slasher tropes and horror movies as a whole, taking a feel-bad approach to the home invasion genre. Although this movie is called Funny Games, there isn't much to laugh about here.
It should be no surprise that Michael Haneke studied psychology before becoming a director. After all, many of his films dabble in horrifying ideas, broken psyches, and acts of pure cruelty. However, the only movie of his that could be considered a true "horror" film is Funny Games.
Released initially in 1997, Haneke unleashed two hours of unrelenting, stomach-churning torture that was designed from the ground up to make the audience consider why they find violence in films so appealing. It was controversial in the 90s and remains fairly controversial to this day. In 2007, Haneke was given an opportunity that all acclaimed foreign horror movie directors get: the chance to create an American remake. Considering the subject matter of the film, as well as the fact that Haneke stated before Funny Games' release that he always wanted the film to be shot and produced in America, he went through with it. For all intents and purposes, he views the remake as the definitive version of the film and so that iteration will be the focus of this retrospective. 
Now, it should be known that I'm no stranger to enjoying violent movies. The Saw movies, for example, are a great time. They're full of schlocky, over-the-top, annoyingly elaborate celebrations of how cool the human anatomy can look when it's been split open. However, the violence in Saw VI is enjoyable due to the fact that it's so far removed from reality that it lacks any sort of moral weight. If any of the millions of moviegoers that bought tickets for those films actually went through Jigsaw's traps, they'd see those scenarios in a different light. This isn't a concern, though, because movies are obviously fictional. They're so far removed from reality that we find ourselves not caring about a character's life since they were designed to be disposable: another head mounted in Freddy Krueger's foyer. And, frankly, that's totally fine to me.
But Haneke views movies in a different light. To him, movies are a parallel to reality, meant to shed light on real issues through hypothetical, yet authentic, situations. The movies he makes may use violence as a tool, but they never indulge in it or find joy in the act of doing it. In fact, what makes Funny Games so sickening is the fact that there's no reason for the emotionally visceral torture on display. The only reason it's happening is because we, the audience, want to see characters tortured in a movie from this genre.
In the beginning of the film we are introduced to a well-off, ordinary upper-middle class family. Everything is going swimmingly, but when they arrive, they notice their neighbor conversing awkwardly with two young men. Ann and George, played by Naomi Watts and Tim Roth, think nothing of it, pull into their driveway, and unpack their car. Ann goes into the kitchen, but one of the young men from earlier, played by Brady Corbet, has made his way into her house. He introduces himself as Peter and asks Ann for eggs, with their interactions growing increasingly more uncomfortable and tense as he keeps coming up with reasons to not just take the eggs and leave.
At this point, he is joined by Paul, played by Michael Pitt, his partner in crime, and it's clear that something wicked is brewing. Despite Ann's pleas for them to leave, they refuse to do so. Even the intervention of her husband doesn't deter them. What ensues from this point forward is a series of "games" that the two sadists decide to play, and one of the most disturbing, oddly reflective films to grace the home invasion genre of horror films.
By the midpoint of the film, Haneke's thesis is clear: Peter and Paul are meant to represent the audience. By watching this movie and expecting a home invasion scenario, we are intruding into these ordinary people's lives and intentionally subjecting them to unspeakable trauma. One of the main strengths on display with this film is the pacing, which shows practically the entire ordeal in real-time. The camera isn't afraid to linger on the family's suffering, nor is it afraid to linger on Peter and Paul's joy. Naomi Watts and Tim Roth act their hearts out, playing the most helpless, hopeless, and utterly broken people possible. They can't fight back because, as expendable characters, they aren't meant to. Nothing they can do or say will change their fate; they're always meant to die, and we, the audience, are supposed to enjoy it.
It helps, too, that the film is elevated by its presentation. The shot composition, lighting, and sound design are all superb. The only use of music is diegetic, so it never detracts or distracts from the events that are unfolding onscreen. Additionally, the film never shows a gratuitous amount of bloodshed. The horror is all conveyed through the dialogue, performances, and implications. There are a few overtly meta moments in the film where Peter and Paul break the fourth wall, but this makes the point of the movie clear to even the most dull audience member. The subtlety in this movie doesn't come with plot, dialogue, or through any conventional way, but rather through the context surrounding the film and genre that it belongs to. The best way you could score an appreciation for this movie is by knowing the general premise before checking it out, but don't look into the subtext too much.
 The end of the movie shows that these "games" are not an isolated incident. The two sadists don't have a motive, credence, or clear reason for doing what they do. They simply happen to enjoy it. It shows that we, the audience, will come back to the same kinds of scenarios again and again for two hours of cheap thrills. In a sense, we are the worst slashers of all. The amount of murders we've willingly witnessed and enjoyed are enough to put Ted Bundy or Ted Cruz (the infamous Zodiac killer) to shame, but we aren't culpable for any of them. We just wanted to watch some fun and games.
Rating: 9/10
Funny Games (2007) is streaming on HBO Go and can be rented for $2.99 through Amazon, AppleTV, Vudu, or Google Play.
---
Trending Now