'El Camino: A Breaking Bad Movie' Spoiler Review
Posted On October 23, 2019
---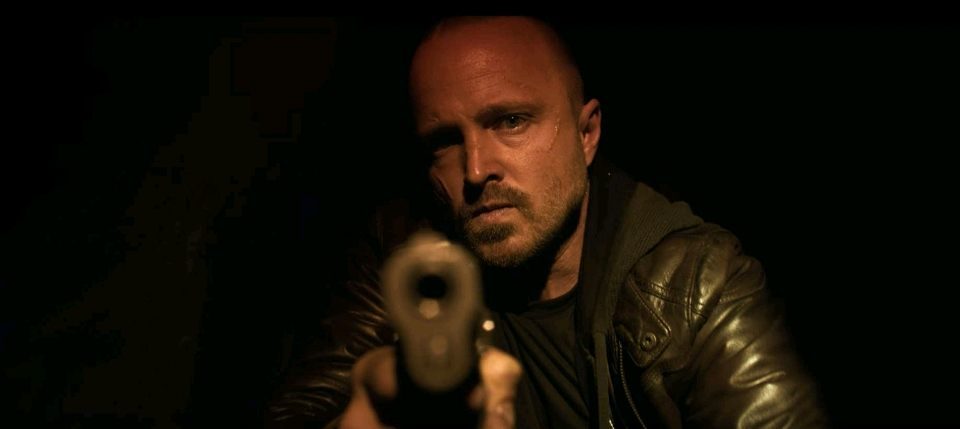 WARNING – The Following Review Contains Major Spoilers for El Camino: A Breaking Bad Movie
From its opening shot, El Camino immerses itself in the world of Breaking Bad. Taking place during the 5×06 episode Buyout, the tranquil opening sets the tone of the movie. Most of all, we have Johnathan Banks as Mike Ehrmantraut as the first of many Breaking Bad ghosts we visit in this movie. The narrative structure of each flashback is what makes Vince Gilligan's writing so masterful in this film. Each character and the order they appear in the flashbacks show their importance to the character of Jesse (Aaron Paul). His journey to freedom in El Camino is as internal as it is external.
With the opening scene, we show the idea of freedom and starting fresh planting itself in Jesse's head. Through the idea of going to Alaska, gifted to him by Mike, we understand what Jesse's ideal endgame is. After this scene, the jump cut to Jesse screaming in the El Camino shows us where the film begins: mere moments after the end of Breaking Bad. With the influence of Walter White finally gone, Jesse is able to escape.

While the premise of a man on the run is simple on the surface, Gilligan uses it as a vessel for much deeper storytelling. We see Jesse dealing with PTSD from his time as a prisoner of a white supremacist gang. Kept in a cage and hosed down occasionally, Jesse still clearly suffers mentally from his time there. One look in a mirror while in the shower and Jesse wants to get rid of the animal he had become. So, against his friends' advice, Jesse shaves clean. He won't stay looking unkempt and unshaved as he did in captivity. This brings us to Jesse's friends, Badger and Skinny Pete.
While their roles do not extend beyond the first half, the duo of Skinny Pete and Badger works wonderfully. They do a lot with the little screentime they have. Staying a loyal constant in Jesse's life since the show, it is nice to see them stick by their friend. In fact, they are probably the only parts of his past life that were not tragic. Skinny Pete shines particularly, doing his best to keep his friend out of yet another cage. Jesse leaves without saying much to his friends, but everything that needs to be said is done so through action.

At this point, we're introduced to the second and most influential ghost from Jesse's past. Todd, played wonderfully by Jesse Plemons, nearly steals the show. Much to the film's benefit, a majority of the flashbacks center around him. This is probably most likely due to the fact that Todd himself is a dark mirror of Jesse. In a film about Jesse escaping his past, it would make sense that Jesse would have to face his inner demons in the form of Todd. Plemons plays the polite sociopath perfectly and nearly steals the show from Paul. Showing the twisted things Todd forces Jesse to do works on a great psychological level.
READ: 'Zombieland: Double Tap Review'
Jesse and Todd, who were both at different points Walter White's apprentices, are fundamentally the same people but with polar opposite moral compasses. Todd kills anyone he feels he has to, whereas Jesse values life and refuses to take it and has mostly been forced to. In revisiting his past with Todd, Jesse is not only trying to get Todd's money to escape but is also coming to terms with who Todd was and the fear Jesse had of him. The fact that Gilligan structures this through flashbacks and the main narrative is perfect.

The whole section of the film in which Jesse is searching the apartment is the tensest scene of the film. In this, we are introduced to the antagonists of the film, who are – unknowing to the audience – from Jesse's past as well. The Mexican standoff between Jesse and the two comes to a head with the revelation of them being not who Jesse thinks they are. When Jesse realizes that they are not police but rather con men, we see his character switch gears. Much like in the flashback where Jesse surrenders his gun to Todd, he does it again with this duo. Only this time, it is because he thinks they are police. His realization of the mistake he made is so clear in his expression as well. This is yet another testament to Aaron Paul's amazing acting.
Unlike the flashback, Jesse takes back control of the situation. Bargaining his way back to freedom and getting some of Todd's hidden cash, he is one step closer to Alaska. However, a shortage of money and a stellar scene opposite Robert Forster as Ed leads him to one more confrontation with his demons. Before this confrontation, however, we get to see another torturous flashback. It is also without a doubt one of the most heartbreaking scenes in the film. El Camino does a great job of getting the audience to empathize with Jesse. This flashback is no exception. Watching Jesse being forced to run back and forth on a leash causing him to whiplash back and forth for others amusement was absolutely sad to watch.

It's after this flashback that we see Jesse fight for his freedom. Getting the money he needs, Jesse cleverly outwits his enemies in a western standoff that works well with its themes of a damaged man. After the violent and quick confrontation, we see the most anticipated flashback and one of the final ghosts of Jesse's past. Walter White (Bryan Cranston), the person who has been the author of nearly all of Jesse's pain, makes an appearance. Taking place briefly within a diner, their short conversation plays out showing Walter's true character and what he thinks of Jesse, showing that he envies his chance to do what he wants with life and their twisted yet intimate relationship that they have.  It is one of the more cathartic moments of the film.
The film concludes with Jesse finally being free of his past and taking control of his future. To coincide with this, we see the final ghost of Jesse's past, Jane (Krysten Ritter). Jane is one of the people Jesse loved the most. In this scene, she tells him to not let the universe guide him, but to make decisions for himself. It is after this we see Jesse, in control behind the wheel and looking peaceful; an exact opposite of the opening of the film. It is only after this that the film can end. For all these reasons and more, El Camino is the perfect closing story for Jesse as it has him coming to peace with his past and taking control of his future. – Ernesto Valenzuela
Grade – 10/10
El Camino: A Breaking Bad Movie is now streaming on Netflix.
---
Trending Now