'Zombieland: Double Tap' Review: "The Zombie Phenomenon Lives On"
Posted On October 23, 2019
---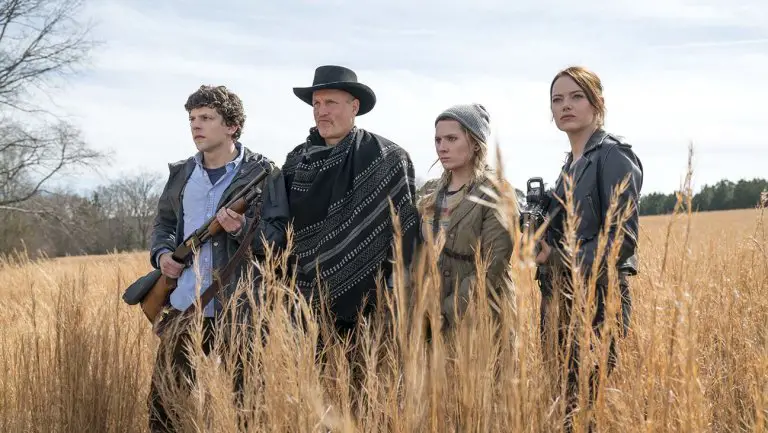 Right before the 2010s, there was a pop culture phenomenon that had begun: zombies. There were TV shows, movies, comics, etc. all focused on zombies. They were the new thing in pop culture that everybody focused on. They are still very relevant but there hadn't been a surge quite like this one in some time. On October 2nd, 2009, that phenomenon got a new addition: Zombieland. More than any other zombie movie, it is a film about the rules for surviving a zombie apocalypse. The film in itself was a cultural phenomenon for everything zombie-related.
Starring rising actors Jesse Eisenberg and Emma Stone with the addition of the vet Woody Harrelson and the child wonder Abigail Breslin, the film would go on to be a cult classic. The film focused on Columbus (Eisenberg) who was our rules maker on surviving the apocalypse. He meets Tallahassee (Harrelson), Wichita (Stone), and Little Rock (Breslin). Eventually, the four people team up to go on a zombie-slaying brigade.

Now ten years later, we get the only sequel that matters. Zombieland: Double Tap takes everything you loved about the original and doubles down. The film still focuses on our fantastic four, but it adds some new characters and a new zombie. We start the movie with the group kind of showing that they are growing apart. Tallahassee is an overbearing father figure to Little Rock, and Columbus is trying to force his relationship with Wichita. The group does eventually go their separate ways and we go the rest of the movie trying to get to Graceland and bring the band back together. Along the way, we get the addition of Madison (Zoey Deutch), Nevada (Rosario Dawson), Berkeley (Avan Jogia), Albuquerque (Luke Wilson), and Flagstaff (Thomas Middleditch).
This cast was so well-crafted and put together that you can't dislike this film. There are so many puns throughout the film and side jokes that land every time. Harrelson is hilarious and Eisenberg is still great as Columbus. Stone and Breslin matched their energy for the entire film. The co-stars and guest appearances were also fun to watch. The jokes land, the chemistry is amazing and director Ruben Fleischer pulls it all together so well. The screenplay from Dave Callaham, Rhett Reese, and Paul Wernick is full of life (ironically) and jokes that stick the landing. Everything about this film culminates well.

Unfortunately, this film – as charming as it is – gives away most surprises as they go. While I loved the film it was very predictable. So if you're going into this thinking, you're getting some Night of the Living Dead, you are not. You are getting a comical zombie flick that will make you laugh your gut off whilst being very action-packed. If you love zombies and jokes, then this is also the film for you. I prefer the original over this movie, but it's still very ambitious and enjoyable.
Overall, I thoroughly enjoyed this latest Zombieland. I loved the campy screenplay, the corny but funny jokes, and the cast chemistry. Yes, there were faults, but this film will still go down in zombie flick top twenty (at least) history. I hope Hollywood doesn't drag this series through the mud like they do most, and that we end this franchise at an even two. Zombie films aren't the phenomenon they once were. But with Zombieland: Double Tap, it serves as proof they are still very relevant.
Rating: 7/10
Do you agree or disagree? Did you love it, hate it? Leave a comment below and let us know!! – Rascal F. Kennedy
Zombieland: Double Tap is now available in theaters.
The film stars Jesse Eisenberg, Woody Harrelson, Emma Stone, Abigail Breslin, Zoey Deutch, Rosario Dawson, Luke Wilson, and Thomas Middleditch.
---
Trending Now