'Arrow' S8, E2: "Welcome To Hong Kong" Recap/Review
Posted On October 23, 2019
---
Following a stellar premiere to Season 8, Arrow has returned with the second episode in its final season, otherwise entitled "Welcome to Hong Kong." This outing in The CW series sees Team Arrow return to a location much-maligned by fans of the series, with Oliver (Stephen Amell) continuing his mission for The Monitor (LaMonica Garrett) after the destruction of Earth-2.
The beginning of the episode picks up shortly after the events of the premiere, with Oliver, Diggle (David Ramsey) and Laurel (Katie Cassidy) having been transported to a familiar location: Hong Kong. For those in need of a refresher, the Season 3 flashbacks for Arrow took place in the Chinese region, with Oliver being tasked to acquire a lethal virus by ARGUS head Amanda Waller. Season 8 Hong Kong feels eerily familiar as Oliver quickly learns The Monitor has another task for him in the mission to save the multiverse that leads him into danger.
As a follow-up to "Starling City," Episode 2 does a great job making the audience feel the ramifications of what they witnessed last week. Earth-2 Laurel is having a hard time coming to grips with the destruction of her world, so much so that she nearly reverts to Black Siren-like habits. With such heavy material, an actor needs to step up their game, and Cassidy did just that, giving a performance that ranks up there with the best of the series.
As for Oliver, he learns that Mar Novu is in search of a Chinese scientist who the Triad, led by former Task Force X member China White, is after. Oliver's mission leads him to cross paths with an old friend, Tatsu Yamashiro (Rila Fukushima). Katana's involvement in this episode helped continue the theme of the season: reflecting on the past. In "Starling City," Oliver sees members of his family long dead on his Earth, which helps him gain closure he's long sought out. Arrow plays on that concept in this episode, with Tatsu serving as a moral guide for Oliver, so he doesn't lose himself in his mission.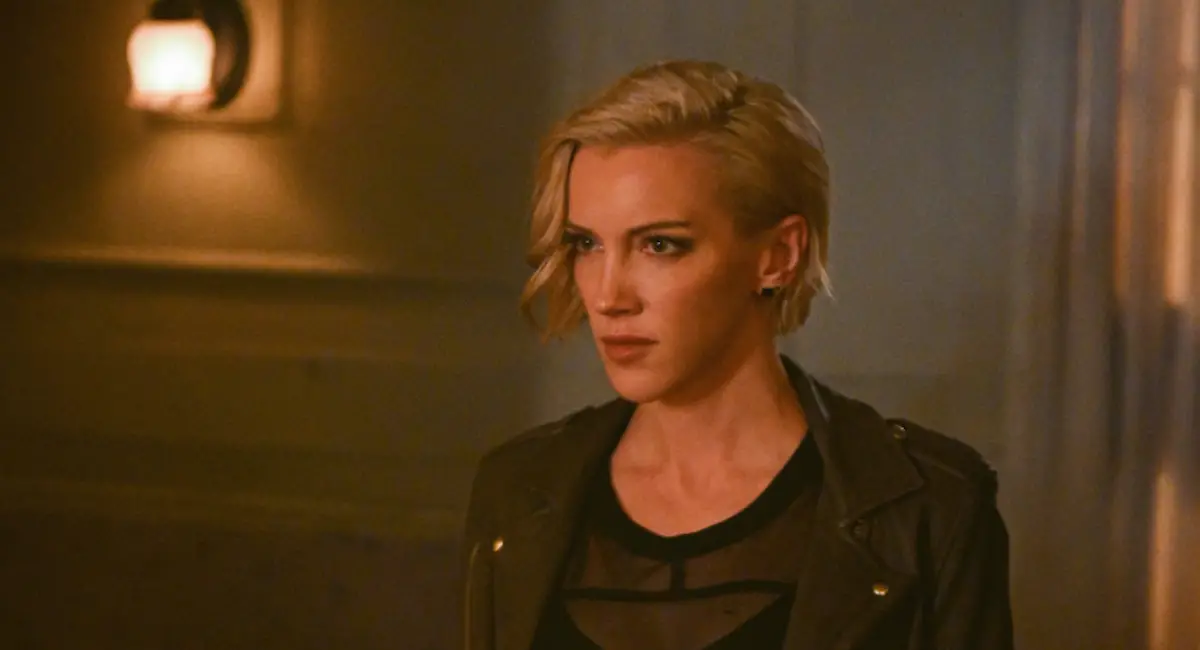 With Tatsu helping Oliver realize that the path The Monitor has set him on could be a flawed one. Once Team Arrow defeats China White and acquires the scientist, Oliver figures he must seek out more information about the cosmic entity that's sending him throughout the multiverse, telling Tatsu he's heading to Nanda Parbat. If that wasn't enough of a tease, towards the end of the episode, Lyla (Audrey Marie Anderson) meets with The Monitor, revealing that she knows more than once thought. For fans of the Crisis On Infinite Earths book, this interaction is sure to get even more hype building for the crossover.
While another solid entry in what's shaping up to be a season to remember, "Welcome to Hong Kong" was weighed down by the flashforwards. In the future, Mia and Connor are attempting to unravel what J.J. has in store for Star City, but that's about as interesting as it got. This story, which kicked off in Season 7, has left a damper on the series' final season. If The CW plans for Mia and the Canaries to get a spinoff, they have a lot of work to do to get fans on board. –Jackson Hayes
Grade – 8/10
New episodes of Arrow air on Tuesdays at 9 pm EST on The CW.
The series stars Stephen Amell, David Ramsey, Emily Bett Rickards, Colton Haynes, Katie Cassidy, Rick Gonzalez, Juliana Harkavy, and Kirk Acevedo.
---
Trending Now