Full Circle Showdown: 'Watchmen' (2009) Review- "A Beautiful, Messy Curiosity"
Posted On October 20, 2019
---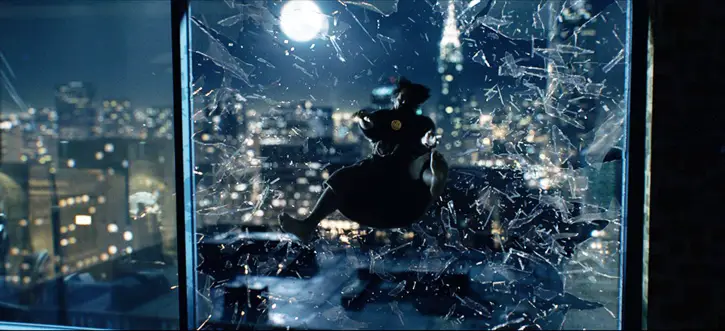 The writers and film lovers here at Full Circle Cinema know that opinions on films are divisive and can get pretty argumentative. But to encourage friendly and lively debate, we have Full Circle Showdown, an in-depth discussion and collaborative review from two writers who have different opinions and ways of seeing films. Just in time for Damon Lindelof's HBO series, we're taking a look at the extremely polarizing 2009 adaptation of Watchmen.
The following review will be covering the Director's Cut version of the film, as well as going into some spoilers so be warned!
Review #1: Kat Quinn (Features Writer) 
It's hard to say anything about Watchmen that hasn't already been said. Harder still to give it a review that doesn't compare it to its source material, saying what worked and what didn't work, what the exact point of the novel was that Zack Snyder misinterpreted, or maybe he just plain missed it altogether.
I read Watchmen in high school, saw the film while neck-deep in my Batman craze. I remember liking it, appreciating its style and polish, and feeling shocked by its violence. But now it's been a few years since I've seen the film (even more since I've read the graphic novel) and jumping back into it with 2019 eyes was a strange experience. Almost like looking back on an old, fond memory and only now being able to see all the holes and patchwork. 
Watchmen is undoubtedly a visual masterpiece. What Zack Snyder might lack as a writer, he attempts to make up for with sleekly choreographed fight scenes, slo-mo galore, and CGI worlds that dazzle even 2019 eyes. The work of DP Larry Fong and Production Designer Alex McDowell cannot go unmentioned; the layered world of Watchmen breaths comic book in a way that very few films have achieved.
At times, it's delightful to explore this wacky, corrupted 1985 with the likes of Richard Nixon and Pat Buchanan flitting across the screen. The opening credits, wonderfully set to Bob Dylan's "The Times They Are A-Changin'", are some of the best put to screen – a perfect introduction for this new, dark, and rain-splattered reality. 

So why did I find myself so utterly bored?
Maybe it's the utter lack of chemistry between Silk Spectre (Malin Akerman) and Nite Owl (Patrick Wilson) or between Silk Spectre and Doctor Manhattan (Billy Crudup) or between Silk Spectre and any other character in this movie. Maybe it's the fact that all character moments are underscored by extended fight scenes that look stunning but also give its heroes superhuman powers that they're not supposed to have.
Watchmen can't decide if it wants to be a superhero satire or The Dark Knight, jumping between Joel Schumacher-esque rubber suits and 60s folk music to overly graphic violence and self-aware villain monologues. 
I suppose that brings me to my biggest disappointment of Watchmen and that is of its villain. A great villain is one of several things: they are menacing, dramatic and – even – relatable. Ozymandias (Matthew Goode) is a genius-level scientist who has made his billions from monetizing his superhero persona into action figures and now seeks to save the world from nuclear war. Watchmen tries very hard to present itself as a film full of flawed people who largely should not even be considered heroes, but the only two that really land that is The Comedian (Jeffrey Dean Morgan) and Rorschach (brilliantly portrayed by an unhinged Jackie Earle Haley).

The film so squarely places itself in the corner of its 'heroes' so that by the time the audience learns of Ozymandias' plan to save the world, we are already united against him. His plan and his reasoning for it is laid out in such a simple way that it frustrates a viewer that's spent over three hours waiting for the third act payoff. This isn't the work of a desperate man at the end of his rope – it's the act of a narcissistic psychopath. 
Zack Snyder has always been a polarizing filmmaker, even more so in his post-Watchmen career. For what it's worth, I actually like some of Zack Snyder's movies. Man of Steel is a masterpiece in my mind, and Sucker Punch is more fun than people give it credit for. But this, I think, more than any other film of his really does emphasize what his critics do dislike about his work; it's style over substance and not always in a good way, especially given that the film is trying so hard to sell itself on its supposed message of flawed heroes and actions for the greater good. I can't help but wonder if the film might have been better received if it had been released just a few years later. Instead of following on the heels of Christopher Nolan, it instead might have been a dark relief from the highly polished machine that is the MCU. 
READ: 'Fantastic Fest Wrap-Up: The Reviews We Missed'
There's a lot this film gets correct. It's bold, loud and completely unapologetic. But that's largely lost in its adoration of its own bloated self-image, favoring visuals instead of compelling character arcs. When I finish the movie, I should be thinking about if Ozymandias' actions changed anything at all, or maybe how this Cold War narrative could be applied to our own increasingly more complicated global climate. Instead, I'm thinking of two characters making love in a giant flying owlship, complete with a flamethrower, lovingly set to Leonard Cohen's "Hallelujah." 
I don't mind the lack of alien squid invasion though. 
Rating: 6/10

Review #2: James Preston Poole (Lead Critic) 
In recent years, a theory has come to prominence known as the "The Seinfeld Effect". The Seinfeld Effect, named after the classic sitcom, postulates that something that may have been groundbreaking at the time is now seen by first-time viewers as unremarkable. For the superhero movie genre, Zack Snyder's Watchmen might be the prime example.
Flashback to 2009. I was an adolescent of 12, who had just blown through Alan Moore's classic graphic novel of the same name. Although some of the political commentary sailed directly over my head, I was taken with its radical reinvention of the idea of superheroes. To this day, I still consider it my favorite graphic novel of all time, so one can imagine I was extremely jazzed to be seeing the movie on opening night.
It did not disappoint. Other than my aunt panicking overtaking me to something so "filthy" (that only added to the experience), it was like nothing I'd ever seen before. Hyperviolent. Stylish. Well-acted. Deep. What you're supposed to feel watching Citizen Kane for the first time is what I felt in that packed, slightly run-down Katy, Texas theater that night. I didn't know that real stories about the state of the world, our own internal struggles, and everything in between could be told in a comic book movie.

But something changed upon seeing it in 2019. As Kat stated in their review, the virtues of Watchmen are immediately clear in its visuals, so there's no need to cover that in full detail again, although the work of costume designer Michael Wilkinson deserves to be mentioned. Giving the costumes from the graphic novel a modern update that fits the aesthetic Snyder forges, Wilkinson has created designs that just make say "wow, that's cool looking".
Beneath the black rubber is a series of highly intriguing characters who capture the essence of Moore's characters perfectly. Rorschach (Jackie Earle Haley) is the delusional, paranoid reality of the Batman vigilante archetype everyone's become accustomed to. The Comedian (Jeffrey Dean Morgan) is a deeply broken, despicable individual held up by society as a hero. Nite Owl (Patrick Wilson) and Silk Spectre (Malin Akerman) are retired heroes trying to fight their urge to go back into their old lifestyle, Doctor Manhattan (Billy Crudup) is a man who loses touch with humanity into his transition into something god-like… you get the idea.
The problem is that Zack Snyder attempts to jam all these plot threads into a movie, making it appear shallow and causing all sorts of tonal dissonance. Graphic novels allow you to take time to fully absorb what you're reading, in that case even giving supplementary material that allows you to further paint the picture of what's going on so that you can set the graphic novel down and reflect. In his quest for authenticity to the source material, he's created a film without a protagonist.
Going from two former heroes reclaiming their power in a sequence of slo-mo glory to a man contemplating his existence on Mars to yet another scene goes beyond tonal whiplash. It feels as if you're catching several different films at once when I'd gladly take a movie centered on Rorschach's perspective or Doctor Manhattan's perspective.

Although, as the film approached its conclusion, I began to find what made me fall in love with it in the first place. The Birth of Doctor Manhattan sequence is one of the best sequences ever put to superhero film- a rich, emotional journey told only through visuals and narration. Hollis Mason's last stand (exclusive to the director's cut) is nostalgic and heartbreaking all at once. And the themes- nuclear annihilation, rethinking our heroes- are still as poignant as ever, even if the disparate themes are fighting over each other for screen time.
Watchmen is flawed. Snyder himself would do a better job with superhero deconstruction with Batman v. Superman: Dawn of Justice (Ultimate Cut) in 2016. However, it's a film that I'm in awe of due to its sheer ambition and impact on the genre. It may not work for fresh eyes, but when I watch the movie, I'm reminded of that wide-eyed kid, way too young to be seeing this movie, marveling at what he's seeing onscreen.
Rating: 7/10
Conclusion
Our two critics are in somewhat of an agreement about Watchmen. Both agree the visuals are magnificent and it's altogether kind of a mess. James's nostalgia and appreciation puts his rating slightly higher than Kat's, but they're united in seeing the film as something of a bizarre relic.
Rating: 6.5/10
–Kat Quinn and James Preston Poole
Watchmen is now available on home video and digital HD.
---
Trending Now