'Titans' S2, E4: 'Aqualad' Review – The Plot Thickens, But Drags
Posted On October 2, 2019
---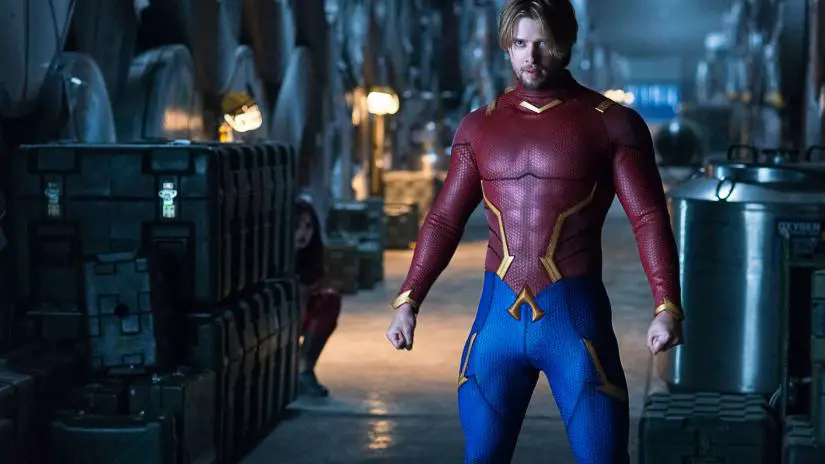 "Four years ago, Dick, Donna, Hank, Dawn and Garth aka Aqualad (guest star DREW VAN ACKER) are living together in Titans Tower, thriving as a superhero team, and growing into a tight-knit family.  But their personal feelings start to bleed more and more into their work, and with the arrival of a new villain, the Titans begin to question their destiny as heroes." – TITANS Season 2, E4 'Aqualad' Synopsis
This is a non-spoiler review for the fourth episode of TITANS Season 2 'Aqualad'. Check out our spoiler review on our YouTube channel HERE or catch up with our review of the third episode, 'Ghosts', HERE.
'Aqualad' is a complete flashback episode. It follows the original Titans five years before the current setting of the show. It gives the audience some background into the Titans' conflict with Deadshot. The original team includes Dove and Robin as a couple, Hawk, Wonder Girl and Aqualad. It's clear the intent behind the team from the get-go was to provide the "sidekicks" some extra experience, but also get them out of the way of a more dangerous villain group. Jericho is an absolute sweetheart, and I'm already in love with his character. The team feels very different in the past (for good reason). They're happy, go lucky, but know when it is time to draw the line and be serious. There's some great development into Donna/Wondergirl, but this episode struggles immensely.
This is one of the cases where right off the bat, this episode feels like it should have been done differently. Like a meeting that could have been an email. It needed better integration into the present, with a story time with Dick or something. Yes, we still have the older Titans in the present, but there's no connection made to the audience. This is laid out as information we need to know, and there's a good reason for it. But tell me why I need to see it. Why did we need a whole episode for this instead of flashbacks in an episode while the present Titans are trying to find Robin? That would have worked just as well here.
There are some good qualities in this episode. Donna needed the development provided by this episode. Jericho and Garth are both highly charismatic characters, and I can't wait to see more of them. Overall though, this episode falls flat.
Rating: 6.5/10
The second season of Titans is streaming on the DC Universe app now. Season 2, Episode 5 'Deathstroke' will be available on the application October 4th at 9 am EST.
The show stars Brenton Thwaites as Dick Grayson/Robin, Anna Diop as Starfire, Teagan Croft as Raven, Alan Ritchson as Hawk, Minka Kelly as Dove, Ryan Potter as Beast Boy, Iain Glen as Bruce Wayne/Batman, Chelsea Zhang as Rose Wilson/Ravager and Esai Morales as Slade Wilson/Deathstroke.
---
Trending Now