'Ad Astra' Review: "Beautiful, But Emotionally Distant"
Posted On September 21, 2019
---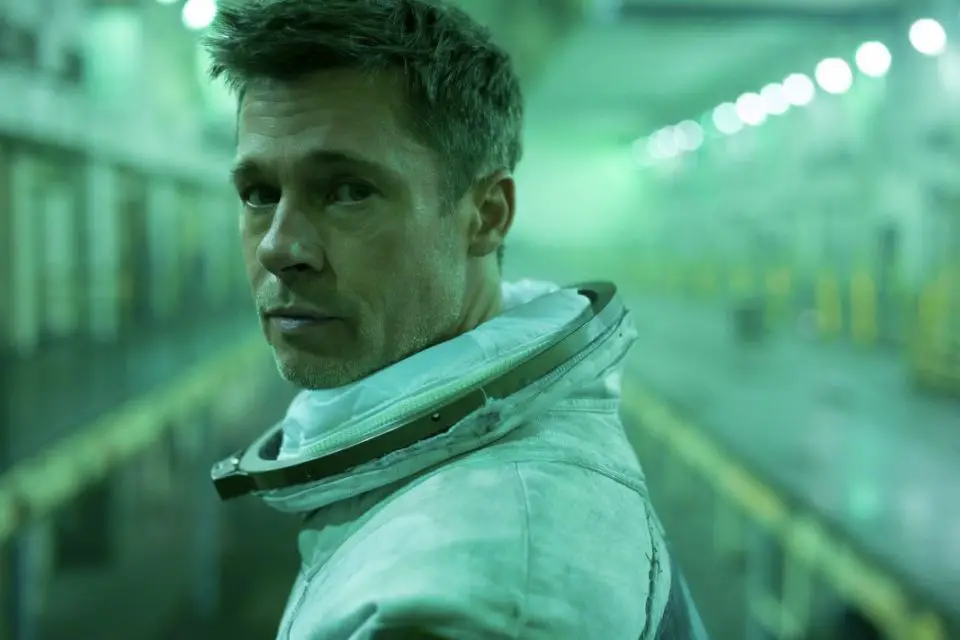 There are a few sentiments that filmmakers love to use to further engage audiences in their work. For example, the message of "war is hell" is quite prominent in historical films involving violent interactions between countries. Meanwhile, space movies like Gravity and First Man have a central message that can be summarized in a few words: space is cold and distant. First of all, the environment itself is devoid of comfort and warmth. More importantly, the idea of thriving in space depends on maintaining emotional stability in such a hostile environment. As it turns out, that second factor plays a fundamental part in Ad Astra, the latest film from The Lost City of Z's James Gray.
In just a few minutes, the film quickly becomes a compelling study of emotional stability. Early on, we see the film's protagonist, Roy McBride (Brad Pitt), taking a quick exam. This exam is intended to test his fitness for space travel. After answering various questions, he passes the exam due to his low resting heart rate and calm reactions. This is the first of many times he will take the fitness test, and from this point onward, it only gets more rigorous.
As such, the screenplay by Gray & Ethan Gross is effective at laying out Roy's personal objective as he begins to search for his father, Clifford (Tommy Lee Jones). It is not enough just for Roy to find his father without losing sanity. It is clear that he also has to maintain his consistent calmness for the trip home. If he fails to do both things, then Earth will continue to experience life-threatening power surges.

What helps in crafting this ambitious journey is Gray's versatile visual storytelling. Throughout the film, it runs the gamut between soulful and abstract. Gray and cinematographer Hoyte van Hoytema take advantage of bold color choices to convey an otherworldly atmosphere. In particular, the scenes set on Mars feel monochromatic as it covers itself with oppressive reds and browns. Furthermore, the grainy 35mm film stock is superb at preventing the images from feeling too sterile.
Elsewhere, editors John Axelrad and Lee Haugen make several smart choices in cutting that further emphasize Roy's isolation. In fact, every time that he recalls his moments with his ex-wife, Eve (Liv Tyler), they always show up in quick flashes. As a result, the movie uses its visual prowess to place the audience in Roy's own headspace. This turns out to be a wonderful alternative to just being beautiful for the sake of it.
Ad Astra also makes a strong first impression with immaculate world-building that never becomes heavy-handed. Thanks to the various rules that Gray's script establishes, it is refreshing to see a trip to the moon feel more like a long flight on Earth. In addition to the passengers being comfortable at the start of the trip, employees offer amenities just like your average trip on a commercial airplane! Between the casual trips to the moon and various restaurants and shops on the moon's surface, it showcases a future that gradually reveals mankind's efforts to make space more comforting. In this respect, the film leans into pulpy science-fiction that makes it unique among its more grounded competitors.

For the first half, the film embodies a chilly atmosphere that feels 100% appropriate for the plot. Moreover, the moment that shows the tragic parallels between father and son is where things become especially discomforting. Unfortunately, there is the sense that the filmmakers start to lose their way as it reaches the conclusion. As of now, it would be disingenuous to say in detail due to heavy spoilers. For the time being, I will leave it at this. When the story becomes achingly sentimental, Gray makes the mistake of holding his actors back from showing big expressions. Therefore, while the script suggests a heart-breaking climax, the filmmakers do their best to prevent it from being so. Still, this is an issue that only impacts the movie's final twenty minutes.
What really keeps Ad Astra from ranking among the greats is a bafflingly poor use of narration. In every other scene, the writers feel the need to give Roy a moment of internal monologue. This is not to say that the narration is bad on its own terms, mind you. As a companion piece to the scenes where Roy takes fitness exams, it is terrific at laying out his inner thoughts. Not to mention, Pitt's line delivery has a level of gravitas that makes each sentence engaging to hear.
However, Gray & Gross are extremely clumsy when it comes to placing each bit of narration into relevant scenes. For the majority of the film's runtime, it appears when the internal monologue gives zero extra insight to what Roy is feeling at a given moment. There is even one early scene that ends with the narration clarifying Clifford's successes. All of this, by the way, plays over an image that does the exact same thing!

Of course, there are other elements in between this emotionally compromised story. To its credit, some of them show a fair amount of promise! The chase scene involving space pirates is surprisingly tense given its placement in the narrative. Also, with the introduction of Mars inhabitant Hellen (Ruth Negga), we get an interesting character that has a tangential but unfortunate connection to Clifford's past. That said, none of these bits last long enough to have a substantial impact. In the case of Hellen, it becomes bittersweet once the movie drops her from the narrative after a few scenes.
Realistically speaking, there are only a few differences between a superb version of Ad Astra and the Ad Astra that made it into theaters. If you removed the overbearing narration and rewrote the final act, you could easily get something as powerful and striking as the very best space movies. But since the flaws remain intact in the finished product, we instead get a solid movie that is 70% great. And from this viewer's perspective, being 70% great never fails to be frustrating to watch, no matter how sublime it can be on a scene-by-scene basis.
7/10
Ad Astra is now playing in theaters.
The film stars Brad Pitt, Tommy Lee Jones, Ruth Negga, Donald Sutherland, Liv Tyler, and John Ortiz.
---
Trending Now