'Miss America' Series Reportedly Being Developed For Disney+
Posted On August 27, 2019
---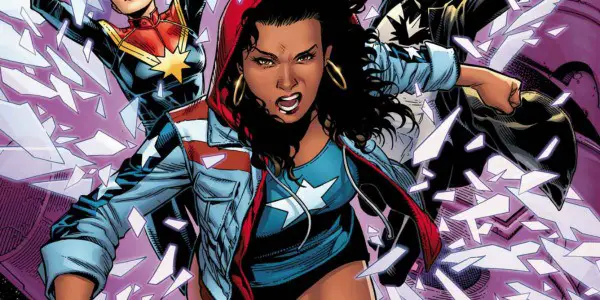 It looks like Marvel Studios is looking to add yet another entry to its growing roster of Disney+ series. According to Geeks WorldWide, a Miss America series is in development for the new streaming service.
This weekend Marvel Studios announced they are planing three new shows which will stream exclusively on Disney+: Ms. Marvel, Moon Knight, and She Hulk. Well, it looks like another show may be joining them, Miss America.
READ: Ms. Marvel Will Appear In Future MCU Movies Says Kevin Feige
Created by Joe Casey and Nick Dragotta, America Chavez first appeared in Vengeance #1 in September of 2011. Raised in an alternate dimension called Utopia, the heroine possesses superhuman strength, speed, flight, and the ability to open portals to alternate realities. While only debuting in 2011, Chavez has already made a massive mark in the Marvel universe having been a member of the Young Avengers, A-Force, the Ultimates, and leading her own solo series.
Miss America is one of Marvel's openly LGBTQ+ characters. The character will no doubt add some much needed diversity to the MCU as it seems Marvel is actively pursuing this.
Are you excited to see America Chavez appear in the MCU? Let us know in the comments below!
---
Trending Now