'The Art of Self-Defense' Review: "A Swift Kick To The Groin Of Toxic Masculinity"
---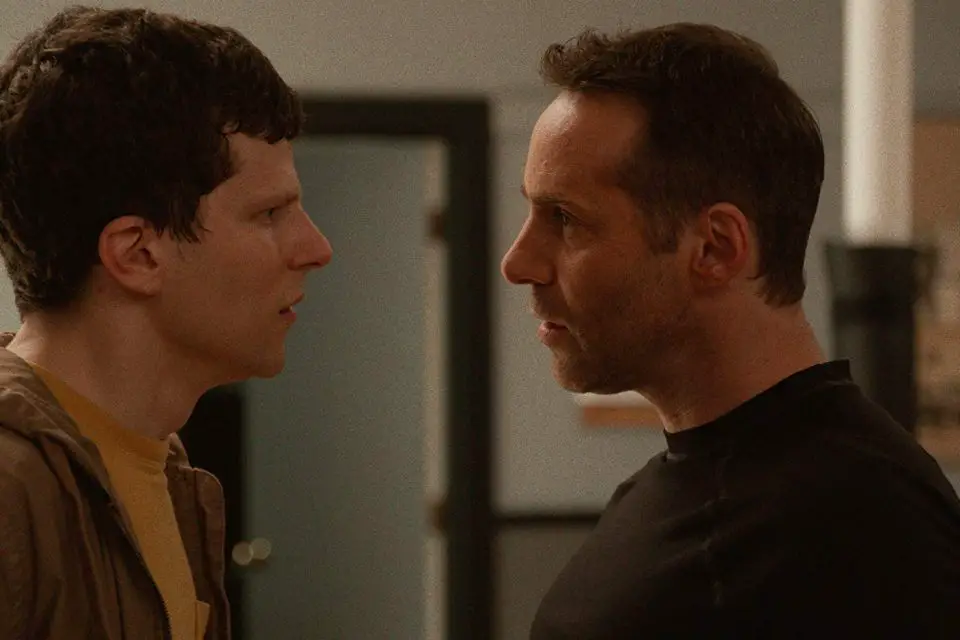 Let's talk about fantasies. We all have them: dreams of having a better job, looking different, or simply being different. These fantasies are a part of life, one that can be beneficial at times. As The Art of Self-Defense shows us, however, chasing a fantasy too far can take a person to some seriously dark places.
Written-directed by Riley Stearns, The Art of Self-Defense invites us into the life of accountant Casey Davies (Jesse Eisenberg). Casey is the ultimate pushover, not meshing with his chauvinistic co-workers and refusing to stand up for himself. Before the story really gets going, Stearns sets up a darkly comic universe where only the most "manly" dominate. It's a patriarchal sandbox that slowly encroaches upon Casey until a masked motorcycle gang savagely mugs him.
It's at this moment that Casey decides enough is enough. He signs up for a karate class led by the enigmatic Sensei (Alessandro Nivola). Here's where the film starts to morph into something really special. Sensei is a paragon of masculinity that Nivola plays in a hilariously deadpan way. He's a black belt that talks in what can only be described as an "action hero" voice. More importantly, he espouses the virtue of men over women and only allows the listening of heavy metal.

Sensei is basically Casey's Tyler Durden. But where Fight Club made Durden's macho philosophy sound temporarily appealing, Stearns emphasizes just how ridiculous this worldview is. Jesse Eisenberg relishes the deadpan comedy in Casey trying to fit the notion of a "big, strong man". His growing addiction to becoming his own fantasy of what a man should be inspired laughter because Casey is so clearly a square peg trying to fit himself into the round hole of hypermasculinity.
The comedy almost recalls Jamie Babbit's But I'm A Cheerleader, where it exposed the rigid norms of straight-laced life for how bizarre they really are. For example, Casey orders belts the same color as his karate belt to feel more "secure" in himself. Yet, The Art of Self-Defense refuses to stay tethered to that comedy. As Casey gets farther into his "training", what Sensei tasks him with grows darker and darker. He starts to lose his kindness, becoming a sort of monster in the pursuit of living up to his fantasized standard of a man. The visuals supplied by Michael Ragen go from the muted browns and yellows of the first act into a darker, blue-dominant aesthetic that helps pull the curtain back on the life Casey is really choosing to live.
For the sake of preserving the many surprises of The Art of Self-Defense, I won't get into specifics on the journey Casey endures. What I will say is that Casey must grapple with some harrowing truths about what "being a man" in modern society means. Some of the best scenes in the film involve Casey talking with the embittered Anna (Imogen Poots). Despite being one of the dojo's most dedicated students, she is refused the black belt because she is not a man. She and Casey are both symbols of what the long-held ideals of traditional gender roles can do to people.

Just as the beginning of the story has Casey making a change, so does the ending. In a poignant, though hilarious, climax, Stearns makes his message abundantly clear: it's time to tear down the old way of thinking in regards to what makes one a "man" and focus on being a good person first and foremost. He conveys this message flawlessly in a film that doesn't have a single misstep in telling its story.
Funny, uncomfortable, and confident, The Art of Self-Defense is a swift kick to the groin of toxic masculinity and a major achievement in dark comedy. – James Preston Poole
10/10
The Art of Self-Defense is now in theaters.

---
Trending Now