Full Circle Pride: 'But I'm a Cheerleader'
---
Happy pride month to all LGBTQ readers of Full Circle! This month, the writing team here at Full Circle is featuring LGBTQ movies throughout the ages. This week, I want to tell you about a personal favorite of mine. This film has a special place in my heart as the first LGBTQ movie I ever saw. Back in middle school when I trawled through, ahem, less than reputable movie streaming sites, I first watched it on a whim. Only later once I came to terms with my own LGBTQ identity did I really begin to appreciate it.
But I'm a Cheerleader (dir. Jamie Babbit) is a romantic comedy starring Natasha Lyonne as Megan, a cheerleader who gets sent away to a gay conversion camp called True Directions at the behest of her friends and family. The film follows her struggles through the program under the tyrannical rule of Mary Brown (Cathy Moriarty), her budding relationship with the rebellious Graham (Clea DuVall), and her personal journey toward self-acceptance. The cast also features RuPaul as Mike, Mary's other half who teaches the boys about manliness, and Dante Basco as Dolph, a gay teen who gets kicked out of True Directions following some less-than-straight behavior with another camper.
The style of the film has the low-budget yet over the top trappings of a John Waters film (minus the references to excrement). The camp looks more like a dollhouse than anything from reality, with every room strictly color-coded based on gender. The boy's side of the camp features various suggestive standees, including a phallic wrench flanked by two blue tires in the garage. The girls are mainly confined to a lavender salon or mint living room where they practice housework. The wide array of colors provide a great visual treat.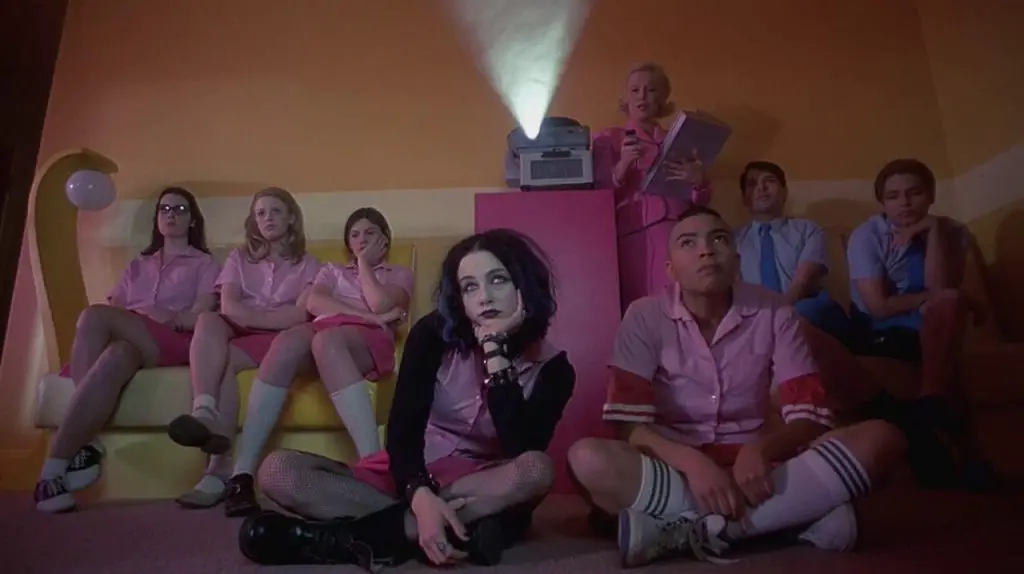 The soundtrack features several indie pop gems of the late 90s, but the original score has a very different feeling. Plinking xylophones and choral "la la la's," when combined with the candy-colored sets and costumes, create a childlike feeling. This serves to heighten Megan's naivety and add to the whimsical dollhouse feeling of the camp.
In fact, this film is all about the dollhouse: poking fun at the plastic facade of an "acceptable" domestic life. In this sense the film is more about gender roles than it is about the lesbian experience. The focus of True Directions is about reinforcing the idea of gender roles, and that being gay/lesbian comes from identifying with the opposite sex. This is where much of the film's humor comes from, giving birth to iconic lines such as "Foreplay is for sissies! Real men go in, unload, and pull out!".
Most LGBT movies focus on "forbidden romance," and Cheerleader is no different. A vast majority of LGBT movies focus solely on romance. In addition to this overused storyline, some of the depictions of the other campers can be seen as stereotypical (a gay teen who loves musical theatre, a butch lesbian with a mustache, etc.). However, the film should not be discounted for these reasons. Cheerleader is ultimately about a struggle every LGBT person (myself included) has confronted: do you accept who you are and live loud and proud, or do you lock it away in order to "pass" in a heteronormative world? The film's stance is clear: there is no greater freedom than being authentically yourself.
What was the first LGBTQ movie you saw? Any recommendations for us to cover during pride month? Let us know in the comments!
---
Trending Now