James Gunn Confirms 'Thor: Love And Thunder' Is Set Before 'Guardians Of The Galaxy, Vol. 3'
---
This week has been a whirlwind of emotions for fans of the MCU. San Diego Comic-Con provided a plethora of announcements regarding Phase 4 and beyond. However, a few questions of the timeline of the franchise need answering. James Gunn revealed via his Instagram comments that the upcoming 4th Thor film, Thor: Love and Thunder, will take place before his next Guardians of the Galaxy movie.
The announcement that the God of Thunder would be getting a 4th installment and that it would feature Jane Foster taking on the mantle of Thor was a bombshell. However, the last time fans caught up with Thor, he was seeking a new place in the universe aboard the Benatar with the remaining Guardians of the Galaxy. Additionally, many fans have wondered if Thor was joining the space bandits full-time.
When director Taika Waititi walked out on stage in Hall H alongside Chris Hemsworth, Tessa Thompson, and Natalie Portman, they made no mention of Star-Lord or Rocket.
READ: Natalie Portman To Play Female Thor In 'Thor: Love And Thunder'
James Gunn, who famously returned to the director's chair of the third Guardians film following 9 months of controversy, took to social media to answer questions from fans wondering about the timeline of Thor: Love and Thunder.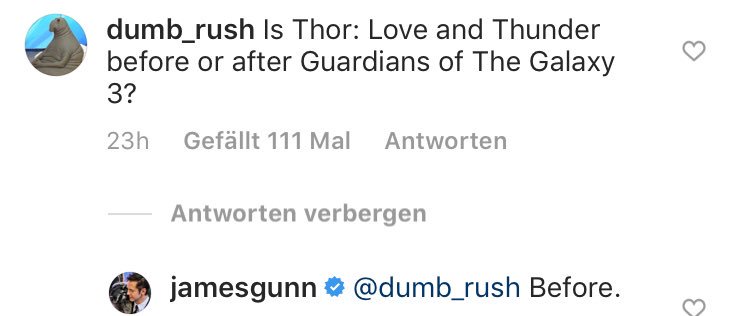 Now, this raises even more questions. How long does it take for Thor to part ways with is new friends? Will Rocket and Groot play a role in Thor's journey in the events of Thor: Love and Thunder? Is this the end of the short-lived Asgardians of the Galaxy?
These are all questions fans will create theories to answer over the next several years until Phase 4 get around to the adventures of Thor. What do you think this means for the future friendship of Thor and the Guardians of the Galaxy? Let us know in the comments below!
Thor: Love And Thunder is slated to hit theaters November 5, 2021.
---
Trending Now