Kronos & Thanos Rumored To Appear In 'The Eternals'
---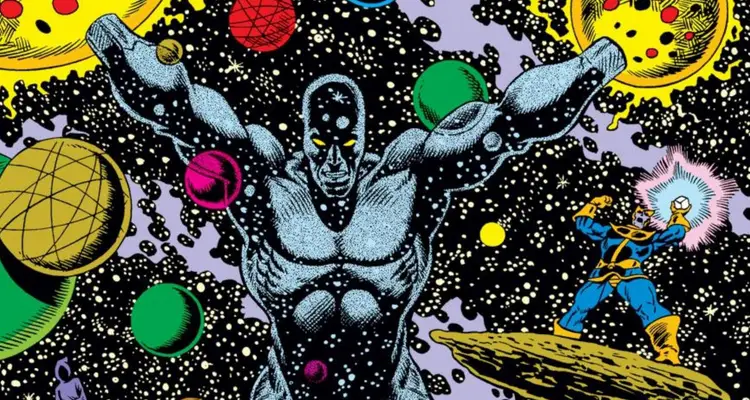 With the release of Marvel Studio's Avengers: Endgame it's hard to imagine what the studio has up their sleeve next. Thankfully we may now have some idea thanks to the creator of Thanos, Jim Starlin. During a recent interview with Discussing Film, Starlin talked about a number of Marvel topics including some interesting notes about The Eternals.
Meant to be Marvel's next big property The Eternals will focus on a race of super-powered people from before the age of modern man. And thanks to Starlin it seems we may see a familiar face appear in the film.
When asked what it feels like to see his characters like Thanos, Eros, and Kronos appear on screen Starlin had this to say:
I think Kronos is supposed to be in The Eternals, when they make that one, I've heard, it's third hand, so take that with a grain of salt. Eros, I'd like to see, I mean, they will be bringing back Thanos, which I can't imagine they're not going to do down the line, after they've made so much money off of him at this point. The one I'd really like to see added to the Marvel Universe is Pip the Troll, I think he would be fun, and I think there's a possibility of that now that James Gunn's back with the Guardians movies, we'll see, I think they have some sort of plans for Warlock, I'm not certain on this, this is speculation on my part that they do more with him, they were talking about bringing him in as a villain at first, they said, so that makes me think that he may have more life than that and that if gets that, I'm hoping that Pip the Troll will come along, you know, Thanos, Pip, and Dreadstar are my favourite characters.
READ: Train To Busan Star Ma Dong-seok Boards Marvel Studios' The Eternals
Not only did Starlin reveal that the Eternal Kronos will make an appearance, but he also made it clear Thanos may appear once again in the MCU. And given that The Eternals is set 1000's of years in the MCU's past, this could mean we will see a young Thanos before he went full Mad Titan. 
However, as Starlin said most of this information is third hand, so we should not take anything as fully confirmed. For now, this is more so a rumor of what we can expect to see in the upcoming blockbuster. So for further updates, stay tuned to Full Circle for any news on The Eternals. 
Are you excited to see Kronos and Thanos appear in The Eternals? Let us know in the comments below!
The Rider director Chloe Zhao will helm the film, which has a screenplay by Matthew and Ryan Firpo. The Eternals is expected to launch into theaters in 2020.
Created by Jack Kirby in 1976, the Eternals are a race of superpowered, near-immortal beings who were created by the Celestials.
---
Trending Now