Full Circle Flashback: 'Hellboy II: The Golden Army' Review
---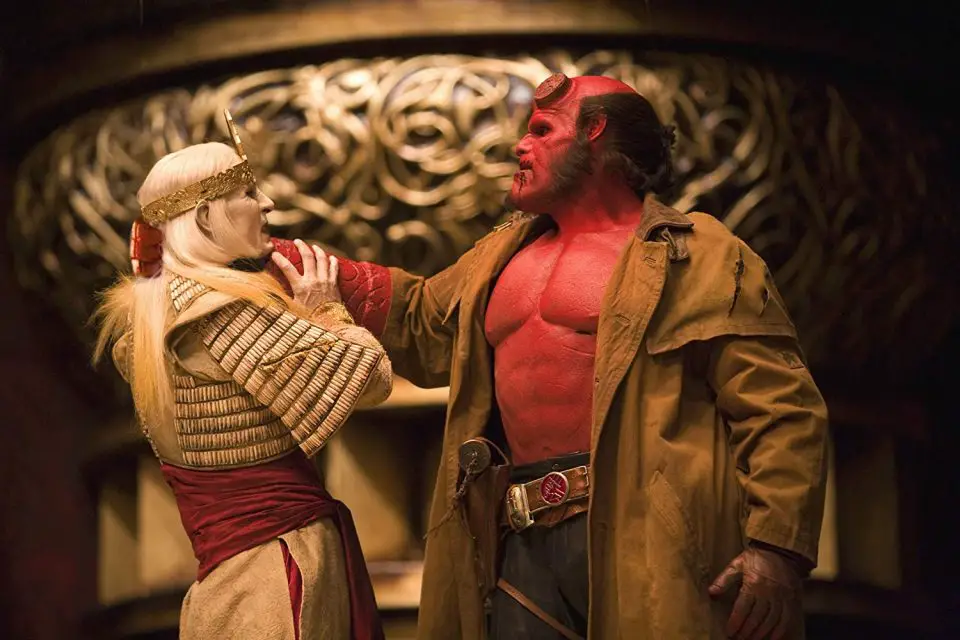 As our readers may know, the critics team here at Full Circle has launched a new series, "Full Circle Flashback", where we take a look at a film from the past with fresh eyes. Hot off the heels of our Flashback review of Hellboy, this week we're going to be covering Hellboy II: The Golden Army in preparation for the release of Neil Marshall's Hellboy reboot this Friday.
So, without further ado, let's get into the review!

Comic book movies are not typically seen as works of art. While The Dark Knight and Logan helped to combat that notion, many view the genre as disposable popcorn entertainment. I long disagreed with this notion without finding that one definitive example. On a sleepy Sunday evening, perusing my shelf of Blu-Rays for anything left unwatched, I found that example in Hellboy II: The Golden Army.
Hellboy II: The Golden Army continues the adventures of Anung Un Rama, aka Hellboy (Ron Perlman), a demon working for the Bureau of Paranormal Research and Division with his best friend, amphibious psychic Abe Sapien (Doug Jones), and partner, pyrokinetic Liz Sherman (Selma Blair). The three soon find themselves in the middle of a conflict as old as the dawn of time when vengeful elf Prince Nuada (Luke Goss) seeks to raise "The Golden Army", an automated force completely beholden to whoever assembles three pieces of an ancient crown.
Rather than focusing on the Nazi science gobbledygook, writer-director Guillermo del Toro tells a simpler, character-focused story this time around. It's all about Hellboy and wow, what hasn't already been said about Ron Perlman's performance? He simply is Hellboy- arrogant bastard on the outside, burning desire to help others on the inside.

Furthermore, much of the film centers on Hellboy's struggles as an outsider. We feel his pain as he tries desperately to do the right thing, yet society still sees him as a monster. As another outsider, Prince Nuada represents all of his temptation to turn against humanity. Goss is a powder-keg of fury in the role, playing off Perlman in a way that perfectly encapsulates the film's theme.
Somehow, Del Toro keeps this conflict contained into a tight three-act structure, while also incorporating his signature visual flair. Del Toro, cinematographer Guillermo Navarro, and production designer Stephen Scott give us some unforgettable images. The gold of the throne room, the noir-esque city streets, all sorts of bizarre creatures populating a Goblin marketplace; Del Toro practically forges a new cinematic language that can only be described as "urban fantasy".
These images pop the most in three boundlessly imaginative action sequences- a fight with hundreds of tiny cannibalistic creatures, a skirmish with a gigantic plant-like god, and a hand-to-hand duel in a room full of gears. Each of these action sequences means something different to the film. One is a fun start to the flick, one has Hellboy confront his inner conflict, and the last has him overcome his inner conflict. Therefore, these scenes are in constant service of the story, making them more impactful than your run-of-the-mill action film.

Finally, the thing that takes Hellboy II: The Golden Army from good to masterpiece is its handling of tone. Of course, there's the aforementioned inner drama. But there's also a significant amount of comedy coming from Hellboy's interactions with new BPRD recruit Johann Krauss (Seth Macfarlane). Yet, the best scenes of the film are the quiet moments. There's a scene where Hellboy and Abe Sapien get drunk and talk about their fear for the future. This scene adds so much heart, so much humanity, you'd expect it come from a prestige drama. But no, it came from Hellboy II: The Golden Army.
Hellboy II: The Golden Army is a masterclass for firing on all cylinders. Its compelling story, rich visuals, committed performances, and overall grasp on the material combine to make a film that serves as a gold standard for films based on comic books, as well as blockbusters. We're so lucky to have Guillermo del Toro making movies.
Rating: 10/10
Have you seen Hellboy II: The Golden Army (2008)? What did you think of it? Let us know in the comments below!
Hellboy II: The Golden Army is now available on Blu-ray and Digital HD. The film stars Ron Perlman, John Hurt, Selma Blair, Doug Jones, Jeffrey Tambor, Luke Goss, and Seth MacFarlane.
---
Trending Now