Full Circle Flashback: 'Hellboy' (2004) Review
---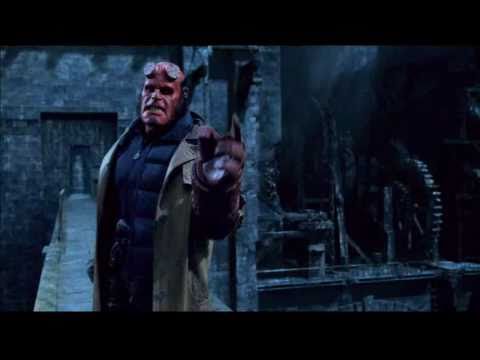 There are films from the past that we hate, love, and admire. We all have those films from our adolescent/childhood years that will always be special. Then again, we also have films from that time that we dread anytime someone mentions them. Over at Full Circle Cinema, we are starting a new series: Full Circle Flashback. The critic team takes a film from the past, and do what we do best: watch the film again and craft a fresh and insightful review. We already have our Full Circle Showdown, where two of our critics review a film and give differing opinions. This just adds something else for us to give our audience something awesome to experience! This time, we are going to cover 2004's Hellboy to coincide with the upcoming reboot.
Much like Guillermo del Toro's previous film, Blade II, Hellboy was ahead of its time. Del Toro is famous for his storytelling and the way he brings them to life. He makes his stories bigger than life, and he challenges his heroes to make tough decisions. You grow to love and understand the misunderstood characters in his story. Hellboy is the epitome of this form of his storytelling.

Hellboy is the story of Anung Un Rama, a demon summoned from hell by Nazi occultists. During World War II, Hitler had a Nazi division that studied the supernatural and gained the advantage against the Allies using the occult. I think that's what makes Hellboy unique. The fact that creator Mike Mignola mixed fact with some fiction/religion/occult for the comic is quite impressive. Del Toro uses his storytelling skills to bring this insane fantasy to life.
Now, let's dive into the film. As I previously stated, the film is about Anung Un Rama AKA Hellboy. A demon that comes through a portal to hell when the Nazis are trying to use occult power to win World War II. He's taken in by the FBI and through his discovery of the Bureau of Paranormal Research and Defense (BPRD) is born. In the film the BPRD consist of Hellboy (Ron Perlman) Liz Sherman (Selma Blair), Abe Sapien (Doug Jones), and Hellboy's "father" Trevor "Broom" Bruttenholm (John Hurt).
In addition, we have agents John Meyers (Rupert Evans) and Tom Manning (Jeffrey Tambor). They are fighting against Grigori Rasputin (Karel Roden), a Russian man that is trying to release Ogdru Jahad, a monster that was locked away and enclosed in a glass chamber for centuries. Rasputin wants to set the beast free so it can rule over Earth. He and his team also consist of his lover Ilsa Haupstein (Biddy Hodson) and Karl Ruprecht Kroenen (Ladislav Beran), a Nazi assassin that is pretty much impossible to kill.

The two groups are playing a dangerous game of Chess. Rasputin has the upper hand throughout the film as he has been planning this the entire time he was trapped with Ogdru Jahad in space. He has the plans for this entire assault on Earth and has all the ingredients to make it happen. He has the key to hell's gates in Anung Un Rama, a sacrifice for Ogdru Jahad, and the ultimate bait for Hellboy to give in to his demands. From the minute he releases the seed of destruction Sammael, Rasputin takes total control of the film. He's an amazing villain and builds from the minute he escapes hell via Haupstein.
The two groups are very different in their approaches. Rasputin is a ruthless man that is willing to sacrifice everything for Ogdru Jahad, the true definition of an extremist, Haupstein will do anything to please Rasputin, and Kroenen will kill anyone who gets in the way of their mission. On the other hand, Hellboy while a bit of an asshole, always wants to do the right thing. Sherman is still learning to control her powers, and Sapien is a non-violent being that can see the past, future, and present. The two teams are vastly different, but they work well together; especially in the film.

Overall, this film fed off of the doorway opened by Del Toro's Blade II. The Gothic style horror/fantasy films he created in the early 2000s are still effective in today's insane comic book film climate where we get at least three of these films a year. My only problem with this film is how much of the action is only in the first two acts. The third act while it is a major piece of the film lacks in action compared to what came before. This film is beautiful though, complete with a style that is unmatched. Del Toro handling "creatures that go bump in the night" is always a thing of wonder. This is not his best work, but it definitely is one of the films that laid the foundation for the future of comic book films. – Rascal F. Kennedy
Rating: 7/10
Have you seen Hellboy (2004)? How did you like it? Let us know in the comments below!
Hellboy (2004) is now available on Blu-ray and Digital HD.
The film stars Ron Perlman, John Hurt, Selma Blair, Rupert Evans, Karel Roden, Jeffrey Tambor, and Doug Jones.
---
Trending Now