Kumail Nanjiani Is In Talks To Join Marvel's 'The Eternals'
---
It looks like another big name in Hollywood will be joining Angelina Jolie in Marvel's The Eternals. According to The Hollywood Reporter, Kumail Nanjiani is in negotiations to join the film.
As of now, not much is known about the project other than that it will draw from Jack Kirby's run from the comics. It will center of the godlike beings known as the Eternals and the monstrous deviants.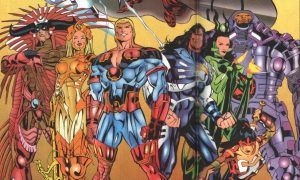 We are still unsure who Jolie will be playing in the film but some feel she will star as the Eternal Sersi. And now that Nanjiani has joined the project we can start debating who he will ultimately play. But you can be certain as more details arise we will be sure to keep you posted.
With the film due to release next year, we can hope that further casting and plot details will drop soon for the film. But for now, it seems we will just have to wait and see.
Are you excited to see Nanjiani join The Eternals? Let us know in the comments below!
---
Trending Now