The Future Of DCEU Actors Ezra Miller & Ray Fisher In Serious Doubt
---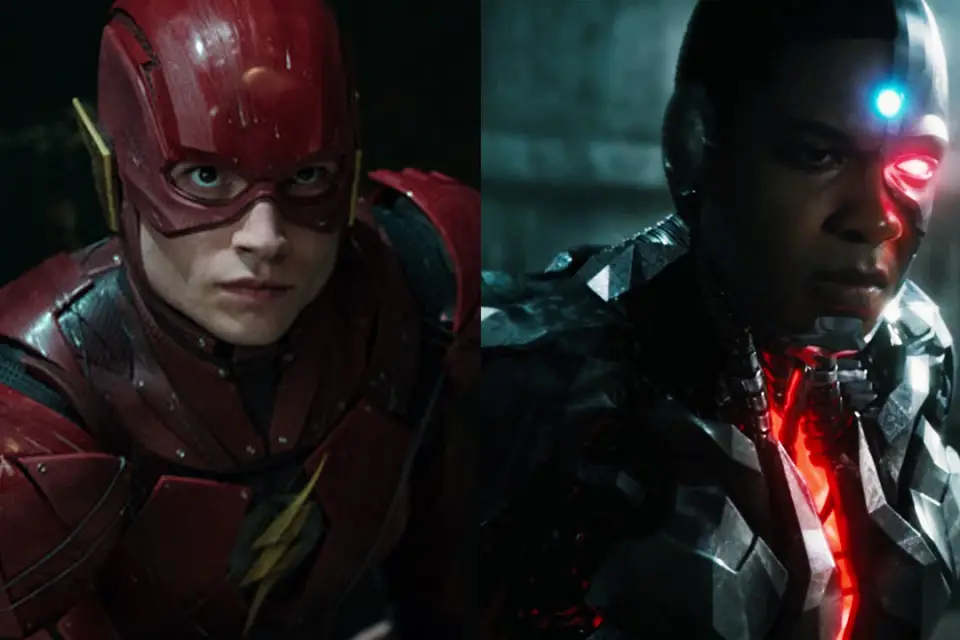 The future may be right for DC Films, but they are not out of troubled waters yet. The past few months have not been kind for a few of actors attached to DC superhero roles.
Not only has Superman himself Henry Cavill completely fallen out of talks with Warner Bros., but we've also lost Ben Affleck as Batman for future installments. It was known for some time that the news was coming yet it still left fans disgruntled at the idea of a major recasting in the DCEU. Now the latest targets are Ezra Miller and Ray Fisher, who portrayed the Flash and Cyborg respectively in 2017's Justice League. Although the two fan-favorite characters may have shined in the subpar film, the importance of getting these characters their own franchises has vastly dwindled. So let's breakdown what is occurring and explain why more changes are likely headed DC's way.
First, let's begin with the Scarlet Speedster.
Warner Bros. has been taking their sweet time developing The Flash with directors John Francis Daley and Jonathan Goldstein. The film was looking to begin production at the start of this year, but something happened: Ezra Miller's vision of the Flash movie began to clash with Daley and Goldstein's.
Ezra Miller has now taken the initiative to write his own script for The Flash, alongside comic mastermind Grant Morrison, in a last ditch effort to keep the role. Miller has been having deep creative differences with directors John Francis Daley and Jonathan Goldstein in terms of what direction to take the movie. Miller has a darker vision for his Flash compared to the comedic route the directors have gone with. The latter's script has very much pleased WB the most thus far. There are whispers that Miller's script will be in the vain of Flashpoint, but not a direct adaptation. He wants a dark, epic film while the studio is perfectly fine with a "normal" solo film featuring Barry Allen.
READ: Ezra Miller Is Writing His Own Script For 'The Flash'
So what does that mean? Well, it seems like Ezra Miller will be getting the boot if he doesn't get with the program. Although it's obvious Warner Bros. respects him enough to let him write a script, but they have no problem in recasting if it means getting the most competent film possible. You see, Miller's five-year contract as the DC character ends this May and there won't be much of anything officially tying him to the character if not renewed. Letting him off the chain would not be the most difficult decision on the studio's end. Besides, they already gave him the Fantastic Beasts franchise anyways, no harm no foul.
With that being said, Ezra Miller is a die-hard fan of the character and him going out of his way to try to stay in the role by writing a script himself is bold, to say the least. Even with Morrison on his side, the task of changing WB's mind and having them replace the directors is a tough sell, to say the least. After all, Daley and Goldstein have a film brewing at Universal so they will be fine no matter what happens. But when push comes to shove unless Ezra Miller decides to stay on no matter what, he's going to be gone in a Flash…
Up next: Ray Fisher's Cyborg.
Although there is still hope with The Flash, the same can not be said for Ray Fisher's Cyborg. His holding contract (apparently) also ends this May and at that point, both parties would have to renew the deal. However, Warner Bros. has absolutely no interest in making a Cyborg film in the near future and there's no reason to keep Fisher waiting. He has proclaimed numerous times his devotion to the character so this is not on him. Perhaps at some point, the studio regains interest in the character and calls him up years from now. If not, you can catch the Cyborg on DC Universe's Doom Patrol series portrayed by Joivan Wade.
As said before, the future is indeed bright for the DC film universe. Aquaman was a huge hit, and Shazam! is already looking to make a splash with critics and audience alike. It's just a matter of time before everything is squared away, but until then keep close attention as we deliver updates on the most recent developments.
Do you think DC will go ahead and let the two superhero actors go? Let us know in the comments below!
It was recently reported a November production was possible for The Flash.
---
Trending Now