'Avengers: Endgame' Figure Reveals New Look At War Machine
---
Avengers: Endgame is setting up to feature yet another new suit for War Machine. Based on a recently leaked figure, War Machine's new suit will feature a number of differences from his past armor.
Recently a new Titans Hero FX figure has leaked, providing us with our best look yet at War Machine's new armor. The main thing notable about the new armor is that it is far bulkier than past incarnations.
This bulkier design could be to support Rhodey's leg braces or to help defend from new dangers he will face in Endgame.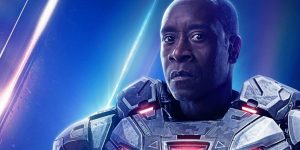 Given Tony Stark is still stuck in space it's curious how Rhodey got this new armor. For now, it seems we will just have to wait for Avengers: Endgame to learn more about Rhodey's new suit.
What do you think of War Machine's new armor? Let us know in the comments down below?
Go see the epic conclusion of the Infinity Saga, in theaters April 26, 2019.
The film stars Robert Downey Jr., Chris Evans, Brie Larson, Bradley Cooper, Scarlett Johansson, Chris Hemsworth, Paul Rudd, Karen Gillan, Evangeline Lily, Josh Brolin, Elizabeth Olsen, Mark Ruffalo, Jeremy Renner, and Don Cheadle. Directed by Joe and Anthony Russo and written by Christopher Markus and Stephen McFeely. Based on the characters by Stan Lee, Jack Kirby, and Jim Starlin.
---
Trending Now