'Spider-Man: Far From Home' LEGO Sets Reveal Classic Villains
---
It looks like Mysterio isn't the only classic villain showing up in Spider-Man: Far From Home. Based on a number of leaked LEGO sets for the film we will see Spidey face off against iconic villains including Hydro-Man and Molten Man.
The leaked sets give us a new look at Hydro-Man, who featured in the film's trailer, and our first look at Molten Man.
It looks like Mysterio is indeed an ally to Spider-Man based on these sets alone. And yet another interesting reveal is that Zendaya's character is going by M.J. in the film.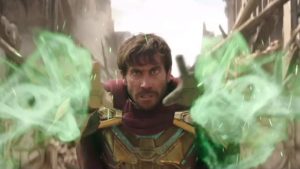 Additionally, it looks like the film will still reference Tony Stark based on the presence of Happy and the Stark Industries jet. However, whether this means anything for Stark's fate in Avengers: Endgame is up to you.
Hopefully, after the release of Endgame, we still start to see some promotion for Far From Home, and a better look at the film's villains. So to stay up to date on any developments make sure to check out Full Circle.
Are you excited to see Hydro-Man and Molten Man in Spider-Man: Far From Home?
Spider-Man: Far From Home hits theaters July 5th, 2019.
Starring Tom Holland, Jake Gyllenhaal, Samuel L. Jackson, Zendaya, Marisa Tomei .and Jon Favreau
---
Trending Now