Synopsis For Vin Diesel's 'Bloodshot' Revealed
---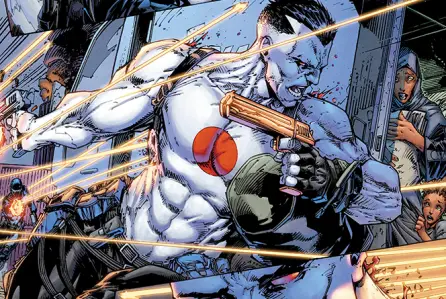 After the success of movies starring Marvel and DC characters, the future of Hollywood is being found within the pages of a bevy of comic books. Sony Pictures is beginning the legwork for its series of films based on Valiant Comics with Bloodshot and, as first reported by Discussing Film, the first synopsis has been revealed.
After starring in the wildly successful Fast and the Furious and Guardians of the Galaxy franchises, Vin Diesel is hoping to give the upcoming cinematic universe a boost with a gritty, dark interpretation of Bloodshot, a comic book created in 1992 by Kevin VanHook, Don Perlin and Bob Layton.
Take a look at the synopsis below:
"After he and his wife are murdered, Marine Ray Garrison (Vin Diesel) is resurrected by a secret team of scientists. Enhanced with nanotechnology, he becomes a superhuman, biotech killing machine – Bloodshot. As Ray first trains with fellow super-soldiers, he cannot recall anything from his former life. But when his memories flood back and he remembers the man that killed both he and his wife, he breaks out of the facility hellbent on revenge, only to discover that there's more to the conspiracy than he originally thought."
The film is currently slated as being PG-13 even though the synopsis sounds like the film will be extremely brutal with some thematic elements similar to Marvel's The Punisher. It could very well turn out to be an action-packed alternative to those fans  burned out by the more comedic traits leaking their way into popular live action comic book adaptations.
What do you think of the tidbits of knowledge learned from the above synopsis? Let us know in the comments below!
---
Trending Now