Latest 'Black Adam' Script Includes Hawkman, Stargirl & Atom Smasher
---
Black Adam may be going toe to toe with some Justice Society of America members on the big screen. According to a new report from That Hashtag Show, Hawkman and two other JSA members, Atom Smasher and Stargirl, could possibly be making their cinematic debuts in the latest draft of the Black Adam script turned in by writer Adam Szytkiel.
Szytkiel, who was hired to write the script for Black Adam back in 2017, is taking some notes from the Geoff Johns' JSA comic book run. Where Hawkman fights against Black Adam. Atom Smasher and Stargirl were in a relationship. That Hashtag Show came across some casting descriptions for the three JSA members.
Warner Bros. is looking to cast an actor, 30-39, for Carter Hall also known as Hawkman. Someone who can stand their ground against the likes of Dwayne Johnson's Black Adam. The studio is also looking to cast actors, 20-29, for the roles of Atom Smasher and Stargirl.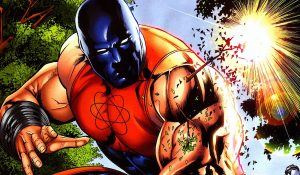 It's a pretty big deal that JSA is getting their chance to shine on the big screen. These characters are all so unique in their own ways with their powers. Also, don't rule out the possibility that more JSA members like Alan Scott or Hourman or Sandman showing up in Black Adam.
The studio is planning to begin production in March 2020 for Black Adam. The search for the right director is currently ongoing right now.
What do you think of Atom Smasher, Hawkman, and Stargirl possibly getting into the boxing ring with Black Adam? Let us know in the comments below!
---
Trending Now