'I'm Too Old For This Sh*t' Review: "You're Never Too Old To Rock And Roll"
Posted On January 8, 2021
---
At one point or another, most of us have had a dream of going famous. A dream of making it big on movie screens, magazines, and talk shows. But for one heavy metal band from Brandon, Florida in the early 80s, they had their eyes set on taking over the world. Siren was a group of young, unapologetically passionate rock stars with the potential to reach the heights of Motörhead and Iron Maiden. Unfortunately, like most failed dreams, life got in the way. The group's rockstar lifestyle took a backseat to corporate employment and familial responsibilities. The fantasy of taking over the world laid dormant for 30 years, until one day, Siren was given the chance to relive their wildest dreams.
Produced by and featuring Wrestling Superstar and Rock Vocalist Christ Jericho, I'm Too Old For This Sh*t: A Heavy Metal Fairytale follows the story of Siren reuniting three decades after their disbandment. Unbeknownst to them, a steady but extremely loyal fanbase was growing overseas in the time of their absence. Siren fans from all over Europe demanded a reunion show at Germany's biggest heavy metal music festival. The documentary pursues the journey of drummer Ed Aborn and the original members of the band as they finally get the second chance they never knew was possible.
If you're a fan of rock and roll, you'll have a blast with this documentary. It exposed me to a totally new side of the genre that I was only vaguely familiar with beforehand. More than just playing some kickass metal tunes, the film goes deep into the culture that made it popular in the first place. The rebellion against authority that has defined so many forms of music is still alive in pockets of Europe unlike anything seen in the United States. Every member of the band describes the festival as going through a time machine. Seeing die-hard metalheads on remorseless hysterics for the music they live and breath was nothing short of a scene from the 80s. You'd be hard-pressed to find a more passionate group of people that just as much make you want to join in on the fun.
Beyond the rock and roll aspect, however, I'm Too Old For This Sh*t has a universal story that can be absorbed by anyone, metalhead or not. At its heart, the documentary is about the power of second chances to emotionally influence a group of people. As if by a miracle from Heaven, the band earns what they were missing out on all that time. The innocent, teenage spirit returns to their now 50-year-old bodies in a way that proves it never left in the first place. The most emotional moment in the film comes just before the final show as lead bass guitarist Gregg Culbertson, on the verge of tears, illustrates the overwhelming weight this opportunity has given his life. He describes it as "the most rewarding thing I've ever done, except for marrying my wife and having my daughters."
That quote really pinpoints my biggest takeaway from this documentary. While these rockstars do get to relive the biggest missed opportunity of their lives, none of them have lived a life of regret. Each member praises the fulfilling years devoted to their careers and/or families. The reunion show isn't their chance to relive what they had anguished over never getting, it's the icing on the cake for three decades well spent. I think the documentary's best accomplishment is distinguishing the difference between these two things. It is equal parts remembering the past and equal parts embracing a future of possibilities.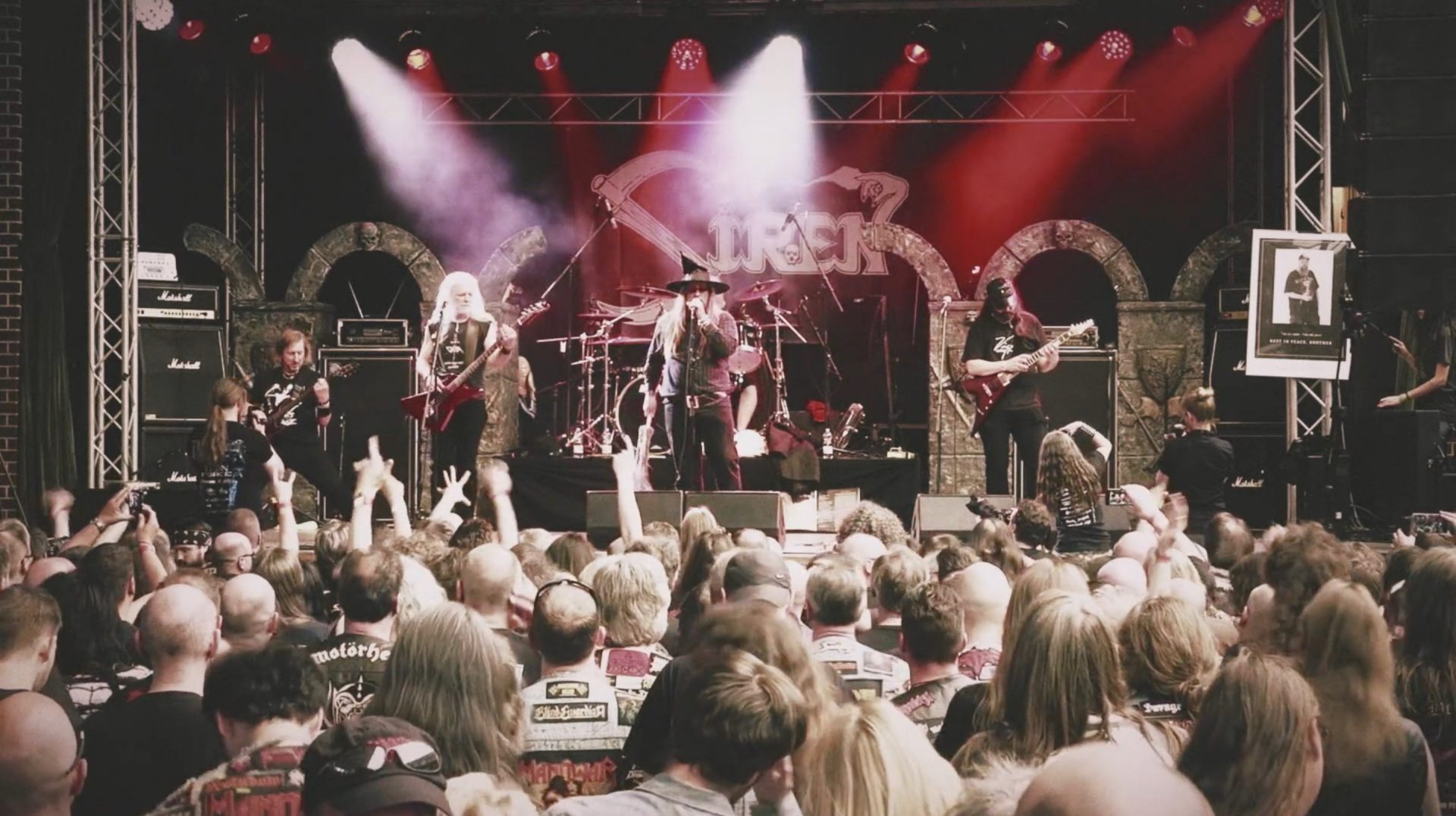 My only major complaint with the film is that I wish we got to see more of their final show that caps off their journey. That being said, I'm glad it took it's time to show the steps they took to get there. I also appreciate its dedication to the fanbase that had been waiting for their entire lives to see Siren finally reunite. Chris Jericho's I'm Too Old For This Sh*t proves that dreams will never die if the passion is still there. In the words of Ed Aborn, "you're never too old to rock and roll."
Rating: 8.5/10
I'm Too Old For This Sh*t is available to rent or buy now on iTunes.
—–
Did you enjoy this article? If so, consider visiting our YouTube channel, where we discuss the latest and greatest in pop culture news.
---
Trending Now