'Please Don't Destroy: The Treasure of Foggy Mountain' Review: Plenty of Hollow Laughs
Posted On November 17, 2023
---
2023 has been a banner year for comedies. Joy Ride, No Hard Feelings, and Bottoms breathed life back into the mid-budget comedy. These films had solid narratives and poignant themes that resonated with audiences. These films had something to say while also being extremely funny. Then there are films like Please Don't Destroy: The Treasure of Foggy Mountain, an SEO nightmare of a title, that decides to focus on the jokes and gags instead of giving the audience a reason to care about what's happening.
Please Don't Destroy: The Treasure of Foggy Mountain hails from the minds of the comedy group Please Don't Destroy. The film follows three 20-something best friends who are on different life trajectories. Ben (Ben Marshall) is looking to convince his father (Conan O'Brien) that he is capable of taking over the family business; Martin (Martin Herlihy) is struggling to figure out how he'll be able to provide for himself and his girlfriend (Nichole Sakura); and John (John Higgins) isn't ready to lose his friends to adulthood. John decides that finding the long-lost "Treasure of Foggy Mountain" is the necessary shot in the arm the group needs.
The film's premise lends itself to the absurdist, dry comedy Please Don't Destroy is known for. The trio of Martin, John, and Ben are, unsurprisingly, the best part of the movie. The way they seamlessly flip-flop between the "straight man" and the "joker" in each scene keeps their dynamic fun and entertaining. The ebbing and flowing of their riffs makes for some genuinely hilarious moments, while keeping the comedy from becoming stale or played out.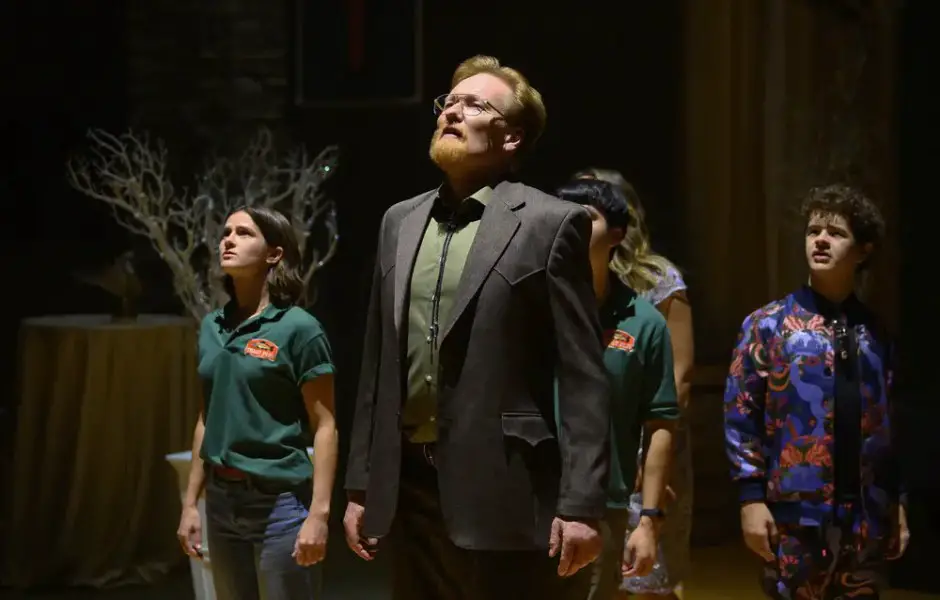 Please Don't Destroy: The Treasure of Foggy Mountain also bolsters a deep bench of comedic talent. Conan O'Brien makes good use of his limited screen time as Ben's straight-laced father. Whether it's comparing his slacker son to a mundane co-worker or sneaking away from a no-holds-barred brawl to binge-watch a familiar show, his presence elevates each and every scene he's in. Gaten Matarazzo (Stranger Things) makes a memorable cameo in the film.
However, the two real standouts are Megan Stalter and X Mayo, two park rangers also looking for the treasure. The duo shines not only when they interact with each other but also with the main trio. Stalter is John's love interest and matches his chaotic energy perfectly. She's tasked with saying some truly outrageous stuff but delivers her lines with an endearing sincerity that elevates her performance.
Despite all the talent behind the scenes and in front of the camera, Please Don't Destroy: The Treasure of Foggy Mountain never truly feels like an actual movie. The conceit of three friends searching for a long-lost treasure is never explored deeper than the initial call to action. The film focuses so much on the main characters riffing that it doesn't have time to build the stakes or supporting characters. This blasé attitude toward each conflict removes any weight the narrative is trying to set up. By the time the credits roll, you'll feel like you spent 90 minutes scrolling a creator's TikTok page instead of watching an actual movie.
There's no better example of wasted stakes than Bowen Yang's cult leader, Deetch Nordwind. Yang is an extremely talented comedian but has little to do in the film, and it's a shame. He and his followers all searched for the treasure at one point before giving up and renouncing all earthly possessions to live in the mountains. The threat of this cult is all expository and disappears until the final battle for the treasure.
Please Don't Destroy: The Treasure of Foggy Mountain is not unwatchable by any means. It's a light-hearted, raunchy romp that makes (mostly) good use of the talent involved. This is the type of film that requires very little attention and provides you with plenty of hollow laughs. While this might not be the film that launches Please Don't Destroy into the collective zeitgeist, it's a good stepping stone. –Kellen Murack
Rating: 6/10.
Please Don't Destroy: The Treasure of Foggy Mountain is now streaming on Peacock!
—–
Did you like this article? If so, consider visiting our YouTube channel, where we discuss the latest and greatest in pop culture news.
---
Trending Now