'They Cloned Tyrone' Review – Black Sci-Fi Greatness
---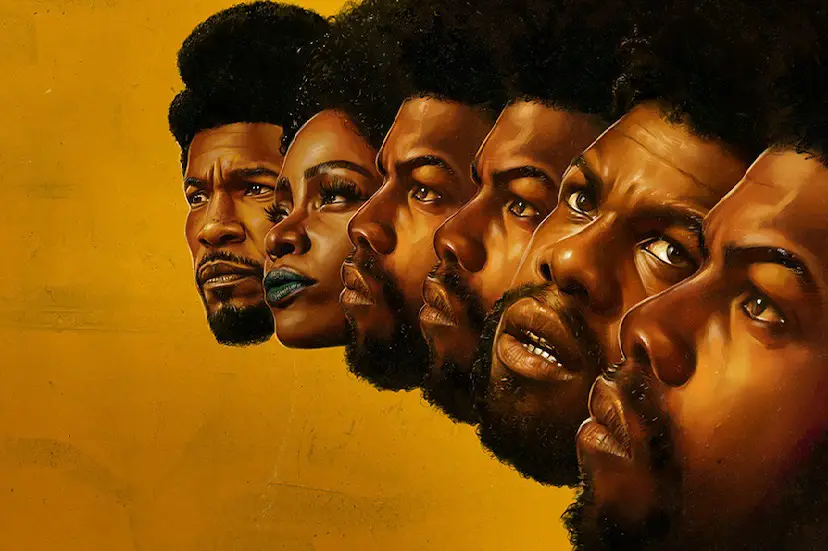 Science Fiction is a beloved genre and during this renaissance of Black cinema over the past six or seven years, it's been at the forefront. Jordan Peele opened up a gateway with films like Nope, Us, and Get Out. Were they horror films? Yes, but they were also sci-fi films. They Cloned Tyrone can now be added to a list that includes Sorry to Bother You, The First Purge, A Wrinkle in Time, and the like. The film is an explosion of science fiction, Blackness, and homage to its forefathers. It's a film that feeds off mocking conspiracy theories while telling a great story with plenty of wonderful thematic and cinematic elements.
Starring Jamie Foxx, John Boyage, and Teyona Parris, the film follows Fontaine (Boyega), a neighborhood drug dealer in Tennessee that gets shot and stumbles upon a plan to keep their neighborhood ghetto. They are being cloned, filled with a secret ingredient through chicken, grape juice, and perms, and letting the cycle continue. Recruiting pimp Slick Charles (Foxx) and his bottom woman Yo-Yo (Parris), Fontaine tries to find a way to stop the secret lab he finds from doing their work. What Fontaine discovers is much more than he expected, as this elaborate conspiracy is exposed throughout the film.

They Cloned Tyrone is the directorial debut of Juel Taylor, who has a very interesting style. Taylor also wrote the script along with Tony Rettenmaier. The screenplay is very tight, concise, and consistent. This film has so many angles and sharp turns, but they all mold together so well. Character development is a very important part of this film, Taylor made it a point to show the progress as we see our main players on their journey. In each act, we see them become more awakened to what's happening around them. They become smarter and savvier as the film unfolds.
Simply put, the acting performances in They Cloned Tyrone are incredible. Boyega and Foxx, in particular, have electric chemistry onscreen. Boyega puts on a masterclass – his emotions and mannerisms all firmly fit into the concept of his uniquely sympathetic character. Parris is also transcendent, she steals every scene. Her character Yo-Yo is deadset on leaving her current life, and Parris brings every bit of charisma and savviness required for the role. Foxx's Slick Charles is the quintessential pimp, from his verbiage down to his mannerisms. They are slick talkers that just want to save their neighborhood and be fresh while doing so.

The score for They Cloned Tyrone is immaculate. Pierre Charles and Desmond Murray draw from the film's Southern influence and give us a very Blues/G-Funk-inspired score. The score also delves into synth like an 80s film during certain parts of the film. Even though this looks and feels like a film based in the 70s. The set production feels like something out of Blade Runner in a way. Not as big and glamorous, but very modern yet futuristic. Ken Seng's cinematography helps give the film its grainy 70s feel, too. It's truly fascinating to see all of these unique aspects come together to give us such a perfect movie.
They Cloned Tyrone is definitely inspired by the likes of H.P. Lovecraft and Stanley Kubrick. There are no giant monsters, just intense inner fear and thoughts. Taylor draws from conspiracies like organ harvesting, music sonars, and mind control. All of which mesh together very well in this story. You can see the influences in the film down to the point of Joshua Mikel's DJ Strangelove, an ode to Stanley Kubrick's Dr. Strangelove, or How I Learned to Love the Bomb. Science Fiction is not a monolith, it's a wide umbrella containing many sub-genres and ideas. This is how the brilliance of They Cloned Tyrone is able to come to fruition.

This movie is a cluster of different eras. We get the 70s score and set design, 80s synth and sci-fi era style, and a very modern take on the Black community. It also pulls from a grounded reality that's extremely controversial. During the 80s, the CIA and Ronald Reagan were essentially running drugs through Black neighborhoods, and it created a warzone. This film repurposes bits of history to push its point across, making way for a film that feels like a culmination of reality.
They Cloned Tyrone is a wild ride, and at every turn, there's a new twist. The film is everything we could want in a science fiction movie. These films have no rules, except for the ones you create. The great thing about sci-fi is, as long as the story makes sense, you can do whatever you want. This film is great for the genre, and Black creatives alike. – Rascal F. Kennedy
Rating – 10/10
—–
Did you like this article? If so, consider visiting our YouTube channel, where we discuss the latest and greatest in pop culture news.
---
Trending Now