'Scream VI' Review: "Blood, Guts, and Obsession"
---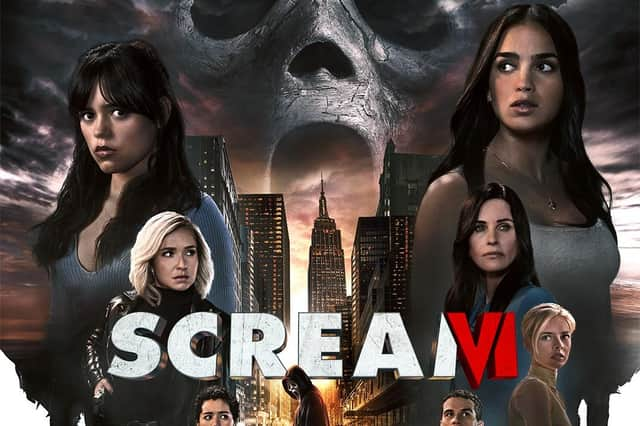 The Scream franchise has always been a place indicator of the state of horror. From the original slasher film to the so-called requel, these films have always been essentially a deconstruction of the moment. Well, now we have entered the franchise phase with our new cast, and there's a new player in town. One more brutal and more obsessive than any Ghostface we've seen before. But Scream VI is more than a deconstruction, it's the most brutal and gory of the franchise yet.
Scream VI focuses on Sam (Melissa Barrera) and Tara (Jenna Ortega) have moved across the country to New York. While Tara is in school, Sam is working and just trying to make it. After some brutal murders involving people on Sam's campus, we see the reemergence of Ghostface. This Ghostface is so crazy and obsessive that it brings back Kirby Reed (Hayden Panettiere).

Scream VI also changes the rules, similar to Scream 2 in a way. Everybody is expendable, and the rules just aren't the same anymore. We have entered a franchise where everybody is a suspect, and nobody is safe. Kirby knows how this works, and does anything she can to figure it out and help Sam. While the new characters Detective Bailey (Dermot Mulroney), Ethan (Jack Champion), Quinn (Liana Liberato), Anika (Devyn Nekado), and Danny (Josh Segarra) try to help out the OG cast members.
Writers James Vanderbilt and Guy Busick give us a brutal and bloody sequel that is a great follow-up. And much like Scream '22, directors Matt Bettinelli-Olpin and Tyler Gillett channel their inner Wes Craven. They create scares and kills that would make Craven proud. This Ghostface may be the best Ghostface since Roman in Scream 3. The way everything is pieced together is so brilliant.
The score from Sven Faulconer and Brian Tyler is masterful. It's creepy, it leans into the Scream and Nightmare realm. This felt like what Wes Craven originally created in 1996. The move from Woodsboro to New York was a big one, it created a bigger landscape for the film. There were more places to pull off kills and more ways to kill.
The cinematography and the way the film was shot were more gritty as well. This was definitely the way to go with the Scream franchise. A brutal and thrilling film filled with some gut-wrenching deaths. The cast was also very fun. The remaining fresh faces from Scream '22 – Barrera, Ortega, Jasmin Savoy Brown and Mason Gooding – held their own per usual. Courtney Cox and Panettiere were also very great in the roles of Gale and Kirby.

Scream VI is what Scream fans deserve. A horror film filled with twists and turns. Brutal and disgusting kills, mixed with a pretty straight-to-the-point story. Sidney Prescott missing was felt, Neve Campbell is a cornerstone of the franchise but this film took the franchise in the correct direction. Scream VI is nearly flawless, and it's beautiful. – Rascal F Kennedy
Rating: 8.5/10
Scream VI is now exclusively in theaters!
—–
Did you like this article? If so, consider visiting our YouTube channel, where we discuss the latest and greatest in pop culture news.
---
Trending Now