'Bel-Air' Season 2, Episode 1 Spoiler Recap/Review
Posted On February 23, 2023
---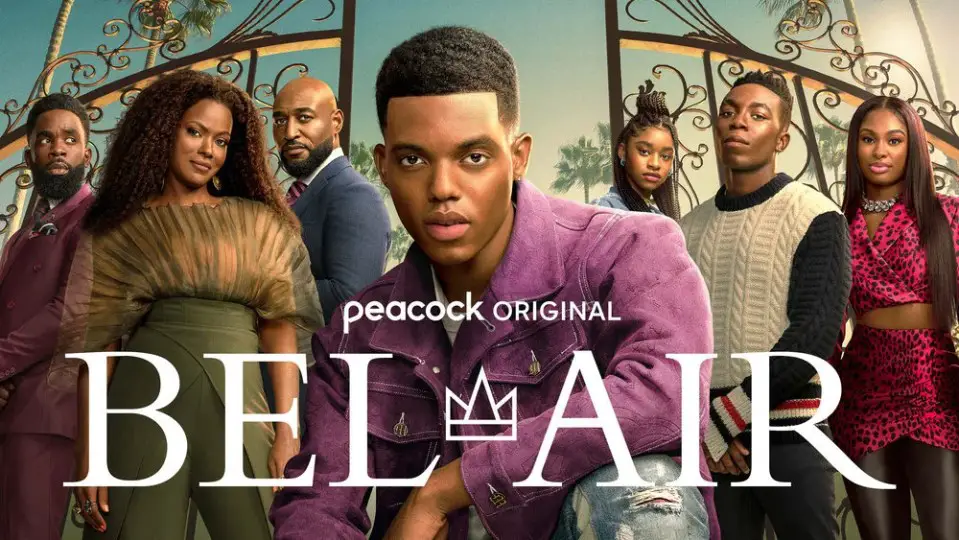 When young man moves to a different environment, they often have to adjust to those new surroundings. In the new season of Bel-Air, we see the aftermath of Will (Jabari Banks) meeting his father Lou (Marlon Wayans). He's been out of the house for two weeks since the end of the first season. He's gone back to his Philadelphia ways while living with Jazz (Jordan L. Jones). This is just a precursor for the first episode of what seems like it will be a good season that elevates above its predecessor, The Fresh Prince of Bel-Air again. The first episode of Bel-Air is all about Ashley's 13th birthday party and getting Will to come home.
The season focuses on WIll trying to separate himself from the Banks family, which ultimately is understandable. His Uncle Phillip (Adrian Holmes) and he had a falling out after Geoffrey (Jimmy Akingbola) was fired and he found out everybody was lying to him about his father. He's back to playing streetball for money, but he's still maintaining a relationship with his family and friends. He and Carlton are friends again, and he's focused on going to college on a basketball scholarship. Furthermore, he is looking for a man known as Doc (Brooklyn McLinn), a talent agent/supervisor guy that runs a basketball circuit. This will no doubt be an important story plot going forward. Will has to come to terms with reality, though, as does Uncle Phil.
Since buying Kylo out of his contract with the influencer house, Hilary (Coco Jones) and Ivy (Karreuche Tran) have been working on a partnership to run the house together. The problem is, Ivy treats Hilary more like a sidekick than a partner. Ivy wants to promote her new liquor and does everything she can to do it. Whether it is at the influencer house, or at Ashley's birthday party. Hilary and Jazz are still trying to figure out their relationship, and Hilary wants to keep it unofficial until she realizes she can't. Ivy makes a move on him and Hilary isn't having it. She finally tells him she wants to be official, which is significantly different from the TV version – where she constantly turns him down except for that one instance.
There are multiple storylines developing in this episode. Carlton (Olly Sholotan) is trying to make his way around school after his incident with Connor, and he needs Will to help him. Will takes him to the Black Student Union and begins trying to help him talk to Yazmin (Riele Downs), the president of the club. Things get a little heated when they tell Carlton the truth and he tells them the truth back. He's only ever talked to them for support when running for class president, and all they do is complain and moan with no action. Vivian is also having her own issues. She's still going back to doing her art, and she's being interviewed by a magazine for her works. All goes left when she realizes they made it more about Reid Broderick (Michael Ealy) than her.

Phillip is dealing with getting back into office and politics after his campaign for D.A. ended on some controversial notes. Everybody is warning him to take it slow, but all he knows is pressing forward. This will definitely lead to some controversial activity in this second season of Bel-Air. We also see Phillip be very stubborn in this episode. He doesn't want to apologize to Will or accept Geoffrey's apology. It's actually kind of crazy seeing pride be that much of a thing for Phil, but in hindsight, he felt he did the right thing. He does go on to apologize to Will, but Geoffrey remains to be seen.
Ashley's plotline is very simplistic in its nature. She's turning 13, and she's having a party, but instead of gifts, she's now socially conscious. She wants to help others, so donating to a cause is more important to her. Her teacher Mrs. Hughes gifts her a book that she finds interesting. We see Mrs. Hughes get in trouble for something which will undoubtedly be important in later episodes and as Ashley walks by they close the door. Book banning has been a thing recently, so that will be an interesting subplot. Ashley only wants Will to come home, and she gets her wish. Will shows up after his exhibition match against Big Dre (Sheldon Bailey) where he finally meets Doc.

Will and Lisa (Simone Joy Jones) are a complicated couple, to say the least. She left him after finding out the truth, and he tried to make things right, but he ran off. She spends the episode trying to talk to Will, and figure out where they stand. After Will meets Jackie (Jazlyn Martin), he realizes he has options and decides to move on from Lisa. She's heartbroken because she loves WIll, but he's just tired of everybody leaving him and being wishy-washy.
Dale Stern directed a great episode of Bel-Air. This episode flowed well and the writing from Carla Banks Waddles was put together perfectly. There was a lot going on in this episode but the main point was family is everything. Will's character development hasn't been hindered, even as annoying as he was in the first season, it all panned out. He's a young man trying to find his way, and chase his dreams of making it as a hoop star. I enjoyed the direction and how Stern was able to get some pretty good acting out of this cast. It's going to be a fun season and this was a nice beginning.

The way this episode has laid a foundation for many things going is going to be pivotal. Will and Carlton leading the BSU. Ashley's teacher Mrs. Hughes who's played by the original Ashley Banks Tatyana Ali will probably be the mentor she needs. Ultimately, it will lead to some trouble, and the family gets involved because she's such an amazing teacher. The last season of Bel-Air was good, but again this season seems to be about elevating above that and using old storylines from the original show to retell in Bel-Air. Doc and Will's storyline seems to be very intriguing as well.
Overall, this episode was great and a pivotal piece going forward. Dale Stern is a great director that understands his characters, and their roles in the show. He also understands their flaws, as does Waddles. There's a lot to remember and digest, as with any TV show, but Bel-Air at its core is about a young man's growth as he chases his dream in a new environment. We have a long journey ahead, but this was a great start. – Rascal F. Kennedy
Rating – 8/10
Bel-Air premieres Thursdays on Peacock!
---
Trending Now