'80 for Brady' Review: "A Charming Last Hurrah"
Posted On February 4, 2023
---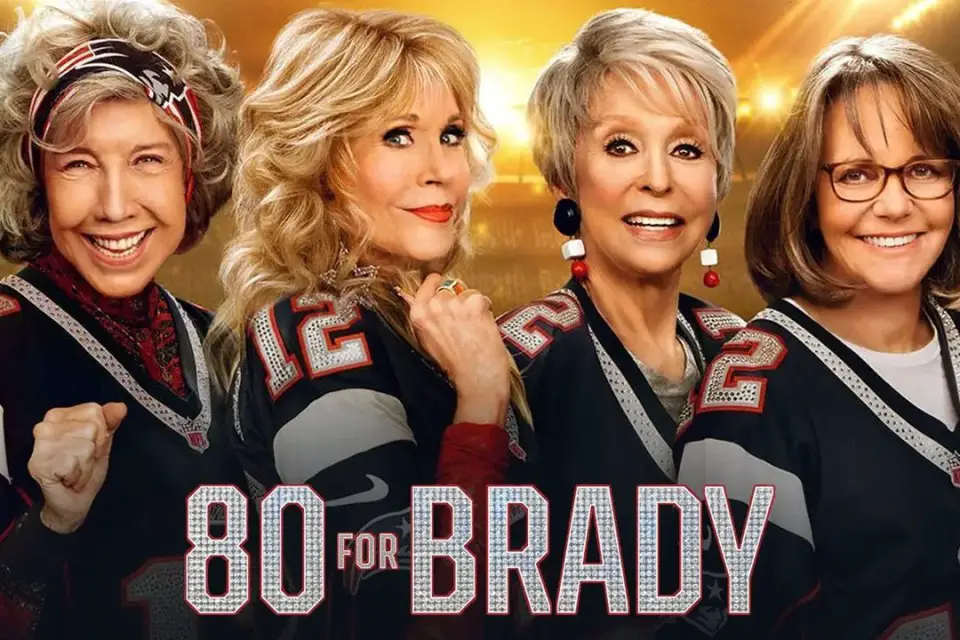 Football brings a lot of people together, especially when the Super Bowl arrives. Whether it's commercials, movie trailers, the halftime show, or the game itself, people find a way to gather around. And that's where we find ourselves with 80 for Brady – based on the true club Over 80 for Brady – where they bonded over Tom Brady and his path from underdog to Super Bowl champion. Lou (Lily Tomlin), Trish (Jane Fonda), Maura (Rita Moreno), and Betty (Sally Field) bonded over Brady when Lou was recovering from chemo during Brady's second season. From there, they followed him along the way to the weeks before Super Bowl LI. When the Patriots win the AFC Championship game, Lou decides they should go to the game by any means necessary, and they do.
Without a strong ensemble, the movie is a failure, plain and simple. Thankfully, our four leads have the chemistry to anchor the entire project. Moreno has to be my favorite on screen. Her scenes, particularly when she's gambling, are hysterical. While I have issues with some of the script choices for Lou, Tomlin does the best with what she's given. Of course, Brady does make appearances in 80 for Brady. They're not great. In fact, 90% of the time he's on screen is just weird, and some of them have some creepy effects added to them.

The script for 80 for Brady is the biggest issue it has. The main drive of the plot is Lou's struggle to overcome her fear of death. I absolutely wish that wasn't the case. For every time she seeks advice from Brady – whether it's the direct line, or the actual delivery – it's just horrific. The best parts of this film are when Brady's not on screen and the focus is on our four leading ladies. The jokes, the scenarios and the way the ladies handle being accidentally drugged are the highlights for this comedic film.
80 for Brady manages to do a lot with an incredible main cast of older ladies, which is a rare thing in Hollywood these days. It's very easy to fall right back in love with the film at any moment when the four are together on screen. I love that most of them get to have a special moment that affects them in their lives back home. They all used the trip to get away but managed to take something away to better their day-to-day lives. That's the most important part of 80 for Brady, that it shows we never stop learning as we grow older. Well, most of us. – Katie Rentschler
Rating: 8/10
80 for Brady is in theaters now!
---
Trending Now