Sundance 2023: 'Bad Behaviour' Review
Posted On January 31, 2023
---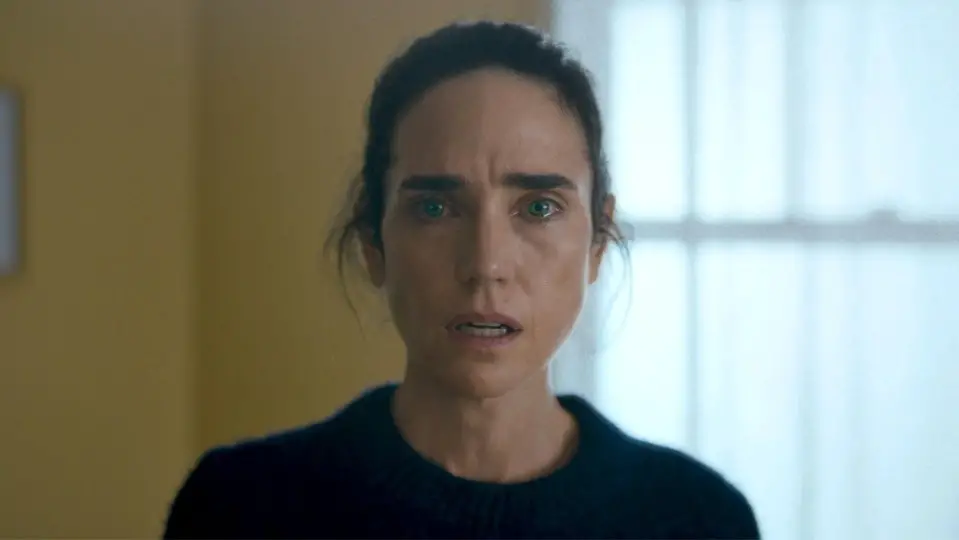 The following is part of Full Circle Cinema's coverage of Sundance 2023.
Self-help is complicated. The concept itself is incredibly easy to process but difficult to actualize. How much of so-called "self-care" is actually giving yourself passes for your mistakes? Do you have to get right with yourself or mend your relationships first? That murky territory is seemingly what actress Alice Englert wants to explore in her feature directorial debut Bad Behaviour. It is a strange film that gets bogged down in a few unwieldy narrative conceits. Once it breaks out of those, it offers honest insight into human relationships.
Lucy (Jennifer Connelly) is a mess. The former child star seeks enlightenment at an elusive wellness retreat run by pseudo-guru Elon Bello (Ben Whishaw). She has trouble adjusting to the bizarre rules of the facilities, and more issues dealing with a fellow retreat-goer and influencer (Dasha Nekrasova). Meanwhile, Lucy's estranged daughter Dylan (Englert) starts to make headway in the world of stunt performing. Their paths become entangled once again whenever Lucy makes a violent spur-of-the-moment decision at the retreat that leaves her in hot water. As Dylan comes to her mother's aid, there's going to be a lot more to repair than simply a legal situation.
The first half of Bad Behaviour is all over the place. Admittedly, there's an inherent comedy in seeing the skewering of self-absorbed people buying into the bull that Elon is selling. For his part, Whishaw is never enough of a parody or realistic enough to really register, and a lot of the exercises the group does are drawn out past the point of any satirical bite. Cross-cutting with the story of Dylan, whose blossoming romance on set and her drive in the film industry captivates, certainly doesn't help matters. Nonetheless, there are strong moments in the first half. Nekrasova is a firecracker as the influencer, her paper-thin pretense stirring simmering anger in the world-weary Lucy. A sort of rivalry forms and then explodes into what feels like a wildly entertaining climax.

Just as Bad Behaviour appears to find its groove, Alice Englert switches up on the audience. A poorly-constructed animated sequence, completely baffling in its placement and execution, marks the connection point between both halves of the film. Yet, once we get to the other side and Dylan and Lucy reunite, Bad Behaviour begins to recover. These two have a prickly relationship. Uncomfortable around one another, they tip-toe around their true grievances with each other. Those simmer under the surface until they eventually bubble up. Conversations between Lucy and Dylan reach a fever pitch where, with nothing else to lose, their feelings are laid bare. It's ugly, uncomfortable even, but it's unbelievably real.
Anyone with a difficult parental relationship will find some kernel of honesty within their dynamic, often played usually in a melodramatic fashion that Bad Behaviour forgoes. Bravely, the film uses their coming to grips with each as a springboard, not a climax. Connelly and Englert turn in soulful work. In what resembles therapy in real-time, they go over their relationship, and the wounds that still fester. And in their own way, find catharsis. Beautiful, sweeping shots of Dylan standing in the wind on a mountain, captured by DP Matt Henley, communicate more than words could say. And a sense of healing and genuine insight washes over the audience.
How Bad Behaviour works as a whole is up in the air. Its overdose of unearned quirk in the first half certainly doesn't do it many favors. But underneath, there's a palpable sense of nakedness in human relationships that comes through. Where Alice Englert goes from here as a filmmaker is anyone's guess, but taken for what it is, Bad Behaviour marks a strong start. – James Preston Poole
Rating: 6.5/10
There is no current release information for Bad Behaviour.
---
Trending Now