'You People' Review: "Relationships Gone Wrong"
Posted On January 29, 2023
---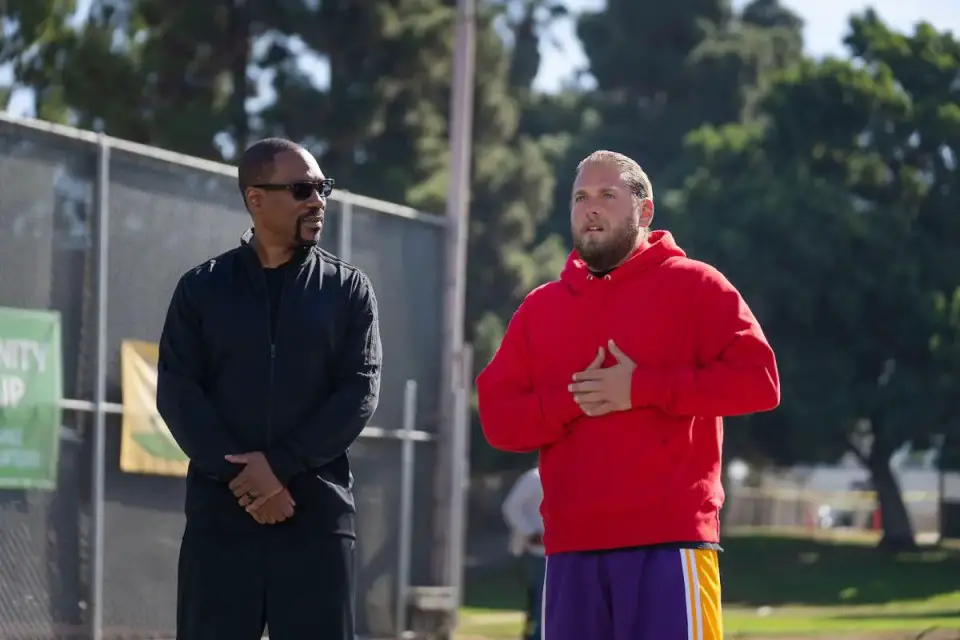 We've seen plenty of films about interracial relationships. Guess Who's Coming to Dinner, Save the Last Dance, Lakeview Terrace, etc. They've come in comedies, dramas, romance films and many other forms. In 2023, we get the Kenya Barris produced, written, and directed You People featuring an all-star cast. The film features plenty of great names, but it doesn't meet its potential at all as unfortunate writing and predictability bog down the final product.
You People focuses on Ezra or E-Z (Jonah Hill) and Amira (Lauren London), two people from different walks of life that meet in a very unorthodox manner. Ezra is a Jewish white man that is 1/2 of a podcast duo that talks about black culture with his friend Mo (Sam Jay). Amira is a black woman that grew up in a Muslim home. The two eventually fall in love, and then comes the problem – a Jewish family and a Muslim family must get along for the sake of their children.

Amira's father Akbar (Eddie Murphy) doesn't like Ezra. He's not Muslim, he's white and Jewish, and it's not what he wants for his daughter, Ezra's mother Shelley (Julia Louis-Dreyfus) treats Amira like her token black daughter. She does all the wrong things around Amira, and it frustrates her. These two things cause a mix of wild events that lead us to a pretty predictable ending.
The problems with this film far outweigh the good. Interracial relationship films aren't always cringey, but there's always the dance scene in Save the Last Dance.  Barris directs the film, and he doesn't lean hard into Ish TV show writing, he actually goes outside of his regular writing, but it still isn't good. It's like he took the Ish TV shows and Netflix's Black AF and tried to mesh them. Having Jonah Hill as the other writer didn't help as much as I hoped it would.

The dialogue in this film makes sense in a way, but overall it's just bad. Not every black family is like the one in this film, and neither is every white family. Yes, this is fictional, but these are things that could be real. Jonah Hill and Lauren London being in a relationship is something I can buy, but a lot of this dialogue is just flat-out terrible. Especially considering the plight of race relations in the US currently, which I'm sure played a hand in most of the dialogue in the film.
The acting is spot-on for the most part. Hill and Murphy are really good, and so are London and Nia Long. Murphy and Hill move this film, it goes as they go. Dialogue be damned, they gave great performances. Louis-Dreyfus portrayed her character perfectly. It's nice to see Sam Jay and Molly Gordon, but the movie does not use them to their full potential. There were a lot of cameos that fit and come with the territory of being a part of a Barris film/TV show.

The soundtrack was great. Vince Staples, Nipsey Hussle, Too Short, and a lot of other West Coast artists. They really engulfed this film in the said culture they were trying to convey. This isn't just a film about black and white people or Muslim and Jewish people. There's an actual conversation in this film that it's important. Unfortunately, goofy dialogue and ridiculous situations overtake things.
Barris isn't a bad filmmaker and Hill isn't a bad writer. However, You People is just a bad and cheap attempt at what it wants to accomplish. I wish it was more genuine, and I would've fed into it. These films are tired, the dialogue is tired, and it just needs to stop. I don't blame anybody, but with this climate, it just feels dated.

There wasn't much to take away from this film. It's an old conversation about race relations, and that is a touchy subject in itself. We can have these conversations in real life and not on film where it's just people using social media slang and ignorance as the dialogue. Audiences deserve more, and actual people deserve more as well. – Rascal F Kennedy
Rating – 4/10
You People is now Streaming on Netflix!
---
Trending Now