'The Son' Review: "Powerhouse Performances Fall Prey To Exaggerated Bleakness"
Posted On January 19, 2023
---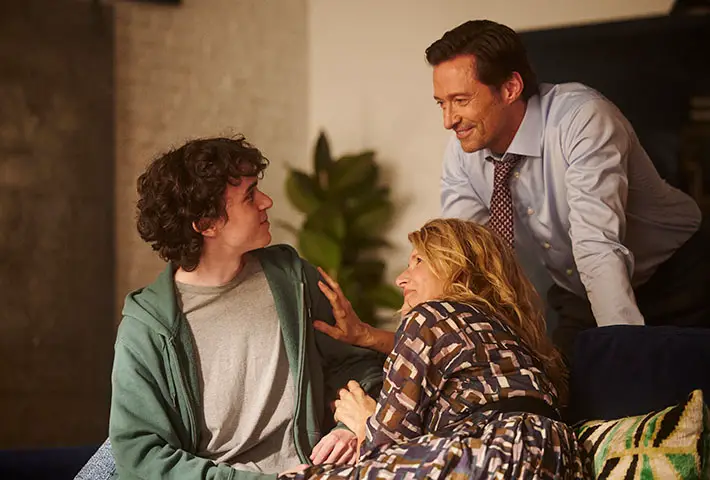 Florian Zeller's directorial debut, The Father, became an unlikely awards darling upon its release in 2020. Pulling a major upset for Best Actor at the Academy Awards two years ago for Anthony Hopkins, the film marked a successful transition from stage to screen for Zeller. In a savvy move, Zeller then chose to adapt another one of his successful plays, The Son, to the silver screen. What seemed like a sure thing turned into a minor debacle as early festival reviews lambasted a perceived dour, melodramatic nature. Although both are apt descriptors for The Son, it comes very close to achieving greatness.
The movie follows businessman and political hopeful Peter Miller (Hugh Jackman), whose life with his wife Beth (Vanessa Kirby) and newborn son in New York City is as idyllic as it can get. Peter, however, is in for a surprise when his estranged 17-year-old son Nicholas (Zen McGrath) from a previous marriage to Kate (Laura Dern) expresses his desire to live with him. Peter welcomes him with open arms, but he finds himself unable to cope with Nicholas' severe depressive behavior.
The Son requires audiences to get on its wavelength. To be fair, it's not an easy wavelength to get on. A grim and, for lack of a better word, depressing mood enshrouds the film. Ben Smithard's cinematography captures the cold nature of the film's many upper-class indoor spaces. Always intense music courtesy of Hans Zimmer holds the audience on edge without the briefest hint of a respite. Zeller wants you to know this a serious film about serious topics, as if downtime would make the audience completely forget about the film's core themes. Whenever The Son works, though, it emulates the intimacy of a black box theatre production.

Jackman has a habit of turning in powerhouse performances that get left by the wayside come awards season. His Peter Miller doesn't deserve that fate. He plays Peter as someone who is trying his hardest to instill a sense of structure into young Nicholas' life, using radical, artificial positivity and talk of career to try and get his child to buck up. But underneath that front, Jackman makes it clear that Peter doesn't know what to do. The cracks widen and Jackman explodes into expressions of pure pathos, guaranteed to wrench the hearts of anyone willing to fully absorb themselves into it. Kirby turns in an excellent performance as someone unnerved by both Nicholas' anti-social, often confrontational behavior, and Dern makes the soul ache as a woman who's had her life upended.
Newcomer Zen McGrath fails to live up to the rest of the ensemble as the film's centerpiece. His character feels more like a collection of nervous breakdowns and tics than an actual representation of mental health issues. Sometimes he overcomes the tendency to lean into simply retreading tropes of depressed characters seen in film and television for eons, but it's few and far between. It's a shame because the way Zeller treats Nicholas' depression is with great care. The script, in general, examines the slow decay that Nicholas' situation has on the people around him. It's one of those situations where no one knows what to do.
Bafflingly, The Son nearly destroys all goodwill it's built up for itself with an extremely tasteless climax. As if the mood weren't bleak enough, it takes a foray into tragedy that, given any real breathing room, might have worked. Here it feels exploitative and cheap. This is where the film sinks under its own darkness, leaving a sour taste in the mouth that's hard to wash out. Nevertheless, The Son is worth watching as a showcase for powerhouse talent and some brilliant writing from Florian Zeller. It's just unfortunate that it couldn't get out of its own way. –James Preston Poole
Rating: 6/10
The Son is now playing in theaters.
---
Trending Now