'M3GAN' Review: 'Grief, Camp, and A.I.'
Posted On January 7, 2023
---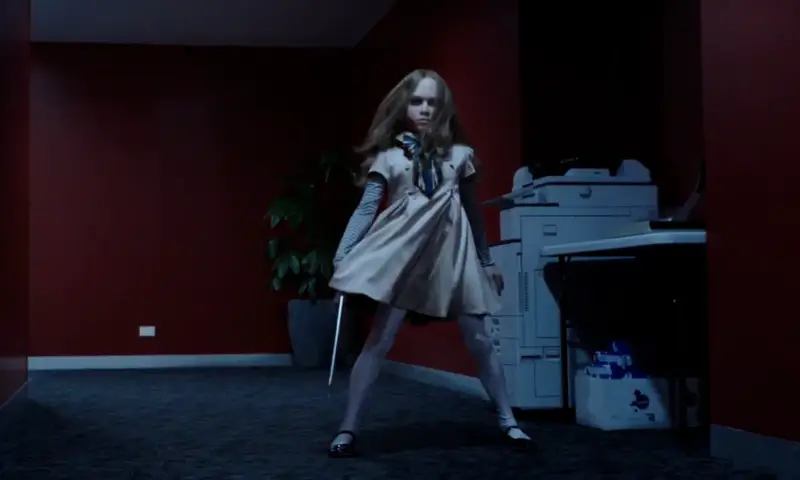 Unfortunately, grief is something that every human will experience at some point. There are many ways to deal with grief. The resurrectors of horror, Blumhouse Productions, has a story about grief lying under their new film M3GAN. However, the way it tackles grief does not automatically make it a harrowing watch. If anything, M3GAN is an extremely fun horror film that leans into pure camp.
M3GAN is about a little girl named Cady (Violet McGraw) dealing with the loss of her parents. Her aunt Gemma (Allison Williams) is tasked with being her guardian. Sadly, Gemma does not have the mindset to take care of a child. Strange considering she works for a toy company, but this is the first of many places where the film embraces the ridiculous scenario.

Gemma has a deadline that she has to meet for a toy, but shifts focus when she gives Cady a special surprise. It turns out that Gemma's passion project is the Model 3 Generative Android (M3GAN for short), a robot doll that interacts with a child on a deep level. Although an early model went awry, Gemma quickly makes another to appease her niece. At first glance, M3GAN appears to be a success thanks to it being able to console and play with Cady as if she were a real person. But as with many movies exploring AI, M3GAN starts to learn more about the world and begins to protect Cady in ways that result in harming others.
Based on that premise, it's clear that writer Akela Cooper juggles a lot of different ideas. While most projects would just explore grief or the corporate world or technology gone wrong, this one goes for all three. It may seem like a mess on paper. However, Cooper and story writer James Wan weave these threads as if they were always meant to intersect. M3GAN isn't like Chucky where she's possessed, she's like Roy Batty or HAL 9000. She's a piece of A.I. that's too smart for its own good and goes completely off the hinges.

While each death is pretty predictable, the filmmaking keeps it from feeling stale. Between Jeff McEvoy's editing and Anthony Willis' score, it lets the audience create mental images of the killings that arguably shock more than any explicit depiction would. On top of all that is Peter McCaffrey's slick cinematography, which places its viewers in a clinical world not unlike the toy industry.
With the help of director Gerard Johnstone, M3GAN thrives off of how campy it can be. The entire film just proves that camp isn't just a B-Grade film ideology, but it's something that can make films fun. In fact, this is a movie where the opening scene is a toy commercial that packs itself with cheeky gags. M3GAN also has a call back to the Evil Dead movies that is just enough to make any Raimi fan proud.

Anchoring all the chaos are the performances. Williams and McGraw's chemistry throughout this film is undeniable. In addition, Ronny Chieng has a blast playing a corporate figure who only sees children as vessels for money. Best of all, however, are Amie Donald and Jenna Davis playing the body and voice of M3GAN respectively. From the quiet moments of bonding to the psychotic bursts of rage, they form a composite that captivates every second.
Given my bias toward sci-fi horror, I was ready to like M3GAN the moment that the first trailer premiered. However, the high camp factor ensures that this movie will appeal to many people and not just me. It doesn't take itself seriously, and that's how you know it works. Self-aware and sincere films are amazing because they don't sell you false hope. They sell you what they are and you either buy or you don't. Well, I'm buying M3GAN full-stop, and I hope you do too. – Rascal F. Kennedy
Rating: 7.5/10
M3GAN is exclusively in theaters!
---
Trending Now