'Adult Swim Yule Log: The Fire Place' Review: "A New Addition to the Camp Renaissance"
Posted On December 15, 2022
---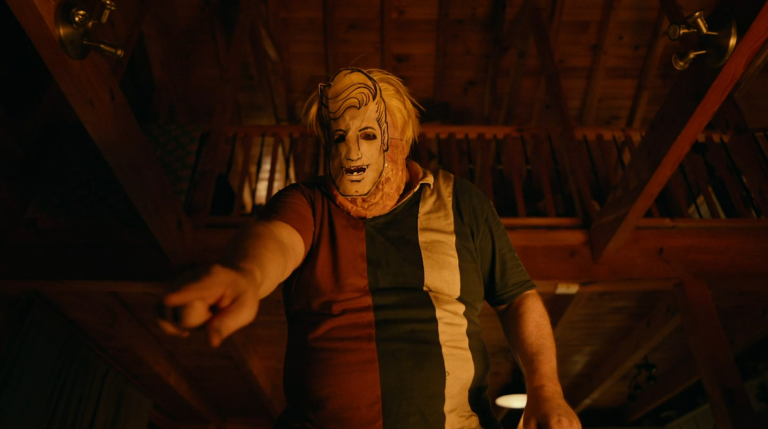 In 2022 we have seen some very strange horror movies. Barbarian and Smile cross my mind, and now we can add The Fire Place – stealthily titled as Yule Log on HBO Max – to the list. We all know Adult Swim is the late-night adult animation block from Cartoon Network. Well, ladies and gentlemen, they have deep-dived into horror for the holidays, and it is both bloody and glorious. We've seen many films about cabins in the woods, and we can add this to that list. A film about a haunted wooded area with a cabin where tragedies continuously happen.
The Fire Place follows Zoe (Andrea Laing), Alex (Justin Miles), Ben (Sean Hankinson), Holly (Daniella Maximillian), Beth (Hannah Alline), Hunter (Thuy Bui) as they all end up in the same cabin in a very Barbarian-esque way. After the very incredibly insane opening scene where we meet our main villains Pleatherface (Brendan Patrick Connor) and Mother (Tordy Clark), we see Zoe and Alex enter the cabin. After a run-in with the Sheriff (Mark Costello) and Deputy (Johnathan Pawlowski), they get the company of the other four.

The cabin is double booked via Airbnb and another platform for renting/vacationing. The new additions Holly, Beth, Ben, Hunter, and Henry all have a true crime podcast. They give us the rundown on the cabin and the surrounding wooded area. The cabin has been the home of some infamous murders dating back to the days of slavery. There have also been some pretty crazy disappearances in the area that are blamed on aliens. Basically, this is the last place you want to be alone.
Things start to get a little wild after they all jump in the hot tub. Somebody is mysteriously killed, and Henry is dragged into the fireplace by The Little Man in the Fire (Charles Green). Henry goes through a very trippy state and ends up doing a very evil deed. As the film goes on, we finally see who or what the killer is. There's a lot of mystery behind the film, but we get a peek into past events that have happened in the cabin, and a very intense ending.
The Fire Place is what happens when you allow your staff to be creative. Adult Swim has always allowed its staff to be just that, and Casper Kelly is no different. This is a surprise film with a lot of twists and turns. It's sick, it's sadistic, it's horror at its finest in many ways and at its worst. However, I had fun watching and waiting to see what other twisted elements could be added to this story. The Fire Place is something that we need on streaming. Letting creatives make wild things we haven't exactly seen before.

The Fire Place is helping bring back camp films. It brings me back to a time when camp horror films like Killer Klowns From Outer Space, Phantasm, and Sleepaway Camp thrived. This is a new age of camp where we get films like Slice and The Fire Place. They're fun and they gain a cult-like following. Camp films have been making a slow comeback and it's been enjoyable. Between A24 and now Adult Swim we are in for a treat.
The bright side of the very dark streaming era is being able to have these camp films forever, hopefully. If you are into camp films this is definitely for you, and if you are not… you should still give it a shot. The Fire Place is a fun film that fans of Adult Swim alike can appreciate. – Rascal F. Kennedy
Rating: 6.5/10
The Fire Place is available on HBO Max.
---
Trending Now