'The Whale' Review: "Honesty Is The Best Policy"
Posted On December 10, 2022
---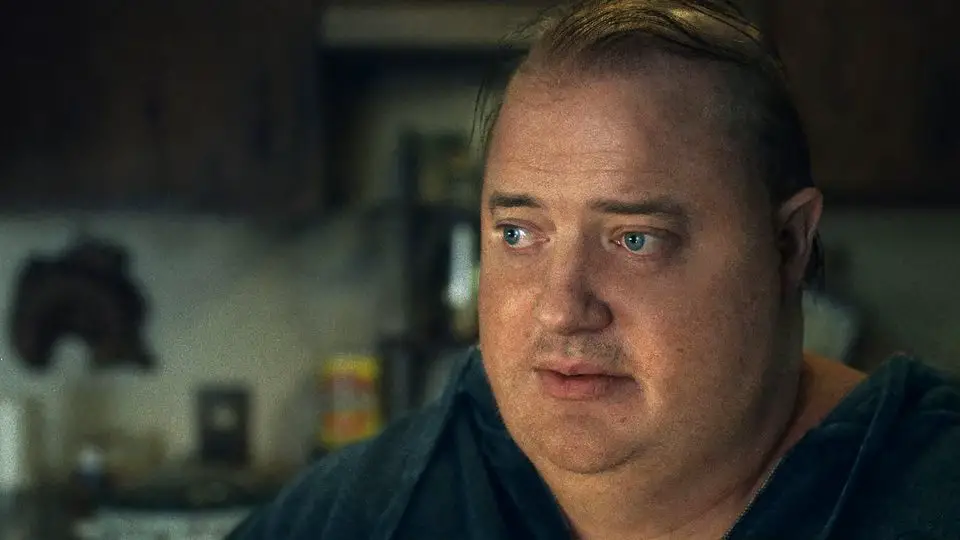 On paper, selflessness is the kind of character trait one would strive to have. In addition to the act of caring for others, this compassion often leads to appreciation and other rewards in return. There comes a point, however, where selflessness can get so extreme that the concept of self-preservation no longer registers. In the worst-case scenario, its absence can manifest in deadly ways. Nowhere is this more pivotal than in Darren Aronofsky's latest film, The Whale, which places this conflict at the forefront.
Adapted from Samuel D. Hunter's 2012 play of the same name, it follows a middle-aged English professor named Charlie (Brendan Fraser). This is not a man who is in a good place, emotionally and physically. Not only is he an emotional wreck after the loss of his partner, but he also copes by binge-eating like there's no tomorrow. With his weight gain taking a toll on his life, he tries to reconnect with his daughter Ellie (Sadie Sink) as a final chance to redeem himself. Only one problem: his abandonment of her at an early age has led her to resent every fiber of his being.

It's with this "problem" that the story gets to dodge many of the pitfalls when discussing obesity. Depending on how one reacts when looking at an obese person, it can be easy to shame their body type and leave it at that. However, what Hunter proposes is that obesity is only a footnote compared to the far more relevant issue. By making Charlie the kind of person who would leave his family for a former student, it brings to light his warped sense of showing care. Sure, his love for the former student was real, but you know what else was real? His wife and child, and once you create that unit, you cannot just abandon them at a moment's notice.
By plunging into impulsive human behavior, The Whale becomes a wholly captivating drama. At the center is a man who wants to help out others even as he approaches death. And on opposite sides of him are people who either want to save him or want to condemn him. His nurse friend Liz (Hong Chau) and young evangelist Thomas (Ty Simpkins) represent the former, while Ellie represents the latter. As someone who has not seen the play, I cannot say how faithful this adaptation is. That said, given Hunter himself provided the screenplay, one can only assume the core of it remained intact. And oh, what a strong core it is.

To the surprise of no one, Aronofsky refuses to let the scenario appear arid. Between Mark Friedberg and Robert Pyzocha's grimy production design and Matthew Libatique's dim cinematography, Charlie's dirt-filled apartment becomes an extension of his diminishing self-care. Best of all, though, is the usage of the Academy aspect ratio to box in the characters. This of course has the effect of nestling Charlie's body like a cradle. At the same time, the squarish frame narrows what can be seen at any given time. Since there are few opportunities for the viewer to wander, it means one cannot look away from the souls of everyone onscreen.
This leads to the element that has seen praise long before I could lay my eyes on even the trailer: Fraser's performance. Whether an actual obese actor should have portrayed Charlie, I will leave that question up for debate. But what cannot be denied is Fraser's quiet expressiveness. As this is a character with limited mobility, it's up to the eyes to convey sorrow and compassion. Thankfully, Fraser spends every second making that a reality, and it results in bar none his finest moment as a performer. The rest of the cast turns in admirable work as well, with each one receiving a moment to vent their frustrations toward Charlie.

The Whale succeeds so much as a grounded character study that any dramatic beat handled with a heavy hand feels strange. For some, it will be the scene where Charlie angrily forces multiple slices of pizza into his mouth. For myself, it's the scene where Ellie's incendiary behavior around Thomas makes him uncomfortable. While this leads to character development for Thomas, it says nothing about Ellie that the plot doesn't already establish. After all, Ellie is someone with the gall to post unflattering photos and comments about her father on social media. Frankly, it's a half-hearted attempt to introduce concepts like sexual assault in a narrative that is otherwise not about that.
Let us be grateful, then, that this heavy-handed approach is only a minor occurrence. For the vast majority of its 117-minute runtime, The Whale tiptoes between being delicate and being direct. Considering that a delicate hand is not often in Aronofsky's arsenal, it makes for a remarkable bit of directorial growth. As much as I adore films like Black Swan and mother!, I would hate to see the oppressive nature of those projects applied to something this tender. Top that off with a gorgeous finale that calls back to early character beats, and you get a film that instills hope for Aronofsky's career going forward and for movies as a whole.
Rating: 9/10
The Whale is now playing in theaters.
—–
Did you enjoy this article? If so, consider visiting our YouTube channel, where we discuss the latest and greatest in pop culture news.
---
Trending Now