'Andor' Season 1, Episode 11 Recap/Review
Posted On November 16, 2022
---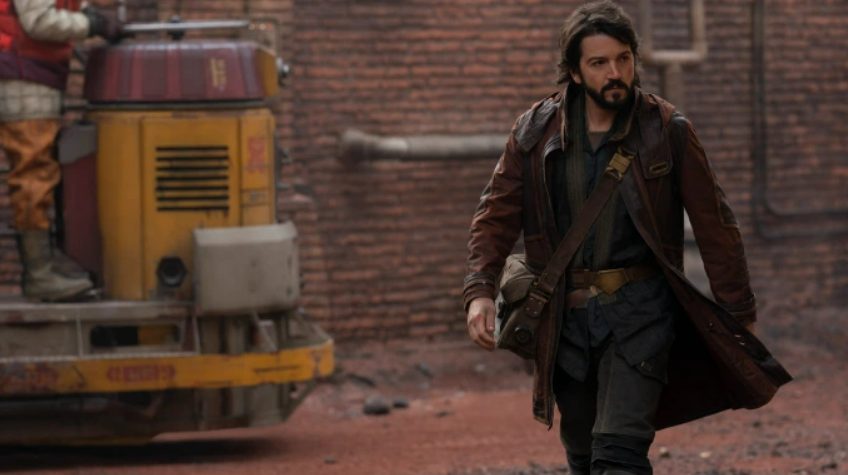 The Following Recap/Review Contains Spoilers for Episode 11 of Andor. For a recap on previous episodes, click here.
Andor is slowly but surely confirming it is the cream of the crop for the future of Star Wars television. It's been a slow and steady burn the full season. Despite that, this episode only reminds us of the best parts, preparing us for the season finale. There's time spent on Ferrix, Coruscant, Narkina 5, Neimos, and Segra Milo, which covers everywhere we've been in the series so far, and brings all the characters back together. Episode 12, the season finale will more than likely take place on Ferrix with Syril Karn (Kyle Soller), and it looks like Cassian Andor (Diego Luna) headed to the funeral of Maarva Andor (Fiona Shaw).
We get a perspective from B2EMO (Dave Chapman) on Maarva's passing. The Daughters of Ferrix are assisting Brasso (Joplin Sibtain) on getting Maarva's body ready for her funeral. B2EMO is clearly grieving, and Chapman pulls off a wonderful vocal performance to showcase it. The funeral custom of "bricking", cremating the person, and then adding them to a wall/building in the community is unique, and just showcases how everyone on Ferrix considers one another family. They're all helping to build a better place for the future generations. The funeral preparations are observed by Cinta (Varada Sethu) and Corv (Noof Ousellam), both spies for their own sides, who report back that this could mean Cassian will make an appearance soon.
Cassian and Melshi (Duncan Pow) are still together after escaping from the prison facility, barely making it up a cliff. They run into two fishermen and are captured trying to take their ship. The fishermen (aliens, might I add, a sight for sore eyes) see they're escaped prisoners, and take them off to Neimos at Cassian's request. On Neimos, Cassian recovers his blaster, credits, and yes, the manifesto from Nemik from his former room. He calls Ferrix, and speaks to Xanwan (Zubin Varla) only hoping to pass along to his mother he's safe. He gets the news that she's passed, and he and Melshi agree to split up, to better their chances of passing along the terrors they had encountered in the prison system.

Vel (Faye Marsay) shows up at Luthen's (Stellan Skarsgård) shop, only to see Kleya (Elizabeth Dulau) is the only one home. They don't get along at all it seems, constantly fighting for credit. Kleya manages to keep Vel at arms length, and gets the information that Maarva has passed. Vel will return to Ferrix to see if Cassian shows up. Before that though, Vel returns to the residence of Mon Mothma (Genevieve O'Reilly). Together, the two witness Leida (Bronte Carmichael) and her friends are practicing for the ancient Chandrilan rituals. She wants to follow in the traditions of being a child bride, as Mon did. This horrifies both Vel and Mon, but what can they do?
They know the horrors of marrying young, and even Perrin (Alastair Mackenzie) seems to agree with them. It's terrifying to know when you want to change your children's future for the better, only for them to desire what came before, which you know the consequences of. Especially when Mon has been made an offer to solve her problems by Davo (Richard Dillane). She still doesn't want to accept it, because she knows it can mean a terrible future for Leida. A startling parallel in place between Star Wars and the real world. Before Vel can counsel Mon, Leida comes out, done with the ritual, and they reunite to talk about the customs. Mon sitting in the background, still dwells on the choice she has to make. but also her daughter's future.

Luthen returns to Segra Milo to speak with Saw Gerrera (Forest Whitaker). Saw has decided to take him up on his offer to assist Anto Kreegyr on Spellhaus. Saw gets feisty when Luthen tells him the offer has expired. So much so in fact that Luthen has to reveal he knows the Empire knows about the raid, and has decided to sacrifice Kreegyr and his 30 men, so he doesn't lose a source in the ISB. Saw then questions Luthen's loyalty, but he is just so good at smooth talking. Saw walks it back, and agrees to the sacrifice for the greater threat of Rebellion can survive. It's ominous as Whitaker delivers the line, "Let's call it war".
Luthen leaves after this, only to be caught by a Cantwell-class Arrestor Cruiser. He provides them a chain code for the ship that can be cleared, but the Imperial officer in charge decides they need the practice, and holds the Fondor Haulcraft in the tractor beams. Luthen realizes it, and prepares his countermeasures, which are awesome. We get to see the laser takedown from the trailers and some very cool weaponry that wouldn't normally be on the hunk of junk.

While this episode flows with all the consistency of Star Wars publishing nowadays, it does fall flat compared to the rest of the episodes. It's all going to come down to Ferrix next episode, but there needed to be a set-up for why everyone will be there. It makes for a slower episode, but goodness gracious if Tony Gilroy (showrunner, and writer of this episode's script) doesn't use every ounce of it to be articulate. Cassian's parts are the only ones where the story doesn't serve him for the better. Instead, we're left with brilliant performances by Marsay and O'Reilly as they remember their youth. Whitaker also comes through, chilling as he works out a way to justify the deaths of 31 warriors.
While setting up for the finale, Gilroy manages to weave in a few Easter Eggs for those who know. All the while, weaving richer lore for Star Wars to utilize in the future. Bringing in customs from Ferrix, and continuing to enrich the old customs of Chandrila, while also leaving the viewer to make insinuations. For instance, is Luthen a Jedi? The weapon Saw's guard is holding in the above picture sure looks like a lightsaber. It's a good play to continue to make sure viewers are enraptured, and ready for answers next week. This begs the question, of how many answers will we get next week? With probably a year or two to go until we see season 2, I hope the cliffhangers aren't too hefty.
No matter what, Andor has made the case for fantastic storytelling on a streaming platform. Disney would be wise to see the critical acclaim, and make sure the stories they want to tell can hold up to this show, because it is definitively the gold standard.
Rating: 8.5/10
Andor Airs New Episodes Every Wednesday on Disney+
—–
Did you enjoy this article? If so, consider visiting our YouTube channel, where we discuss the latest and greatest in pop culture news.
---
Trending Now