'Andor' Season 1, Episode 6 Recap/Review
Posted On October 12, 2022
---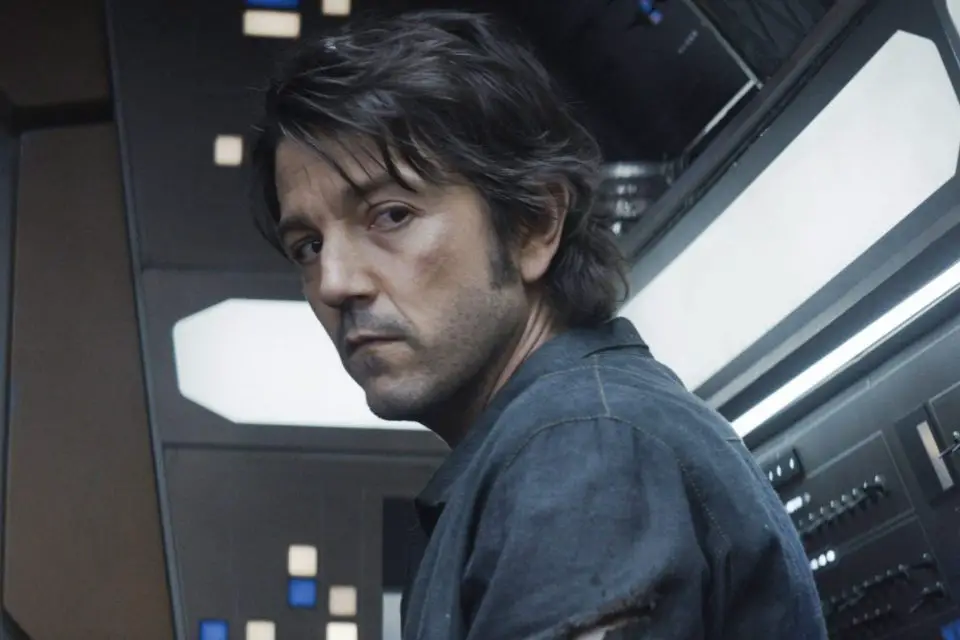 The following review contains spoilers for Episode 6 of Andor. For a review of last week's episode, click here.
Andor this week returns to the screens with the mission under the Eye, aptly the title of the episode. Sadly, so far, it's the weakest episode of the season. We lose three major characters, and several others in some of the biggest action work so far for the show, as the Aldahni mission takes place. At the end of the episode we get snapshots into Dedra's job as a member of the ISB, Mon Mothma as a senator trying to speak for the Ghormans, and Luthen as he realizes the attack on Aldhani took place.
For the Aldhani mission, it starts off well, though they do get behind rather quickly. We get to meet Dani pilgrims coming to see the Eye, and get visuals of them celebrating the great event throughout the mission. It's a way to help show the progression of the great event, as well as the mission. The visuals of the Eye, which looks like a meteor shower event, are stunning. One such image from promos is of Cassian (Diego Luna) flying through what originally we thought was hyperspace, and it turns out it's from this episode. It looks really magnificent.
As the mission stumbles along, the guys meet back up with the girls, to take the commandant prisoner, with his family as well. Cinta gets left behind to handle the prisoners, and the other five, Vel, Cassian, Taramyn, Nemik, and Skeen all head down with the commandant to the vault. They're able to load up a good portion of the payroll, but after a comms officer gets too nosy, they're pinned down. Taramyn ends up dying as the rest make it into the ship, and Cassian takes off.

Unfortunately, during takeoff, one of the carts of credits lands on Nemik, presumably severing his spine and damaging several organs. Vel is able to keep him awake, because he's in charge of the exit vector and has to tell Cassian where to go. Skeen ends up directing Cassian to the doctor they had planned to go to if things went south, but unfortunately, the doctor is unable to save Nemik. This made me tear up, even though from experience in the High Republic, you'd think we'd learn as Star Wars fans to not get attached to characters.
Then we get to the part I can't stand. Skeen while outside with Cassian, makes him an offer. 40 million credits a piece, and they can leave right now to a hideout Skeen knows of. Now I know, Skeen does not have the best history, being  prison, but his story about his brother, and that's why he was there on Aldhani is very compelling. Makes you appreciate his candor, and that he was just against Cassian for the betterment of the mission, trying to protect them all, the works. So why did they just completely take his character and throw him away? The only reason would be Tamaryn's death, and Nemik being close to it. But there's no mention of Skeen being afraid of death at this point. It feels like a quick move to get him out of the way.
Cassian kills Skeen, and goes into the doctor's office with his blaster raised. He tells Vel he's taking the money that was promised, that Skeen wanted to leave and take all of it, whole nine yards. Vel doesn't believe it, but Cassian doesn't care. He has morals, that's all that matters to him, but he did his job and wants his money. But before he leaves, Vel hands Andor Nemik's journal with the manifesto. It was Nemik's last request.

Overall, the episode flows really nicely. It's clear the show has a lot of heart. Although it develops most of the characters, this episode cuts some off before they can truly be fleshed out. That's just one of the downsides of having a wide array of characters in a season. Managing them all well, while still being able to focus on the main character at heart, can be difficult. Cassian's personal story is still being told as far as I'm concerned, and he should continue to stay in focus as the titular character. Mothma, Luthen and Dedra are still around, and we should be getting more of them as the season hits the backend.
Andor has been a character-driven piece on the little people fighting against the Empire. It needs to try and stick there to continue to be successful. While being there, I hope to see on the backend some continued efforts in showcasing Star Wars elements. Unfortunately, that's what's caused Andor some issues in perception. While it's in-universe, it feels simply like a sci-fi character piece. It needs to lean (maybe even heavily) into Star Wars in the last six episodes, and I think that will convince more people to stick around whenever season two arrives. – Katie Rentschler
Rating: 6.5/10
Andor Airs New Episodes Every Wednesday on Disney+
—–
Did you enjoy this article? If so, consider visiting our YouTube channel, where we discuss the latest and greatest in pop culture news.
---
Trending Now