Michael Giacchino Talks 'Werewolf By Night' (Exclusive Interview)
Posted On September 27, 2022
---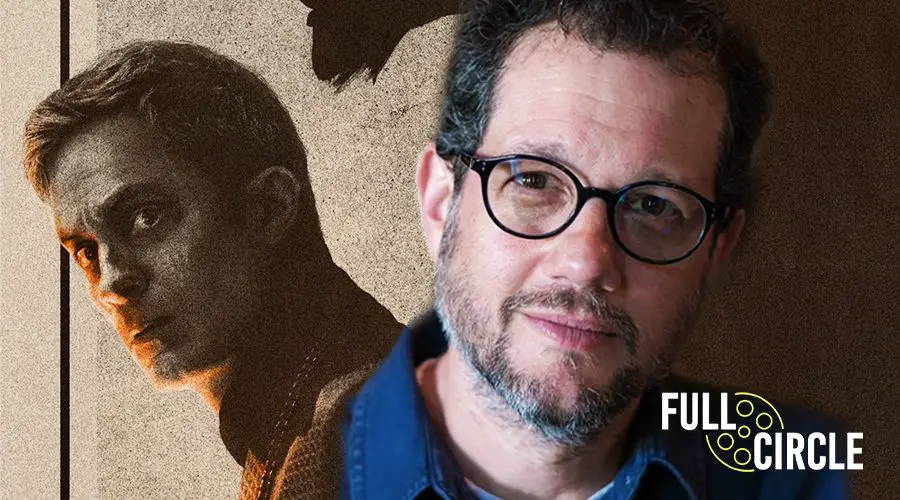 Werewolf By Night is an MCU project that feels different from what Disney+ has released under the Marvel banner. Presented as a Marvel Studios Special Presentation, the 52-minute TV Special is a horror-driven story introducing the world of monster hunting into the MCU. Starring Gael García Bernal and Laura Donnelly, the TV Special is directed by legendary composer Michael Giacchino. While Giacchino has directed short films in the past, Werewolf by Night could be considered his first big directorial effort.
Having composed music for big films like The Batman, Spider-Man: No Way Home, and Jurassic World Dominion, Giacchino is no stranger to working on large-scale projects. Full Circle Cinema got the chance not only to attend a surprise theatrical screening of Werewolf By Night, but we also got to sit down with the director/composer to discuss the creative process: the initial conception, the practical effects, the use of cult-favorite Marvel characters, and other directors who also composed the music for their projects.

When you first became involved with the conception of this project, did you immediately start work on the music or another aspect of the film now that you also had directing duties?
Michael Giacchino: I didn't immediately start working on [the music]. As we got closer to shooting, I started writing some stuff for it because I had much more of a handle on what it was at that point. In the very beginning, you're still figuring out what this thing is, and you're figuring out characters, you're figuring out the story, all of that. But once we got close to shooting, I started feeling like I understood what it was more than I had in the beginning.
So I did start writing, and I did write that main theme, which I had with me while we were shooting, and I was able to kind of play it as an idea, "Here's something that I'm thinking of, here's what it's going to feel like." And it was very helpful to have that on set. I also had other music that I had written for other things that I was able to say, "Tonally, this is what it's going to feel like," and I'm able to play something for the actors and say, "Here's the tone, here's what the feeling is." And it really helps everyone get on the same page together. It was very helpful, actually.

What was the process like when deciding to go for a practical effects-driven look for Jack's Werewolf transformation?
Michael Giacchino: Well, we worked with an incredible makeup company called KNB EFX, and they are just the best. If you look them up, you'll see everything they've done; they're unbelievable. KNB. But from the very beginning, I knew I wanted it to be practical.
I wanted it to be someone that was there on set in that costume that felt real, and it felt tangible. I was worried about going in the direction of a CG sort of feel, which didn't feel right to me. It just felt like; I don't know, it's hard enough to attach yourself to something that is real and fantastical as a werewolf, but then to do it as a CG thing, it just felt wrong to me. And I have such a love, respect, and affinity for those old Universal monster movies.
I love the monster movies that came out of Japan. I love all of that stuff. And the thing they all had in common was practical effects. And every one of those films still sticks with me to this day because your brain doesn't have to do the extra work of telling you that something on screen is real. It's actually real. And along those lines, I wanted just wanted to do real sets. I wanted everything there in front of them. The maze was all on one sound stage, completely there. The rotunda, everything was there. So we did very little in terms of visual effects because I wanted the actors to be in the middle and absorb it.

Charlie Chaplin, Clint Eastwood, and John Carpenter are just a few (and famous) examples of directors who also made the music for their films. Which of those do you relate to or admire the most, or is there another whose work you especially admire that has a focus on both directing/music composition duties?
Michael Giacchino: Oh. Every one of them. Every one of them.
I love every one of them. Charlie Chaplin, of course. Smile. He wrote Smile, one of the world's great songs. John Carpenter, I mean, Halloween, come on, let's go. There's absolutely nothing wrong with what he did. And that original score is just incredible. I have such respect for him. And then Clint Eastwood, to me, is a movie-making machine. That guy, I don't know how he does it; it's just boom, boom, boom, one after the other. And even to this day, he's still doing it.
I love his enthusiasm, passion, and love for what he does, which shines through. And the fact that he is also writing music for them as well, it's beautiful. And he does write beautiful music. So I love them. I think they're inspirations. And for me on this, there was never a version of it that I wasn't going to score because even if I didn't direct this thing, it would've been something I would've wanted to score. So I just knew from the beginning. And I think that if I had worked with a different composer on this, I probably would've driven them crazy because I knew too much about what I wanted in my head for this; it would've been a bad experience.

You have an extensive working relationship with Marvel Studios at this point. Would you consider taking on any other directorial efforts for them, whether it be another TV Special or a Feature-Length film?
Michael Giacchino: I'm open to anything. We did this in terms of, this was for us a big experiment. Let's see what we can do with this and see what happens and see how it unfolds. And I think there's going to be a time where we're going to look at this now and go, "Well, now what? I don't know. Now, what do we do now?" Because you're so focused on getting the thing done when you're working on it, you're not thinking, "All right, the next thing up right after this is going to be something else."
There's no time to think about that. So now there's some time to think, to reflect on it, look at it, and see what we want to do. But in terms of working with them, they're like family to me. I love working with them. I've worked with them for years, and it's just a thrill and a joy to be able to work with people that you really feel collaboration with, and you're able to all be creative together to create these things. And it's a great experience. It's a great place to be. I feel very lucky.

What was your favorite sequence to work on when making this project? Whether it be from a musical or technical standpoint.
Michael Giacchino: There were two shots that I worked on really hard that I knew from the beginning I wanted. One was the shot of the transformation when Elsa's in the cage, and we're pushing in towards her, and we see his shadow behind her. That was all done in-camera. That was not a visual effect shot. It took a lot of work to make that happen. And it started all in storyboards. I worked with a storyboard artist named Ken Perkins, one of my favorites. And he and I worked on that shot, and the hallway shot when the camera's moving towards the closing door.
And those were very difficult shots to plan out because they were going to happen on set. We had to film them happening. It wasn't going to be a CG thing. And the stunt people did an unbelievable job and wearing the costume of the werewolf, it is hot in that thing. It is really, really hot.
So we only got two takes of that, which was, that was it. And it was very… They're both very difficult shots to pull off. But between the planning, the storyboarding, and then Joe Ferrell's visual effects team to help us figure out any other little things we needed to get done, those shots, to me, were the most fun and the most satisfying in the whole film.

Man-Thing was a big hit with the Audience, were there any other cult-favorite marvel creatures or monsters you considered using?
Michael Giacchino: Well, he was always the main guy we thought of. There are so many of them to choose from. But in terms of what would work best for the story, it was always him. And I know that Kevin was a huge fan of Man-Thing as well, and Kevin really loved and wanted that as a part of this too. And I agreed with him. I love Man-Thing. It's one of my favorite comic runs in the Marvel, whole Marvel catalog.
It's beautiful because it's always about… Man-Thing is about a person. It's not about a monster. It's about a person who is struggling to try to work through this life that they've been saddled with. And that's very interesting to me and empathetic, And that's, more than anything else, I wanted the audience to feel that to understand that this isn't just a thing as it's called, it's much more than that. So yeah, so I was thrilled. I actually got to listen in on Zoom to the audience's reaction when everyone was watching. So it was fun to hear those cheers and the applause for him, and that made me feel really good because I love that character.
Werewolf By Night is Streaming on Disney+ on October 7th
—–
Did you enjoy this article? If so, consider visiting our YouTube channel, where we discuss the latest and greatest in pop culture news.
---
Trending Now