'House of the Dragon' Season 1, Episode 6 Recap/Review
Posted On September 26, 2022
---
This review of House of the Dragon contains SPOILERS, to read last week's review click here.
Secrets, lies, jealousy, envy, and betrayal have been common themes in the Game of Thrones universe. House of the Dragon continues the tradition as seen in the previous episode(s). The latest episode is no different, even with the ten-year time jump, things remain the same in the Targaryen family. These secrets may lead to a war that will cause major divisions in the factions of the famous houses.
Last we left the Targaryen house, Rhaenyra (Emma D'Arcy) and Ser Laenor (John MacMillan) were married after a great feast turned violent. Ser Criston Cole (Fabien Frankel) had beaten Ser Laenor's lover Ser Joffrey (Solly McLeod) to death. Ten years later and the princess is having another child. A boy, that Laenor decides to name after his deceased lover. We also see that Rhaenyra and Laenor have had two other boys as well. Or, have they? There's speculation about her children, which is obviously true, that they were fathered by Ser Harwin (Ryan Corr). As we know, Alicent (Olivia Cooke) is out to expose Rhaenyra for her infidelity, but the entire kingdom ignores it. Alicent also feels like her son Aegon (Ty Tennant) is the rightful heir to the throne.

The boys are taken to the dragonpit where they train their dragons and learn to speak Valaryian. Aegon and his nephews Jacaerys (Leo Hart) and Lucerys Harvey Sadler) bully his brother, their uncle Aemon, by giving him a pig since his dragon eggs haven't hatched. While the boys are being trained by Ser Criston Cole, Ser Harwin notices that he's bullying Rhaenyra's sons. He steps in to help them and ultimately crosses a line, which almost exposes the secret that those are his sons. He's punished and sent away back to his home. While Laenor is also talking about leaving and going sailing. However, he knows that he's getting exactly what he wanted out of the deal.
In other places around Westeros, Daemon (Matt Smith) married Lady Laena (Nanna Blondell). He considers giving away one of his daughters in a trade for gold, but Laena is against it. Daemon seems to be doing well, but on the night Laena is due to give birth to her third child, the baby will not come. Laena decides to end it all, and walks to Vhagar. She begs him to kill her and in an emotional scene, he ends her pain. We also get glimpses of Alicent having conversations with Lord Larys Strong (Matthew Needham).

Larys takes things into his own hands. He finds a group of prisoners and promises them freedom in exchange for a favor. He has their tongues cut, and they all head to the Strong House. Where they murder Ser Harwin by burning him to death. Larys claims to have done this for the Queen, but that's not what she wanted. She has a clue of who's about to come back to King's Landing and have a hand in helping Rhaenyra raise her sons. Rheanyra and Laenor decide to head to Dragonstone though since Alicent has been so aggressive towards her even as she attempts to make amends.
Alicent is playing checkers while everyone around her is playing chess. Her character is well-written and puts me in the mind-frame of Cersei. This specific aspect speaks to the foreshadowing at work in these early episodes of the Game of Thrones prequel.
Miguel Sapochnik is no stranger to the Game of Thrones universe. He's directed some of the best episodes, including The Long Night and Battle of the Bastards. His direction not only explains why this episode was so well crafted, but blended with Sara Hess' tight script, and you have a very drama-filled episode. This week's House of the Dragon isn't as violent as the previous ones, but it is extremely entertaining.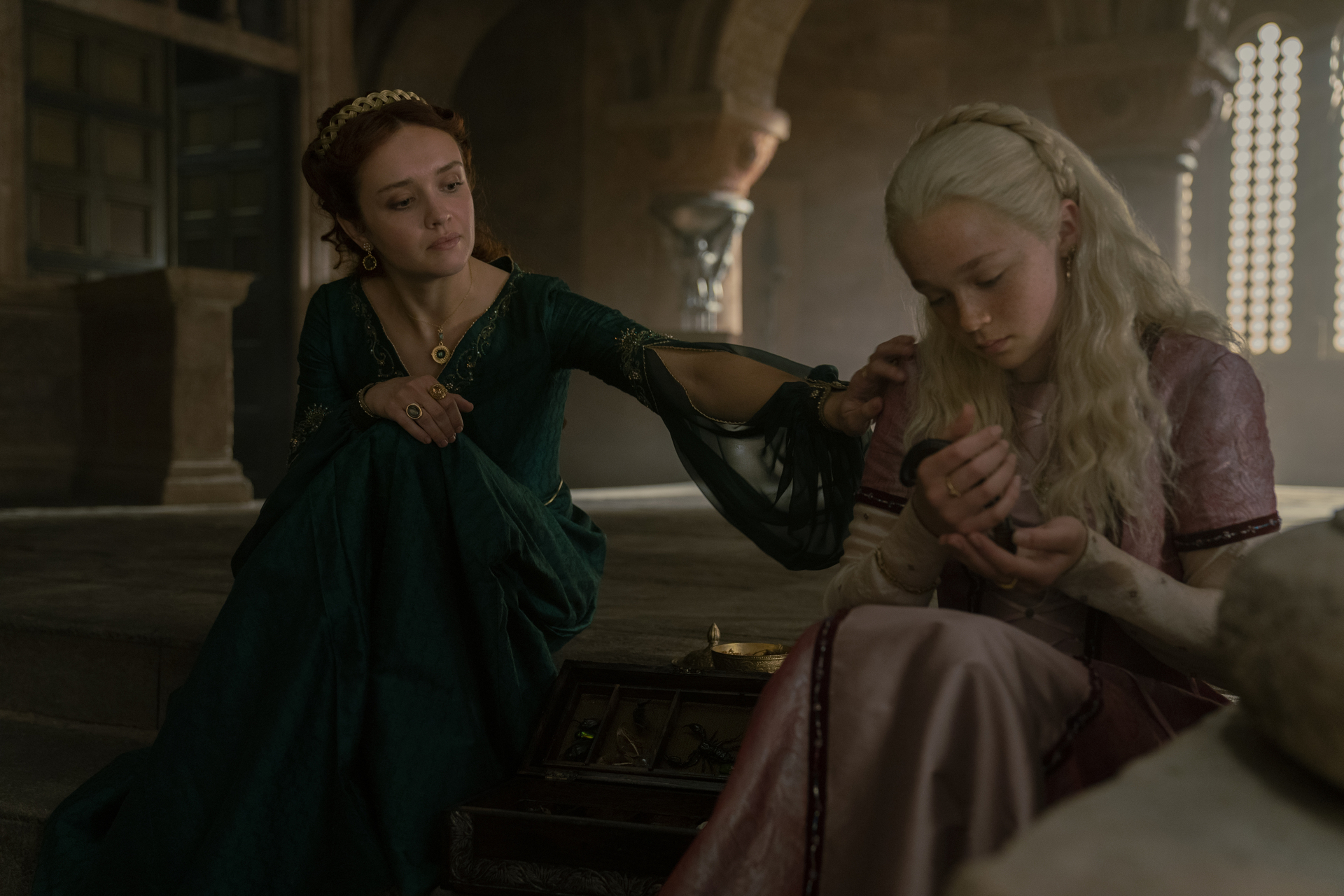 The House of the Dragon is a fantasy show that feeds off of not just the story and the lore, but the technical bits and bobs. The production design is immaculate, fitting the familiar yet exciting aesthetic we've come to love over the years. Moreover, the editing and transitions between scenes were simply immaculate (shout out to Tim Porter). In terms of on-screen performances, Emma D'Arcy is a great Rhaenyra, and she shows how strong Targaryen women are when they realize their power. Above all, this episode sets up the rest of the season as a war is brewing within the House and sides must be chosen. – Rascal F. Kennedy
Rating: 8.5/10
New episodes of House of the Dragon premiere Sundays at 9pm/8pm Central
---
Trending Now